As a music enthusiast, you might have an online subscription to Deezer account. Deezer is a music streaming platform with over 90 million soundtracks or podcasts under one umbrella. However, if you've decided that it's time to close Deezer account for some reason, we've got you covered.
Before you say goodbye to Deezer, we'll teach you to make a copy of your music library using a reliable third-party tool to ensure its safety. Suppose you want to ensure your music collection survives the termination of your Deezer subscription. In that case, you may use a sophisticated program to convert and download your music as local files on your PC.
Whether you're permanently parting ways or just taking a break, this tutorial covers how to delete Deezer account via iTunes, your mobile phone provider, or the Deezer website. Keep reading to know more!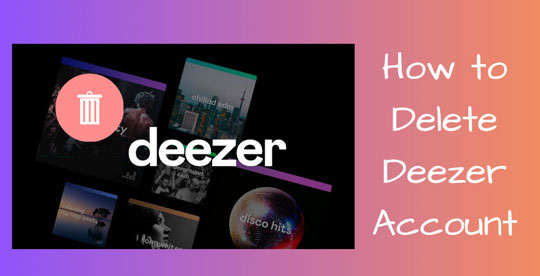 Part 1. How to Delete Deezer Account
Already bored with your Deezer app? No worries. It's time to delete your account once and for all. This section covers ways of canceling your Deezer account through iTunes, your mobile phone provider, and Deezer's website.
Way 1. Via iTunes
Cancel Deezer Account on iOS/Android Device
Step 1: Go to 'Settings' on your iPhone device.
Step 2: Select 'iTunes & App Store' in the general settings tab.
Step 3: Tap the Apple ID button, then select 'View Apple ID'.
Step 4: Log in using your Apple ID details or, Touch ID or Face ID.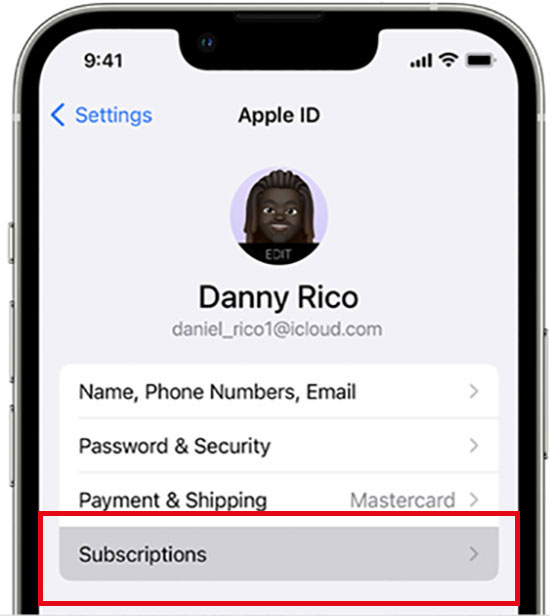 Step 5: Select 'Subscriptions' and 'Manage'.
Step 6: The 'Deezer' app may be found by searching.
Step 7: Tap 'Cancel Subscription' and confirm.
Cancel Deezer Subscription on Computer
Step 1: Search and open iTunes on your computer.
Step 2: Sign in with your Apple ID to access your account.
Step 3: Select 'Account' and 'View My Account' from the main menu.
Step 4: In 'Settings', click 'Manage' next to 'Subscriptions'.
Step 5: Find 'Deezer', then click on edit.
Step 6: Click 'Cancel Subscription' and follow the prompts that appear to cancel.
Way 2. Via Mobile Phone Carrier
If you registered on Deezer through your mobile provider, the steps for canceling Deezer account would vary by carrier. Following are the guidelines to do so.
Step 1: Contact your cell network's support team or check out their website.
Step 2: Learn how to terminate your Deezer account with their assistance.
Step 3: If directed, contact the carrier's support service through text message.
Way 3. Via Deezer Official Website
To remove your Deezer account, you can also make it via Deezer official website. Now, follow the steps below to cancel your account via Deezer's official website.
Step 1: Log on to your Deezer account through their website.
Step 2: Select your user icon to access your profile.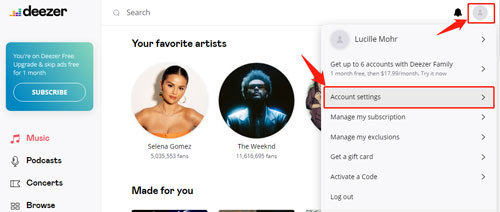 Step 3: Select 'Account Settings' from the list.
Step 4: Scroll down to find 'Delete my account' button and click on it.

Step 5: Confirm Deezer cancellation through on-screen prompts.
After following the ways above, you had completely deleted your Deezer account.
Part 2. How to Backup Deezer Music before Cancellation
When deleting your Deezer account, you may worry about your favorite music collection. Fortunately, there are many versatile tools to keep your precious library safe even after cancelling your subscription.
AudFree Deezer Music Converter is one such powerful and adaptable tool for you. Using this innovative audio converter, you can convert and store Deezer tunes as local files on your computer, making your music collection accessible even after deleting your account.
AudFree Deezer Converter offers conversions from Deezer to MP3, AAC, M4A, M4B and even more. The Deezer music downloaded via this software will be encoded in MP3 format by default which can be streamed at 320 kbps. Besides that, this tool retains the original metadata and ID3 tags of the converted Deezer music files so you can manage them effortlessly.
The best part about AudFree Deezer Music Converter is its 5X speed which lets you download the Deezer soundtracks in minutes. Additionally, the conversion procedure does not compromise the hi-fidelity and the original audio quality of your favorite songs will be preserved. Thanks to AudFree, downloading and transferring these Deezer audio tracks to your portable music streamer or other platforms has never been so easy.
AudFree Deezer Music Downloader
Follow the steps below to back up your Deezer music before canceling the subscription.
Step 1

Customize Deezer Music Output Format

After downloading AudFree Deezer Music Converter program on your PC, install it and launch to get started. To change Deezer music output format and other settings, click the menu icon to choose 'Preferences'. The Preferences box will appea. Then click the 'Convert' tab and select your desired output format such as MP3, M4A, M4B, FLAC, AAC, or WAV.
Step 2

Import Deezer Songs to AudFree Deezable

On the Deezer music app, navigate your music library to find the song or playlist you wish to download. Click the selected song, then press 'three-dots' symbol. Select 'Share' and click 'Copy' to copy the track or playlist URL. Head back to the AudFree Deezer Music Converter interface and paste the URL in the search bar. And then you need to click on the '+' button.
Step 3

Download Deezer Podcasts/Playlists/Albums, etc. for Back up

Finally, click the 'Convert' button to begin the conversion. AudFree will save your Deezer tunes in the desired format to your PC. Once the process completes, tap the Converted icon and click Search to locate the downloaded Deezer songs on your computer. At last, you can still listen to Deezer music offline even if you deactivate Deezer account.
Part 3. FAQs about Deleting Deezer Account
Q1: What Will Happen Once Cancelled a Deezer Account?
A: If you stop paying for Deezer, you can no longer access its premium features. Your saved playlists, favorite songs, and other personal settings will be removed. While Deezer's premium features aren't free, you may still utilize the service.
View also: How to Get Deezer Premium for Free
Q2: Where Can I Find My Deezer Account?
A: You can visit the Deezer official website or app to access your account settings. You can modify your payment method, address, or membership by visiting your profile.
Q3: Why Do You Need to Delete Your Deezer Account?
A: Leaving Deezer for another music service, taking a vacation from streaming, or not utilizing the site anymore are all valid reasons for deleting an Deezer account. It's a bespoke option tailored to each person's tastes.
Q4: Will I Get a Refund If I Cancel My Deezer Account?
A: Deezer subscription refunds are conditional on several parameters, including the kind of subscription and payment cycle. While yearly memberships may be refundable within a certain time following purchase, monthly subscriptions are normally non-refundable. Contacting Deezer's support team for clarification on their refund policy is recommended.
Part 4. In Conclusion
Deezer gives you many options for ending your subscription, so you can do it whether you're just taking a break or starting over completely. In any case, you may customize your Deezer experience and delete your account via iTunes, your mobile carrier, or Deezer's website.
To further guarantee the safety of your Deezer music playlist before you leave, AudFree Deezer Music Converter is your best bet. Using this exceptional tool, you can still enjoy the exclusive Deezer music regardless of deleting your account. With AudFree, say no to getting afraid to lose your favorite Deezer playlist as it can help save Deezer music files on your computer or other devices forever.