With the increasingly competitive streaming music industry, how to retain as many as subscribers is becoming a burning question to solve at this stage. Spotify, one of the largest platforms for streaming music, announced that there were more than 100 million users subscribed to Spotify Premium throughout the world. Containing free users, Spotify now has million monthly active users all over the world.
Although it is an amazing achievement for Spotify, there is a growing trend for "how to delete Spotify account". If you have decided to try other streaming music services instead of Spotify or you have a duplicate account, but still want to keep the downloaded Spotify tracks, it is very necessary to follow this post.
In this article, we will show you what you will get after deleting Spotify account and how to cancel Spotify account. Besides, we will show you a useful way to delete account on Spotify without losing tracks. This will save time to re-download your favorite tracks in another music platform.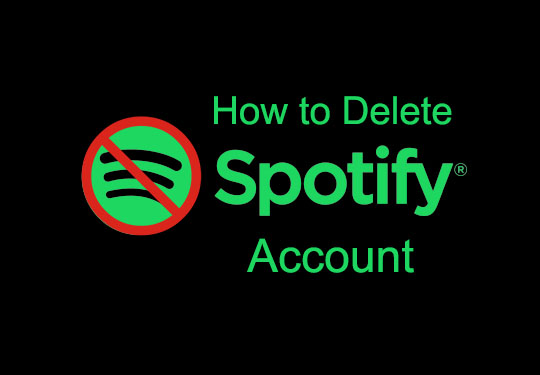 Part 1. More You Should Know Before Deleting Spotify Account
In the beginning, you need to know what will happen when you delete your Spotify account. Here you can check what you will meet once you decide to delete a Spotify account.
📌1. Your current username can't be used with Spotify anymore. You can't use the same username to create a new Spotify account again.
📌2. You can't access your followers, your playlists, and anything else you saved in your Spotify Library.
📌3. You can't access any Spotify audiobooks you purchased before.
📌4. If you are using a Student discount, then you can't apply it to another account after 12 months of registration.
📌5. Your account won't appear on search and it can't be visible to anyone anymore.
📌6. You won't get updates and emails from your Spotify account.
Part 2. How to Delete Spotify Account Permanently
If you still want to close your Spotify account after learning what will happen once you do that, then you can follow the steps below to start. It is noted that Spotify only allows free users to delete the account. So, if you are a Premium user, you need to cancel Spotify premium plan or wait for the subscription end first. Besides, you can only delete a Spotify account via Spotify website instead of Spotify app.
Section 1. How to Cancel Spotify Premium
For Spotify Premium users, you need to cancel your premium subscription first. Please follow the steps below.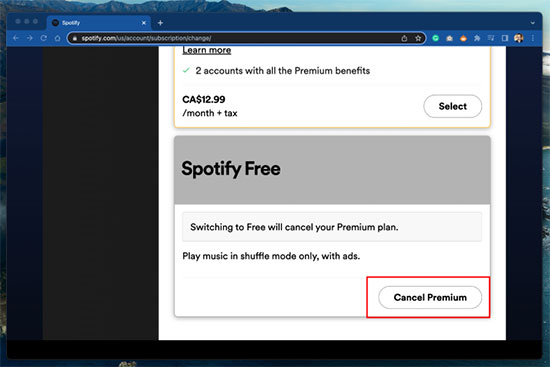 Step 1. Go to Spotify Account webpage via a web browser on your mobile or desktop device.
Step 2. Log in to your Spotify Premium account.
Step 3. Head to 'Your plan' section and hit 'Cancel premium'.
Step 4. Touch 'Yes, cancel.' to confirm.
Section 2. How to Delete Account on Spotify Permanently
After canceling Spotify Premium, you are now a free Spotify user and you can follow the tutorial here to close your Spotify account.
Step 1. Navigate to the Spotify Web Player page on a web explorer and then log in to your account.
Step 2. Click on your Spotify profile at the upper-right corner of the webpage.
Step 3. Choose and click on 'Support'. You will be then led to a new page.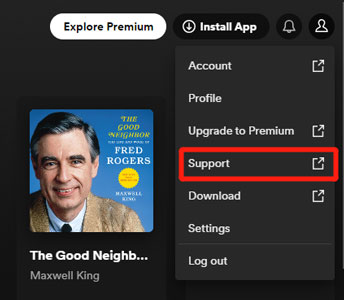 Step 4. Hit on 'Account Help' section on the screen.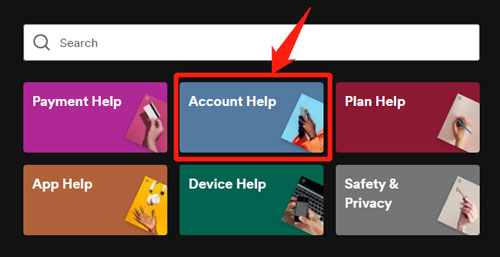 Step 5. Pick up 'Account settings' and choose 'Closing your account and deleting your data'.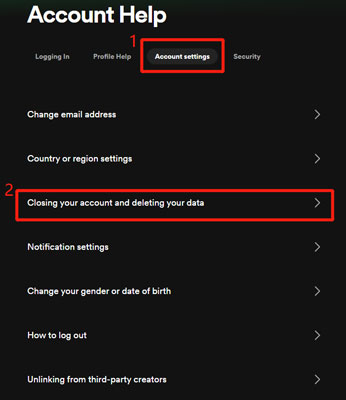 Step 6. Tap on 'Close your account and delete your data' under the 'Don't have Premium?' section. If you haven't canceled Spotify Premium in advance, you can choose 'Close your account and delete your data' under the 'Got Premium?' section. Then it will load an AI chatbot to guide you cancel premium and delete account.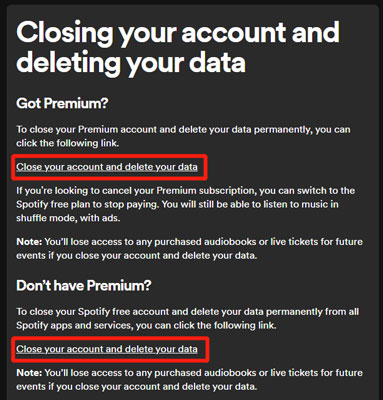 Step 7. Touch the 'Close Account' button in the new window.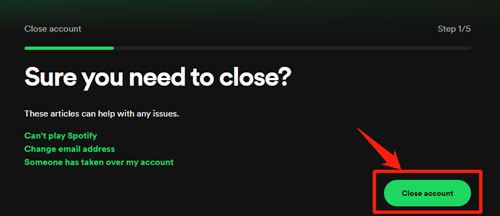 Step 8. Then you will need to confirm your account information. If it is right, then hit 'Continue'.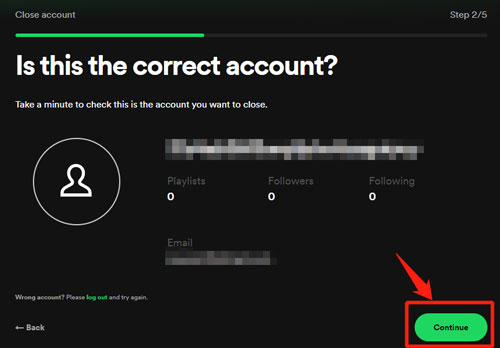 Step 9. Now, learn more about all the data you will lose after closing your account and check the 'I understand' box. Then hit on 'Continue'.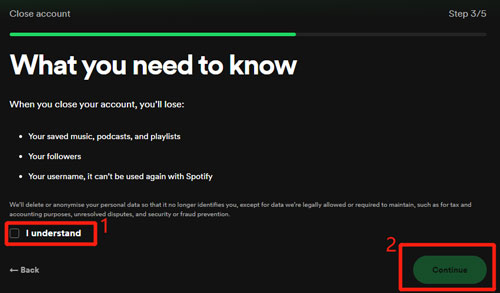 Step 10. Select the way you want to get the code. You can choose via email or SMS. If you pick up SMS, then type the code given and hit 'Done'. If you choose email, then Spotify will send you an email and you can hit the 'CLOSE MY ACCOUNT' button in the email.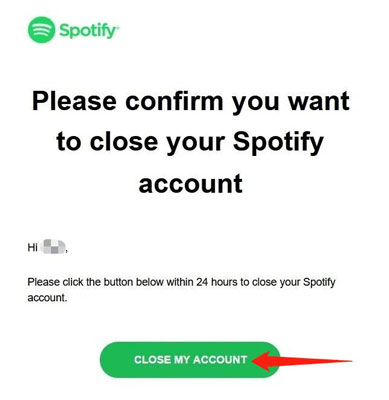 Or, on the Spotify app on your Android/iOS/Windows/Mac device, click on your profile icon and choose the Account option.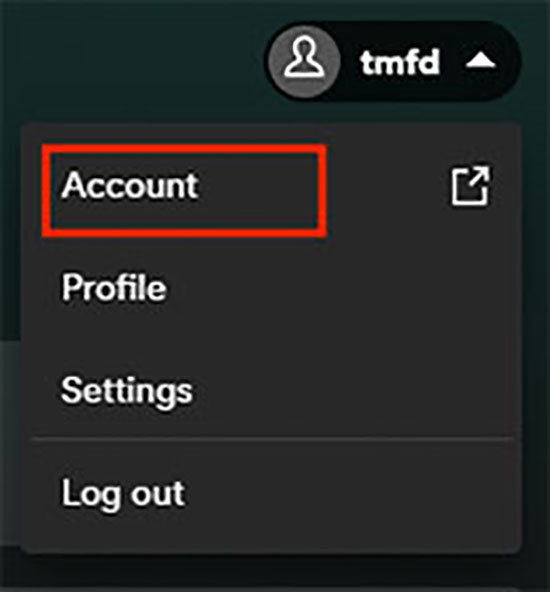 Then you will be navigated to Spotify Account page and you need to log in to your account.
Next, scroll down the page and click on 'Close Account' under the 'Security and privacy' section. Later, follow from Step 6 to Step 10 above to finish the process.
After that, your Spotify account will be closed permanently.
Tips: Spotify allows you to change your mind within 7 days. You will get an email with a reactivation link from Spotify for you to recover your account in 7 days. And during this period, your playlists can still be visible to others. After 7 days, Spotify will delete your account permanently and you can't restore your account anymore.
Part 3. How to Preserve Spotify Tracks Before Deleting Spotify Account
After you delete your Spotify account, all of your downloaded tracks are gone from your music library. So, to keep your favorite Spotify tracks, you'd better to download Spotify songs as local audio files in advance by a third-party downloader.
Here, AudFree Spotify Music Downloader is the best choice for you. It is focused on removing restrictions from Spotify songs, converting and downloading Spotify tracks into common formats such as MP3, FLAC, WAV, AAC, M4A, and M4B. Utilizing a frontier technology, this intelligent tool can work at a 5X faster speed in an ideal situation. Thus, an entire Spotify playlist within 100 songs can be decoded in a flash. More importantly, every track/podcast/audiobook/radio from Spotify can be saved into 100% lossless-quality music with full ID3 tags.
With the help of this all-rounded program, it is quite simple to keep Spotify music files before the deletion of the Spotify account. Later, you can listen to Spotify songs offline on your computer or move the music files to other devices for playing without using a Spotify account.
AudFree Spotify Music Downloader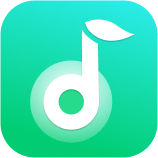 Losslessly unfreeze protection from Spotify songs/playlists, etc.
Convert and download Spotify songs to MP3, WAV, etc.
Play Spotify music offline after deleting Spotify account
5X faster speed, customize output parameters
Now, just follow the instructions below to download Spotify streams locally step by step.
Step 1

Export songs from Spotify and import to AudFree

Download and install AudFree Spotify Music Downloader and Spotify app on your desktop. You need to notice that the Spotify app you installed is not from Windows Store. Then open AudFree Spotify Music Downloader. The Spotify app will be popped up automatically.
There are 2 ways to load Spotify files in AudFree. The first is to copy the URL of Spotify track/playlist and paste it to the on-top search bar of AudFree, then tap on the '+' button on the right. The second is to drag and drop the stream/playlist from Spotify to the home page of AudFree directly. Generally, just a few seconds later, the songs you picked will be imported to AudFree completely.
Step 2

Modify Spotify output format, bitrate, sample rate, etc.

Before we start to convert Spotify music, it is supported to reset the output settings as your needs. For the Windows users: You ought to click to the hamburger icon on the top right corner of the AudFree. Then hit on "Preferences" > "Convert". For the Mac users: You are supposed to find the "AudFree Spotify Music Converter" from the menu bar on the top left corner of your Mac system. A new window will show you the details, which are allowed to adjust by yourself. Just simply click the drop-down icon of each option like format, bit rate, sample rate, channel, etc.
Tips: In order to stay the same quality with original Spotify tracks, please change the bit rate to 320kbps and sample rate to 48,000 Hz.
Step 3

 Convert and download Spotify audio to the local music library

Here is the last step. Please tap on the 'Convert' button on the lower right corner of AudFree. Then the program will start unfreezing protection from Spotify audio and convert them as the output settings you set out earlier. The converting duration lasts depending on the number of tracks in the download list. After conversion, please follow the on-screen instructions to locate the local Spotify music folder on the computer.
Now, you can delete you Spotify account without much hesitation after using this smart software to download Spotify songs for local saving and playing.
Part 4. FAQs about Closing Spotify Account
Q1: Can I Recover the Spotify Account I Deleted?
A: Yes. After you delete your Spotify account, you will receive an email tied to your account from Spotify. You can access the link and tap on 'Reactivate my account' in the email to recover your account within 7 days. After 7 days, you can't reactivate your account. But you can use the same email address to sign up for a new account after 14 days from the date of deleting your account.
View also: How to Recover Deleted Spotify Playlists
Q2: Why Does Spotify Delete My Account?
A: If your account is inactive for over 6 months, it might be deleted or suspended by Spotify.
View also: How to Fix Spotify Suspends My Account
Q3: What Are the Differences between Deleting Spotify Account and Canceling Spotify Premium?
A: After canceling Spotify subscription, your account is still alive and it will revert to a free account. And you can still access to your saved content in Spotify. While closing a Spotify account permanently means you will lose your profile, saved songs and even your username.
Q4: Can I Temporarily Deactivate My Spotify Account?
A: No, there is no such an option to make it. If you want to do that, you can try to cancel your Premium plan and go back to a Free plan. And you can re-subscribe to Spotify Premium account anytime you want.
Part 5. In Conclusion
Now, you learned how to delete Spotify account in detailed steps from the parts above. Yet, it is noted that you will lose all your saved music and playlists after closing the account. In this case, here we introduce the AudFree Spotify Music Converter to help you download and save any Spotify audio content as local files before deleting your Spotify account. You can then keep Spotify music files on computer with high quality and full ID3 tags. And then you can listen to Spotify songs offline without the Spotify app and Spotify account anymore.