When it comes to smart home speakers, you can't go wrong with the Amazon Echo, a product range of hands-free speakers and virtual assistant devices. Amazon Echo is even better for music lovers as it already works well with various streaming music, such as Deezer, Pandora, Tidal, Spotify, etc. This way, you can get a seamless listening experience with simple voice commands.
If you are a fan of Deezer Music, then this article will satisfy you. Here are the best ways to connect Deezer to Amazon Echo, including the Echo Dot, Echo Show, Echo Spot and other devices. Without further ado, follow this article to find out how to make Amazon Echo Deezer possible.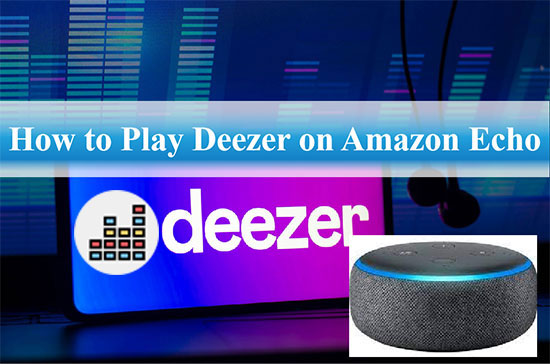 Part 1. How to Add Deezer to Amazon Echo Officially
Nowadays, Deezer is available for all Amazon Echo devices and has launched the Deezer app integrated with Amazon Alexa. In this case, you are able to use your voice commands to play millions of Deezer songs and playlists on your Amazon Echo without having to lift a finger. Follow the steps below to make this happen.
Set up Deezer on Amazon Echo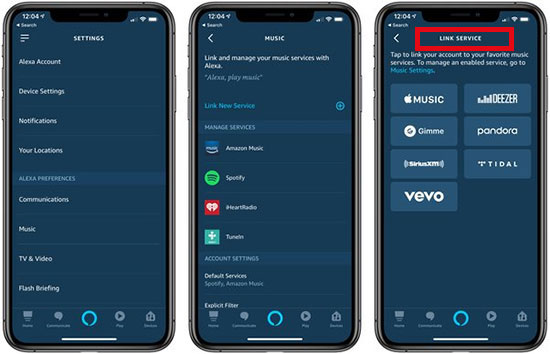 Step 1: Open your Alexa app and click on the menu Settings. Afterwards, select Skills & Games and use the search tool to search for Deezer directly.
Step 2: Select and find Deezer app in the list and hit on the "ENABLE TO USE" button next to it.
Step 3: Click on the login icon to enter your account credentials to sign in to your Deezer free or premium account.
Play Deezer on Amazon Echo via Voice Commands
With Deezer on Amazon Alexa, you can also ask the voice assistant Alexa to play your Flow or a specific type of music to suit your mood. Remember, it is important to start your commands with "Alexa" and if Deezer is not your default music service, you will need to end each command with "on Deezer". Simple voice commands would be as follows:
"Alexa, play (song/album name) by (artist) on Deezer."
"Alexa, play my Flow on Deezer."
"Alexa, next song."
"Alexa, stop the music."
"Alexa, set the volume to 6."
Set Deezer as the Default Music Service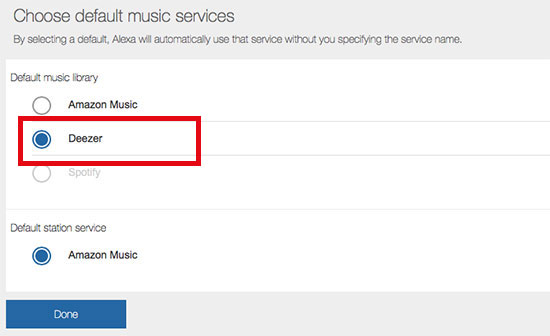 Step 1: Please open the menu section of the Alexa app and select the Settings option, after which select Music located under ALEXA PREFERENCES.
Step 2: Go to "Account Settings" and select Default Service. In the default music library section, select Deezer as your default music service and press the Done button.
Step 3: Now, simply say "Alexa, play music" and Amazon Echo will automatically play your favorite Deezer Music.
Part 2. How to Connect Deezer to Amazon Echo Freely
In fact, Deezer Premium users are able to enjoy more features when controlling Amazon Echo by voice, such as ad-free listening, skipping tracks, searching for specific songs, etc., which are not available to free users. To make it easier for all users to play Deezer on Amazon Echo without distinction, we meet AudFree Deezer Music Downloader.
As its name suggests, it is capable of converting and downloading Deezer Music to popular audio formats such as FLAC locally. This way, using this professional tool, you can enjoy all the premium features without a subscription. Then you have the privilege of using Deezer with Amazon Echo as freely as you like. What's more, you'll be able to listen to Deezer Music offline for free on any other device.
How to Connect Deezer to Amazon Echo Freely
Step 1

Customize Deezer Music Output Format

Download and install AudFree Deezable on your PC. Run it and click on the menu bar in the top right corner to select the "Preferences" button. Hit on the "Convert" section to set the output format of your Deezer songs to MP3, FLAC, etc. according to your needs. In addition, it is able to reset other Deezer parameters such as bit rate, audio channels, etc.
Step 2

Import Deezer Music to AudFree Deezable

Browse and select the songs you want to play on Amazon Echo in the Deezer Music app. Afterwards, copy and paste the track link into the search bar at the top of this tool and click the "+" icon to load the target Deezer song.
Step 3

Download Deezer Music for Amazon Echo

Tap to the "Convert" button at the bottom right to download Deezer Music. Once complete, click on the "Converted" icon at the bottom to view all the Deezer songs. By the way, these Deezer Music files will also be automatically saved on a local folder on your PC for free use forever.
Step 4

Play Deezer Music on Amazon Echo

Simply transfer the converted Deezer Music to Windows Media Player or iTunes. Then you need to sync the Deezer Music to Amazon Music library. Once done, simply say "Alexa, play Amazon Music" and Amazon Echo will automatically start playing the uploaded Deezer Music to make Deezer Echo Dot a reality.
Part 3. FAQs of Deezer Amazon Echo
Q1: Does Deezer Work with Amazon Echo?
The answer is undoubtedly yes. Deezer supports all Amazon Echo devices and is also compatible with Alexa-enabled devices. Whether you are a free user or a premium user, you are allowed to stream Deezer to your Amazon Echo.
Q2: Is Deezer Free on Alexa?
Deezer has turned on Alexa support for ad-supported free subscribers. Under the circumstances, you'll be able to listen to free Deezer Music on Alexa-enabled devices, including Amazon Echo speakers and Show monitors.
Q3: What Music Services Does Amazon Echo Support?
Amazon Echo can link a variety of popular music services such as Deezer, Amazon Music, Apple Music, Pandora, Spotify, Tidal and more.
Part 4. In Conclusion
This article describes two ways on how to connect Deezer to Amazon Echo. Whether you subscribe to the Deezer free or premium plan, you can use AudFree Deezer Music Downloader to play Deezer on Amazon Echo and other device with freedom. Try to experience a special Deezer playback with Deezer Amazon Echo.