No matter you are on the way to work, cooking in the kitchen, or going to bed, it is always great to keep up with your favorite audiobooks using voice control with Audible on Alexa. You can tell Alexa when to pause Audible books, resume, forwards, change volume, etc. with a few simple commands.
Both Audible and Alexa are developed by Amazon, so the great integration has made it so easy to play Audible on Alexa-enabled speakers. If you enjoy audiobooks, here's how to get started with Audible on Alexa in two ways easily.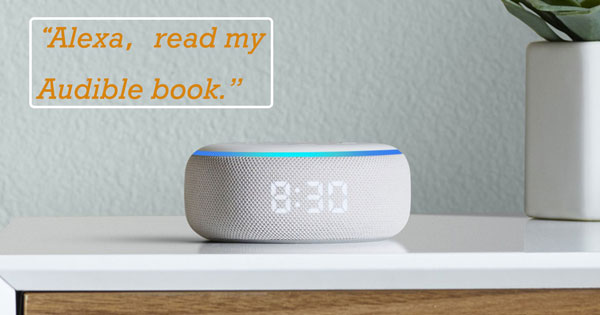 Method 1: Play Audible on Alexa via Amazon Alexa App
If you already own an Alexa-enable device, you must be familiar with the Amazon Alexa app, which is the easiest and most direct way to play Audible on Alexa. Below, we have included a quick guide on how to listen to Audible on Alexa devices using this app.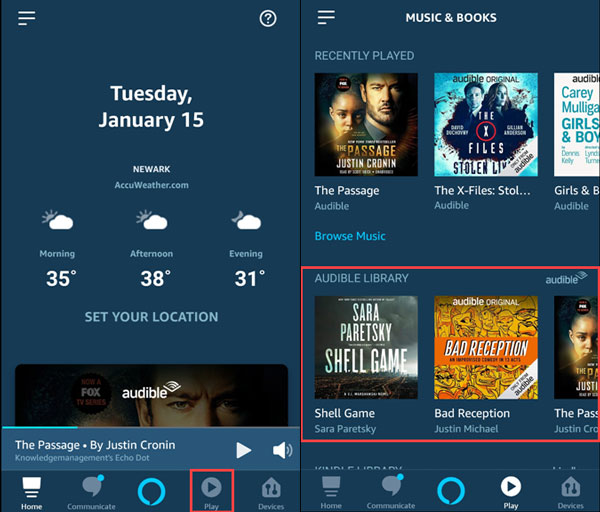 Step 1. Open the Amazon Alexa app. If you haven't installed it, just go find it in Google Play Store, App Store, or Amazon Appstore.
Step 2. Log in with your Amazon account, and tap Play from the bottom of the interface to go to Music & Books section.
Step 3. It takes a few moments to sync your Audible library. Once it shows, just select one title to begin playing.
You can now control Audible book playback either using the Alexa app on your mobile devices or the Alexa voice control. A list of Alexa commands for Audible will be attached in the third part of this article.
Now enjoy your Audible books with Alexa on Amazon Echo devices, Fire Tablets, or even play Audible on Fire TV, etc.
Method 2: How to Play Audible on Alexa for Offline Listening
The method introduced above requires your devices to be always connected to the Internet to sync. Also, the streaming stableness is closely related to the Wi-Fi signal. To avoid pauses that could drag you out of your audiobook world, we here introduce a backup solution to add Audible on Alexa for offline listening.
AudFree Audible Converter is your great assistant to help you convert Audible to MP3 or other common formats so that you can play them on Alexa devices offline without limitations. This professional software is intelligent enough to split a large audiobook into small segments by chapters with original sound quality preserved.
Within three steps, you will be able to convert Audible books and save them to local for offline playing on Alexa devices.
Step 1

Import Audible books to AudFree

Before getting started, please make sure you have imported audiobooks downloaded from Audible to iTunes library under the 'My Audiobooks' before. Now just simply click the first Add Files button from the botton-left corner to choose Audible files that you'd like to download and convert directly.
Step 2

Set output audio and other parameters

Most Alexa-enabled devices are compatible with MP3, or AAC format. You can click the 'audio' icon at the bottom-right corner to open the setting window, where you can define output format as MP3 or AAC, customize bit rate, sample rate, audio channel, and codec according to your needs.
Step 3

Convert Audible books for Alexa

When all settings are done, just simply press the Convert button to launch the converting process. AudFree Audible Converter will run at 30X high speed to remove all limitations and convert iTunes audiobooks to MP3 files. After conversion, you can locate unprotected Audible books from the history list.
Step 4

Stream and play Audible on Alexa

Now please launch the Amazon Music desktop app and upload the downloaded Audible to Amazon Cloud Library by simply dragging and dropping. Once the uploading complete, your Alexa devices will have access to them. Alternatively, you can also transfer and get Audible on iPhone or Android phones, and then stream them to Alexa via Bluetooth.
More Tips: Alexa Audible Commands & Troubleshooting
There are many handful Alexa audiobook commands you can use. We have listed a few useful and commonly-used commands with variations for you.
Options
Commands
Play

"Alexa, read my book" (continues to play your last book)

"Alexa, read [book title]"

"Alexa, read [book title] from Audible"

Pause
"Alexa, pause"
Resume playing

"Alexa, resume"

"Alexa, play"

Go back or go forward

"Alexa, go back"

"Alexa, go forward"

"Alexa, go back [15 seconds]"

"Alexa, go forward [1 minutes]"

Skip chapters

"Alexa, next chapter"

"Alexa, previous chapter"

"Alexa, go to chapter number [6]"

"Alexa, go to last chapter"

Change speed

"Alexa, read faster"

"Alexa, read slower"

"Alexa, read at normal speed"

Set a sleep timer

"Alexa, stop reading in [15 minutes]"

"Alexa, set a [30 minute] sleep timer"
Why won't Audible books play on my Alexa device?
1. Make sure your Alexa-enabled device is on with a blue light.
2. Please check that your Amazon and Audible accounts are under the same username. If not, you'll need to connect and merge your Amazon account to Audible correctly on the Amazon website.
3. Check the Amazon Alexa app on your phone and see if there is a connection error that is keeping you from streaming Audible on Alexa.