Q: Can I use Deezer as alarm? I'm tired of the old alarm sounds and desperately want to wake up to some novel music. It would be great to use Deezer song, playlist or album as an alarm clock, so I can start my day in a good mood. Is it possible to make the Deezer alarm clock a reality?
To be honest, using the popular Deezer Music as a wake-up alarm is enthralling. Therefore, this article describes the best methods to make Deezer alarm clock on Android, iPhone, smart speakers or even any device. In this way, it is convenient to start a nice day in your favorite Deezer Music.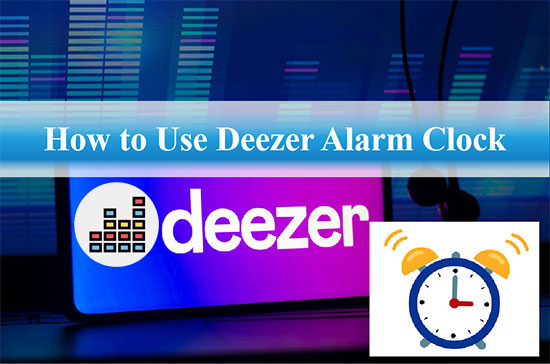 Part 1. How to Make Deezer Alarm Clock on Any Device
Actually, it is not possible for you to set Deezer Music as an alarm on the Deezer app directly, because this feature is not yet available. In this case, the professional AudFree Deezer Music Downloader will provide you with the best assistance, as it's able to break the digital rights management protection of Deezer Music with ease.
With this tool, you can effortlessly download Deezer songs, playlists and albums to MP3, FLAC, etc. for casual use. In turn, you have the ability to transfer them to your iPhone, Android phone or any other device you want as alarm clock. What's more, without subscription, you can always save your favorite Deezer Music for offline playback whenever and wherever possible.
How to Download Deezer Music for Free Use
Step 1

Configure Deezer Music Output Parameters

Run AudFree Deezer Music Downloader on your computer and click on the menu bar at the top right. Select the "Preferences" and "Convert" section, at this point you can set the format of Deezer Music as you want in the settings window, such as MP3, WAV, M4A, etc. Likewise, it is able to change other parameters such as bit rate, sample rate, audio channels.
Step 2

Add Deezer Music to AudFree Deezable

Go to the Deezer Music app and select any Deezer song you want to set as an alarm. Then tap the Share and Copy button to copy the track link. After that, paste it into the search bar of the tool and remember to tap the "+" icon to add the Deezer Music you want smoothly.
Step 3

Download and Convert Deezer Music Offline

Simply hit on the "Convert" button and it will start downloading Deezer Music to your computer as a local file. Once the download is done, you can tap the "Converted" icon on the bottom bar to browse the target Deezer Music files. Then you have the freedom to listen to Deezer offline and use Deezer as alarm on any device.
How to Make Deezer Alarm Android
Step 1: First transfer the Deezer Music files from your computer to the Android device via USB, after that open the Clock app on your phone.
Step 2: Tap on Alarm and add option to add a new alarm clock on your device.
Step 3: Hit on the Alarm Sound and set your favorite Deezer Music as alarm clock sound.
How to Set Deezer Alarm on iPhone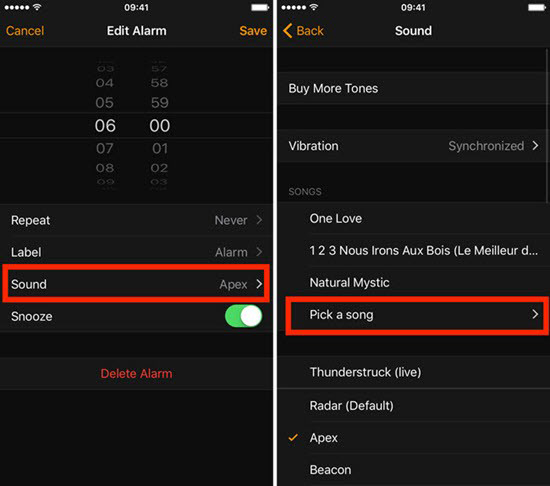 Step 1: Once the downloaded Deezer Music is saved to your iPhone, you need to launch the Clock app on your device.
Step 2: Select the Alarm tab and tap the "+" section to create a new alarm.
Step 3: Tap on Sound and Pick a song to select the Deezer Music that meets your needs as the alarm sound. After that, hit on Back > Save button to finish creating the Deezer alarm.
Part 2. How to Set Deezer Alarm on Android/iOS
Although you can't make Deezer alarm clock with the Deezer app, you have the opportunity to achieve this goal using a third-party alarm clock that works with Deezer. Needless to say, follow the steps below to try it out.
Make Deezer Alarm Android - DeezAlarm

Step 1: Download and install DeezAlarm on your Android phone, run DeezAlarm and login to your Deezer account.
Step 2: Click the Add button below to create a new alarm clock and set the time you need.
Step 3: Now go to the detail page and you can start choosing a suitable Deezer song as your alarm ringtone.
Use Deezer as Alarm iPhone - Kello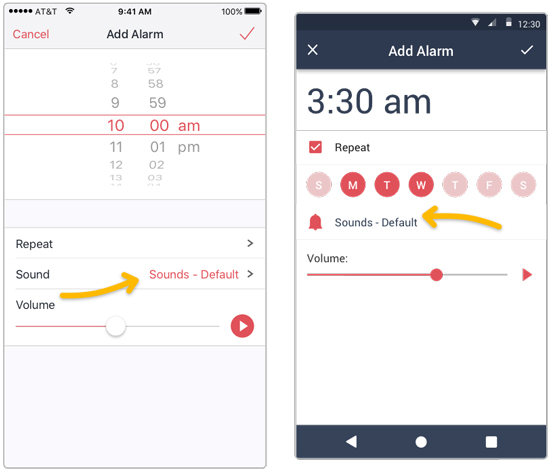 Step 1: Install and launch the Kello app on your phone, then select the Alarm tab and click the + button.
Step 2: After setting the alarm time, tap the Sound option to select the streaming service Deezer.
Step 3: Enter your Deezer credentials to log in to your Deezer Premium account and select the Deezer track you want to use as alarm. Finally, don't forget to save all your settings by tapping the Save button in the upper right corner.
Part 3. How to Set Alarm Using Deezer on Smart Speakers
As a matter of fact, it must be hard for you to imagine that Deezer is already integrated with smart speakers, including Sonos, Amazon Echo, Google Home and more. This means you can always stream Deezer Music and set Deezer alarm on your smart speakers. Here are the exact steps to make it happen, so let's take a look.
Use Deezer Alarm Clock on Sonos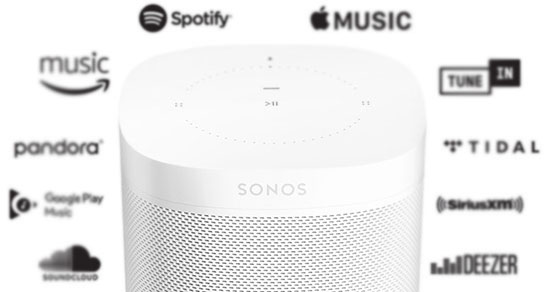 Step 1: Run the Sonos app and click on the Settings tab, then select Service & Voice.
Step 2: Go to the Music & Content section and select Add a Service to choose Deezer from the list of available services. Click Add button and follow the on-screen instructions to log in to your Deezer account.
Step 3: Go back to the Settings tab and click on the System and Alarms option to set up an alarm on Sonos.
Step 4: Tap New Alarm and Music to use Deezer as alarm, then hit on Save and Done button.
Make Deezer Alarm on Amazon Echo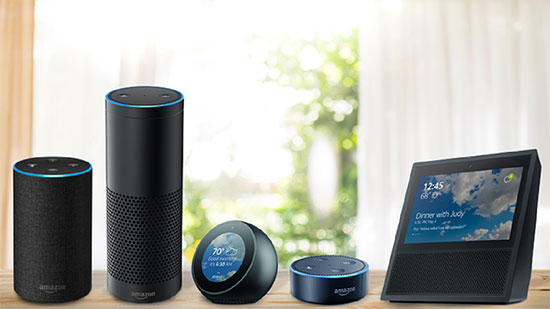 Step 1: Launch the Amazon Alexa app and click on the Settings and Music section on the home screen. After that, select Link New Service to select Deezer.
Step 2: Follow the instructions to enter your Deezer account credentials to link your Deezer account to Google Home smoothly.
Step 3: Go back to the Settings cog and hit on the More and Alarms & Timers tab. Create a new alarm and set Deezer Music as the alarm tone.
Set Deezer Alarm on Google Home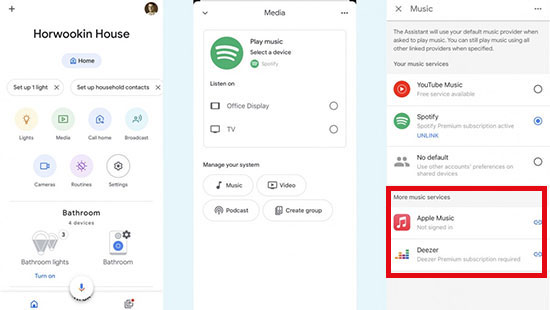 Step 1: Open the Google Home app on your device and select the Add icon in the top left on the home screen. Then select the Music section to set Deezer as the default streaming service.
Step 2: Click on the Link Account and Sign In option to add Deezer to Google Home.
Step 3: Navigate to the Settings cog on the Home screen and click on the Audio and Alarm & Timer buttons to create an alarm.
Step 4: Now you can select any Deezer Music you want to use as an alarm tone to get Deezer alarm on Google Home.
Part 4. In Conclusion
Obviously, using your favorite Deezer Music as an alarm can improve the happiness of getting up. You can follow the tutorials above to set Deezer alarm on any device like Android, iPhone and smart speakers. It's time to start a comfortable and joyful day with Deezer Music.