Q: How to use Spotify as an alarm? I usually use a mobile phone as my alarm clock. But I'm not interested in a series of similar and standard preset alarm tunes anymore. I'm eager to set 'Girls Like You' by Maroon 5 from the Spotify app on my smartphone as my alarm. Is there any easy tutorial to follow?
Are you pretty bummed out when waking up by a traditional and boresome alarm clock? Would you like to set a favorite Spotify music as a new alarm to bring you to a brand-new day? Today, we will introduce 3 effective and easy ways to use Spotify as alarm.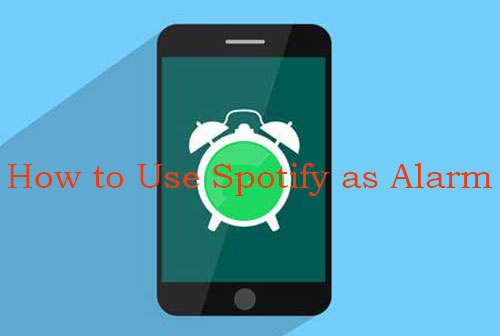 Method 1. How to Use Spotify Songs as Alarm iPhone
When it comes to set Spotify songs as alarm for your iPhone, you will need a professional Spotify alarm app, called 'Alarm Clock for Spotify'.
With it, you can not only wake up along with your favorite Spotify songs but also still listen to the playlist after turning off the alarm clock. Now, let's show the alarm setting process below.
Step 1. Firstly, please make sure the 'Alarm Clock for Spotify' app is installed on your iPhone. If not, please do it.
Step 2. It will require you to fill with your Spotify account details. After that, please touch the screen to launch the setting window.
Step 3. Select the 'Alarms' > 'Add' option to create a new alarm. Now, you are suggested to choose how frequent you want the alarm to repeat.
Step 4. Go the the 'Playlist' > 'Add' to set your favorite music or playlists as an alarm sound for iPhone.
Step 5. Please click the 'Done' to finish the setting process and the 'Save' button to activate the alarm clock.
Method 2. How to Set Spotify Songs as Alarm on Android
Use Spotify as Alarm on Android with Google Clock App
Can you set Spotify as an alarm on Android devices directly? The good news for Android phone users is that Google announced Google Clock. It's one of the best clock apps get a big upgrade with support for music alarms thanks to a new partnership with Spotify.
That's to say, you will be able to play Spotify playlist as alarm on Android phones via Google Clock app. Choosing any Spotify song, track, playlist or artist as your alarm is now easier than ever.
Before getting started, please make sure you have downloaded and installed Google Clock and Spotify app from Google Play on your Android device. In general, the Clock app is pre-installed on Android smartphone running Android 5.0 or later, but you still need to check whether it's the latest version.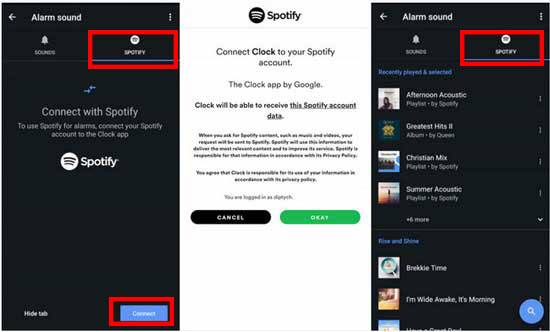 Now, Let's see how to set your alarm sound to a Spotify song or playlist in Google Clock.
Step 1. Open Google Clock app on your Android phone and go to the 'ALARM' tab to tap an alarm you'd like to edit or tap '+' button to create a new one.
Step 2. Tap the alarm 'SOUND' icon (just looks like a bell) and swipe over to the 'SPOTIFY' option.
Step 3. You will be required to connect with Spotify by clicking the 'Connect' tab to continue and hitting on 'OKAY' to confirm it.
Step 4. Tap any track, album or playlist to preview it and choose as your alarm. A checkmark indicates your choice is set.
Step 5. After you have set your loved Spotify song as an alarm, please go back to the 'ALARM' button. And then you can set the alarm time, vibrate mode and other settings as you like.
Note: When the alarm time comes, the music you set will play in your phone automatically. You can choose to either snooze it or turn it off. After turning the Spotify alarm off, you still can keep listening by clicking on the 'Continue Playing' tab.
Set Spotify Songs as Alarm on Android with SpotOn
Apart from the Google Clock app, SpotOn is a similar tool that can be used to set alarm for Android devices with Spotify songs. Because it is easy to operate, it is popular with Android users. Only doing two steps, you can set Spotify as alarm on Android.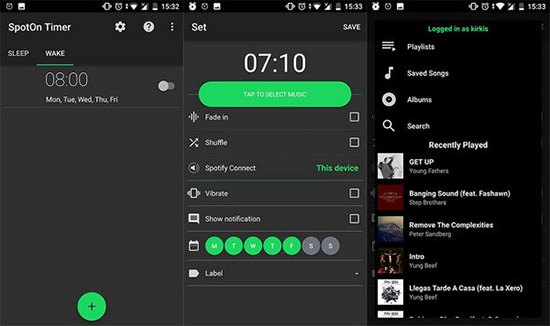 Step 1. Download and open SpotOn app on your Android phone, and then sign in your Spotify account to choose 'WAKE' option and create a new alarm.
Step 2. Adjust the alarm time and then touch the 'TAP TO SELECT MUSIC' button to choose your favorite Spotify song or playlist as an alarm.
There are also some other powerful features that you can set for your Spotify alarm. For example, you can add a fade in effect, show notifications, etc. You can find effects more by using this great Spotify alarm app.
Method 3. How to Use Spotify as an Alarm on iOS / Android
There is also alternative solution to use Spotify as alarm for both your iOS and Android devices. The key reason why we can't choose Spotify songs or playlists as iPhone's alarm is that Spotify audio files can't be downloaded as local files. So, users can't edit them as an alarm like ordinary tracks directly.
Here we can meet AudFree Spotify Music Downloader, which is specialized in converting Spotify to MP3, FLAC, WAV, AAC, etc. losslessly with faster speed for better playback. After conversion, you can freely use Spotify as an alarm no matter on Android or iOS devices.
AudFree Spotify Music Downloader
Convert Spotify Music to Common Audio Tracks
The following tutorial aims to guide you on how to use AudFree Spotify Music Downloader to convert Spotify songs and playlists to MP3 or other common audio files and then edit them as alarm sound.
Step 1

Import Spotify music/playlists to AudFree

When you discovered favorite Spotify playlist or album in opening Spotify app, you can drag and drop the Spotify tracks to AudFree's main interface or you can copy the URL of Spotify files and paste the link to the search box of AudFree to add music to AudFree.
Step 2

Customize output settings for editing alarm

Navigate to 'Preferences' -> 'Convert' option, you will see a setting window, where you can set output format as MP3, FLAC, WAV, AAC, M4A or M4B and customize output quality and conversion speed. Besides, you can also define the output settings as 'Artist/Album' to sort files into folders based on album and artist.
Step 3

Remove DRM from Spotify tracks

Now, you just need to click the big 'Convert' button at the bottom-right corner of the starting window, and AudFree will start to convert Spotify songs and playlists to target common audio files. After conversion, you can locate converted Spotify files via touching the 'history' icon.
Step 4

Set Converted Spotify Music as Alarm in Regular Way

Here, we will take the iPhone as example to show you how to use Spotify as alarm sound. You can use tunes or a trusted iPhone manager to sync Spotify MP3 files to your iOS devices from computer. After syncing, Apple makes it fairly easy to use the own music as an alarm sound. You can do it by following the below steps.

1. Open the Clock app on your iPhone and tab the 'Alarm' option from the icons at the bottom.

2. Hit on the big '+' button in the top-right corner of the screen and customize the alarm time, recurrence and label if you like.

3. Select 'Sound' -> 'Songs' tap to choose 'Pick a Song' button and then you can select a Spotify you have transferred from the music library in your iPhone.

Note: By using this way, you can also set Spotify tracks as your exclusive iPhone ringtone. If you are interested in this topic, you can refer to this source page: How to Make Spotify Music as iPhone Ringtone.
Now, no matter you are using Android or iOS mobile phones or tablets, you can use Spotify music as your alarm to wake up each morning. Hope you have a nice start every day with Spotify alarm.