Setting an alarm is paramount when you want to kick off your day at an appropriate time. It's even better if you set up some of your favorite hits. And yes, the tech era has enabled an advanced mode of getting that classic sound to wake you up in the morning. You can easily extract any hit from the music app directly on your smartphone. It's pretty easy to get an Amazon Music alarm on your smart speaker or phone.
With this, you'll say no to preloaded alarm sounds and in turn, have that favorite music from Amazon wake you up. Amazon has so much to offer; providing up to four tiers that you can use to explore its music. You have access up to 70 million tracks. Check out how to set up Amazon music as an alarm tone on phones.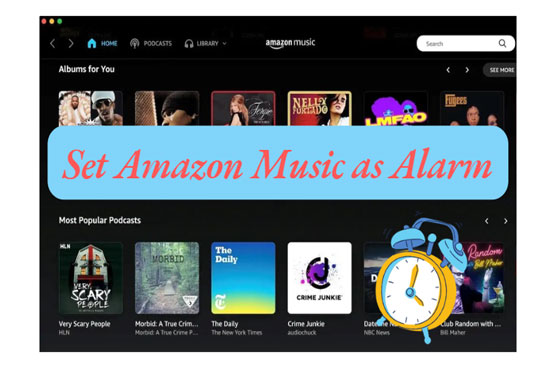 Part 1. How to Create Amazon Music Alarm Clock Locally
Amazon Music has applied digital rights management approach to copyright protection for all its content, which purposefully prevents unauthorized distribution and usage of Amazon Music outside the Amazon Music app. Even you are a prime subscriber, you also subject to the restriction. Therefore, to succeed in the setting of Amazon Music as alarm, what matters most is fanned by an legal Amazon Music converter to locally convert Amazon Music songs to unprotected audio files.
Here, the best of such a tool - AudFree Amazon Music Converter is introduced. It is a one-stop Amazon Music downloader that works seamlessly to download any Amazon Music for offline playback with lossless quality. It also supports several other formats like FLAC, AAC, M4B, WAV, etc. The speed is superb, going up to a 5X rate and enabling you to download a batch of Amazon Music tracks at a time.
When it comes to offering quality, AudFree Amazon Music Converter is top-notch. It keeps the originality of your files by keeping the album, artist, title, and many more in Amazon Music. The software also comfortably lets you listen to Amazon Music offline on various players and devices, streaming boxes, game consoles, and smart TVs, among others.
Step 1

Launch AudFree and sign into Amazon account

Download and install AudFree Amazon Music Converter on your computer. Then launch the app and you will notice the built-in Amazon Music Player in the main interface. Next, click the "Sign In" button to log in to your Amazon account. You can now access Amazon Music library.
Step 2

Customize the output settings for alarm

Click the three-line tab at the top right corner and hit the "Preferences" option. Next, hit on the "Advanced" to get into format setting window. You can then set output format and change the parameters like sample rate, channel, etc., depending on your requirements.
Step 3

Select Amazon Music to add

Check your Amazon Music library for the playlist you want to add to your alarm app on phone. Open the playlist and the "+" icon should turn from gray to orange to show that it's active. Click on the icon now to move your selected Amazon Music playlist to a new window of AudFree.
Step 4

Locally download Amazon Music for alarm

Once you check and select tracks in this playlist, click the "Convert" button to allow the download to kick off. These Amazon Music will then be converted to unprotected audio files on your computer. When finished, hit the "Converted" button to view the converted Amazon Music tracks in the local system. You can then get an Amazon music alarm on Android and iPhone.
Part 2. How to Set Amazon Music Alarm on Android and iPhone
Well, now Amazon Music songs have already saved to your local computer. You can easily use them as alarm clock on your phone or any other device without hassle.
How to set Amazon Music as alarm on Android
Step 1: Get an Amazon Music alarm clock on Android by first transferring the converted Amazon Music songs from your computer to your Android OS device. You can use a USB cable for the transfer;
Step 2: Then find the "Clock" icon on your Android phone screen and select the "alarm" that you had set prior;
Step 3: Next, go to the "Ringtone" option and click the "+" icon to change the prior set alarm;
Step 4: Select the converted Amazon Music track that you wish to set as an alarm from the ones you have already transferred to the phone. Your Amazon Music is now set as an alarm on Android phone.
How to make Amazon Music as alarm on iPhone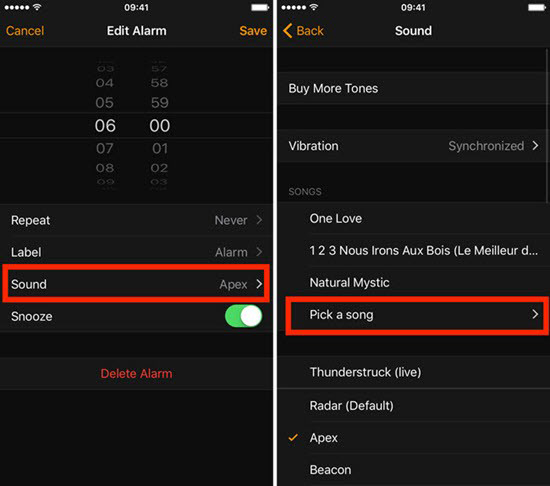 Step 1: Transfer downloaded Amazon Music songs from computer to your iPhone via iTunes;
Step 2: Peruse the "Clock" icon on your iPhone and tap the "Edit" tab to add your music. You can also use the "+" icon to add your converted Amazon Music as a new alarm tone;
Step 3: Next, set the duration for your alarm and hit the "Sound" icon;
Step 4: Lastly, when a pop-up window opens, go to the "Pick a song" and click the "Song" option. Then, select which Amazon Music song from the list to set as the alarm on your iPhone.
Part 3. Bottom Line
If you were wondering how to set Amazon Music alarm clock on your phone, then this article has just solved your worries. Use AudFree Amazon Music Converter to download and convert any song from Amazon Music to copyright-free audio files. Once converted, you can now easily transfer and set it as an alarm on your phone or other devices with ease.