Apple Music has been making changes to its contents over the past month, and one of the biggest differences launches last Friday, Aug. 23. The classic column in Apple Music, "Best of The Week", is replaced by "New Music Daily", which is a new playlist for music lovers to find the latest must-hear songs.
So what on earth is New Music Daily? And What is the difference between it and the previous one? In this article, I will help you clear up these confusions. Let's browse the detailed introduces of New Music Daily and find out if it suits your preference. If the answer is positive, you can also obtain guidance to download Apple Music for free as bonus.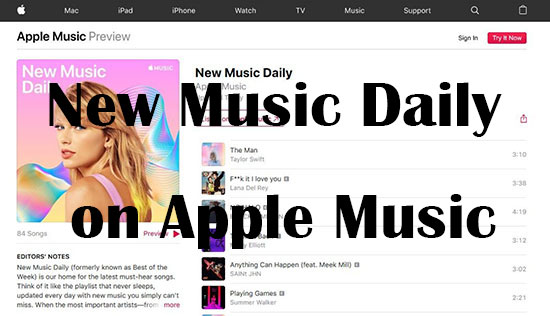 What is New Music Daily and What is the Difference from Best of The Week
New Music Daily is "the playlist that never sleeps, updated every single day, continually providing with the music that you can't miss from different lead artists", described by Apple.
As the name implies, New Music Daily will generate a daily-updated playlist, rather than a weekly-changed playlist like Best of The Week. The difference reflects an adjustment in brand tone, but not a radical change in the music content of the playlist.
The first version of New Music Daily is led by Taylor Swift and her new single The Man, from her latest album Lover. And the following contents contain more than 80 songs from various artists such as Missy Elliott, Lana Del Rey, Sturgill Simpson and so forth. The total running time is about 5 hours.
The feature of a daily update of the playlist is absolutely catching the attention of the music majority, who are constantly hoping to get the popular music content and explore excellent artists who are only known by the minority.
Why Apple Music Rebrands New Music Daily
New Music Daily of Apple Music seems a new answer to Discover Weekly of Spotify and its related contents which are created algorithmically every day.
Spotify released Daily Mixes in 2016 and went a further step in this year by launching a mix feature of music and news in Your Daily Drive.
Apple Music provided the Friends Mix, which is according to users' listening habits of their social circle and the Discovery Top 50 of Shazam, a music-searching app for displaying new music talents, purchased by Apple in the past. But the New Music Daily will have a wider horizon, discovering more emerging artists from the global world, showing the feature that "music is across the world and across genres".
Where to Find New Music Daily
If you are an Apple Music subscriber, you can find New Music Daily from here. Just add it to your Apple Music library and it will update automatically every single day.
If you don't have an Apple Music account, you can register a new one from the website. Now Apple's music streaming service offers a free trial for 4 months, which is a month longer than the previous trial plan. With following the step of Spotify's 3-month premium free trial, Apple seems prepare to start a new round of competition in the field of free trial.
Bonus: How to Keep Apple Music for Forever Listening
As we all know, Apple Music is streaming music, namely you have to keep subscribing to its service for constantly enjoying music. Here I am going to give you a brief introduction of a workaround to save Apple Music's tracks after unsubscribing.
Necessary Tool for Downloading Apple Music
AudFree Apple Music Downloader, designed for clearing DRM away from Apple Music tracks and converting to universal formats such as MP3, AAC, M4A, etc. with 100% original quality and 100% raw metadata kept.
Working at 30X super-fast converting speed, this smart software is capable to transfer 100 tracks at one time. With the powerful support from this intelligent tool, it is pretty easy to download Apple Music as local audio files.
Simple Steps to Preserve Apple Music Forever
Step 1. Open AudFree Apple Music Converter and the iTunes will be launched in a few seconds later.
Step 2. Directly drag and drop the media files from Apple Library to the blank of AudFree. Or simply click the "load iTunes Library" icon on the bottom left corner of the AudFree's interface then add Apple songs to AudFree.
Step 3. Click the "audio" icon then open "Format Setting". Modify the related output parameters as your requirements.
Step 4. Tap on the "Convert" button to remove DRM from Apple tracks and recode those tracks based on the preset setting.
Step 5. When the conversion is done, please follow the on-screen prompts to locate the local folder. Check if all selected songs are converted successfully and saved in there.
Conclusion
What do you think of this new change of Apple Music? Does the New Music Daily fit your preference? Or do you still prefer to get a weekly-updated playlist as before? From my perspective, Apple Music catches up with the trend of big data, and the New Music Daily is the first testing product in the field of algorithmic music.