Bumble is a popular dating app that allows users to find potential matches based on their location, interests, and preferences. In recent years, Bumble has introduced new features to enhance user experience, including the ability to connect your Spotify account to your Bumble profile.
Bumble Spotify feature enables users to showcase their favorite music and artists on their profile, making it easier to find like-minded individuals who share similar music tastes. In this article, we will walk you through how to connect Spotify to Bumble to share top artists.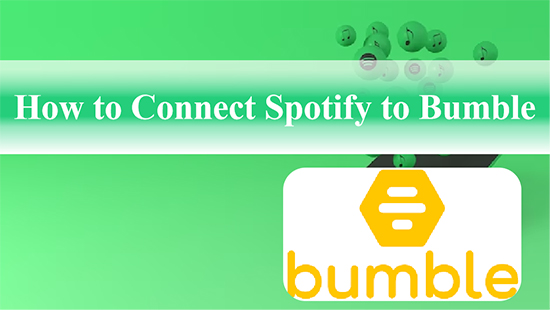 Part 1. How to Connect Spotify to Bumble
Spotify and Bumble have teamed up to create a new integration that lets users share their favorite songs and artists on their Bumble profiles. With the new feature, users can link Spotify to Bumble profiles, giving potential matches a glimpse into their music tastes. This allows users to connect over shared interests and discover new music together. Now please follow these simple steps to get Bumble Spotify working.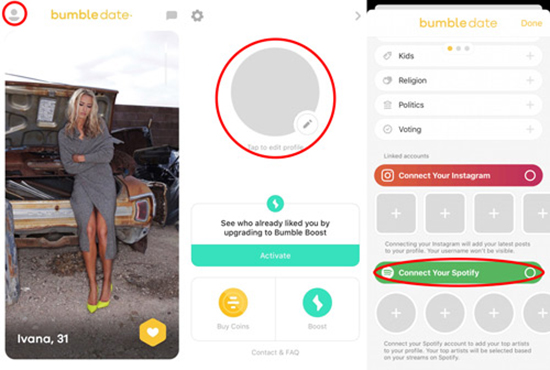 Step 1. Open the Bumble app and click on your "Profile photo" icon.
Step 2. Tap on the "Complete my profile" bar and then you can open the profile editor.
Step 3. Scroll down and hit "Linked Accounts" > "Connect your Spotify" icon.
Step 4. Log in to your Spotify account via the "Login" tab and grant Bumble access to your Spotify data.
Part 2. How to Change Top Artists on Spotify Bumble
Bumble allows you to connect with potential partners based on your shared interests. However, if your music taste has changed or you simply want to update your profile, you may want to change your top artists on Bumble. In this part, we will provide you with detailed steps on how to change Spotify top artists on Bumble.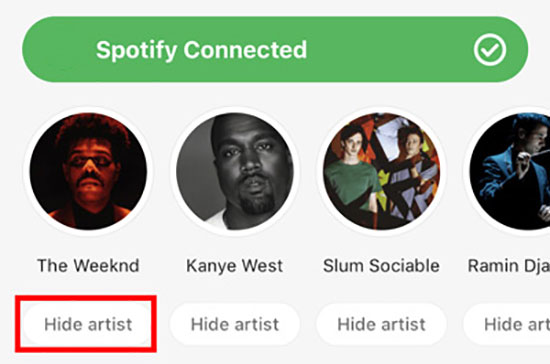 Step 1. Make sure your Spotify account is connected to Bumble. If not, follow the steps in Part 1 to do so first.
Step 2. Run the Bumble app and go to the profile editor.
Step 3. Click "Hide Artist" under the round artist photo to select any artists you don't want to see or want to change.
Step 4. Choose the artists you want to display on your profile.
Part 3. How to Fix Bumble Spotify Not Connecting
Some users have reported issues with connecting their Spotify accounts to their Bumble profiles. One common issue is the "Spotify not connecting" error message. Now, we will provide some solutions to help you fix the Bumble Spotify not working issue and get back to enjoying the app's features.
✅ Log Out of Your Bumble Account
Sometimes, simply logging out of your Bumble account and logging back in can fix the problem. To do this, go to your Bumble settings, scroll down to "Connected Accounts", and select "Spotify". From there, select "Disconnect", then log out of Bumble. After a few minutes, log back in and try reconnecting your Spotify account.
✅ Reinstall the Spotify App
If logging out of Bumble doesn't work, try reinstalling the Spotify app on your phone. Once you've reinstalled it, log back into your Spotify account and try reconnecting it to Bumble.
✅ Switch Off-on Date Mode
Another solution is to switch off-on date mode on your phone. This can sometimes reset the connection between Bumble and Spotify. To do this, go to your Bumble's settings, and toggle off "Date mode". Wait a few seconds, then toggle it back on.
✅ Re-Register Your Bumble Account
If none of the above solutions work, you may need to re-register your Bumble account. To do this, delete the app from your phone, then reinstall it and create a new account. Once you've done that, see if your Spotify account can link to Bumble without any problems.
Part 4. How to Add Spotify Music to Video for Bumble Profile
Did you know that Bumble allows users to add videos to their profiles? This provides a more immersive and engaging experience because videos give a better idea of a person's personality and interests than still photos. What about adding Spotify music as video background music for Bumble profile? This is also possible as long as you have AudFree Spotify Music Converter.
Generally, you can't import Spotify songs to video directly because of digital rights management protection. But the powerful AudFree Spotify Music Converter is specialized in removing Spotify format locks and converting Spotify to MP3, FLAC, WAV, AAC and other common formats. After that it couldn't be easier to use downloaded Spotify music as soundtrack in video.
In addition, the software is easy to use and provides high-quality audio output to ensure that your videos sound professional. For example, you can also customize Spotify's output settings to match your preferences, including bit rate, sample rate, etc. And there is no loss of original quality and metadata information of Spotify songs.
How to Add Spotify Music to Video for Bumble Profile
Step 1

Add Spotify songs to AudFree SpoDable

First of all, launch AudFree Spotify Music Converter and you will notice that the Spotify app will also open automatically. Here, you need to find some tracks in the Spotify app that you want to add to your video. Once found, drag and drop them into the main interface of the tool. Alternatively, copy and paste the song URL into the search blank field and press the "+" button.
Step 2

Customize Spotify songs output format

Please click the "Menu" icon in the upper right corner and then click "Preferences" in the list to enter a new window. Touch the "Convert" option and you can start resetting Spotify music output format and other audio parameters.
Step 3

Download and convert Spotify songs for video

Now, press the "Convert" button to download Spotify music to your computer as local files. You can find all downloaded Spotify files by clicking the "Converted" button. Further, all these song downloads are at your disposal and you can add Spotify music to video for uploading to Bumble profile.
How to Add Spotify Video to Bumble Profile
Step 1. Launch the Bumble app and tap on your "Profile" icon in the top left corner of the screen.
Step 2. Scroll down to click on "Edit profile" icon.
Step 3. Tap on the "+" icon next to the "Media" section.
Step 4. Select the video you want to add from your camera roll or record a new one using the app's camera feature.
Step 5. Select the target video to which you have previously added Spotify music.
Step 6. Trim the video to the desired length and adjust the cover photo if needed.
Step 7. Tap on "Save" to add the Spotify video to your profile.
Part 5. In Conclusion
Connecting Spotify to Bumble profile is a great way to showcase your music tastes and find like-minded individuals on the app. By following the steps outlined in this article, you can easily connect, customize, and enhance your Bumble profile with Spotify. Just take action to make meaningful connections with others who share your interests in Bumble.