Q: Can I share liked song with friend on Spotify? I have a collection of Spotify tunes that I really like and would like to share with specific people. However, there is no direct option to share favorite songs on Spotify platform. Is it possible to give others quick access to my liked Spotify songs?
Of course, sharing a preferred song is a romantic way to showcase your musical preferences. If you are also experiencing the above problem, don't worry, here's the solution to everything. Read the full article and you'll learn how to share liked songs on Spotify as well as make the list of favorite songs public so that they are visible in your profile.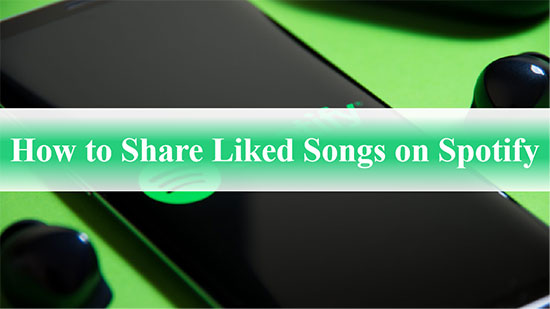 Part 1. How to Share Liked Songs on Spotify
How can I share my liked songs on Spotify? If you want to share liked Spotify song, there are two options, i.e. share individual songs or the entire playlist. In general, you can easily share individual favorite songs on Spotify with friends. Therefore, we will start by describing how to share individual liked songs on Spotify for different devices.
How to Share Your Liked Songs on Spotify Desktop
Step 1. Open the Spotify app or web player and click on 'Liked Songs' on the left pane.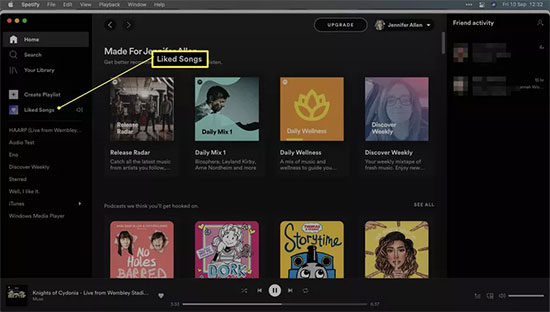 Step 2. Select the Spotify song you want to share and tap 'Three dots'. Hover over the 'Share' option and tap 'Copy song link'.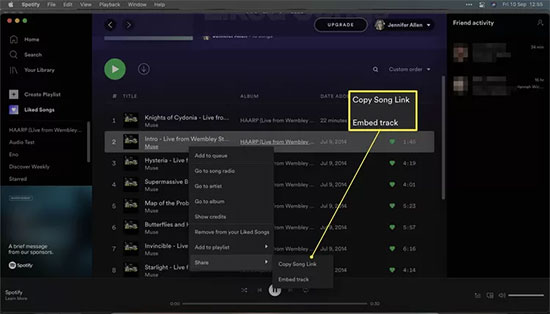 Step 3. Copy the link to the song you like to your clipboard and you can send it to a friend to share the song.
How to Share Liked Songs on Spotify Mobile
Step 1. Open the Spotify app on your phone and click on "Your Library" in the bottom panel. Find and click on "Liked Songs".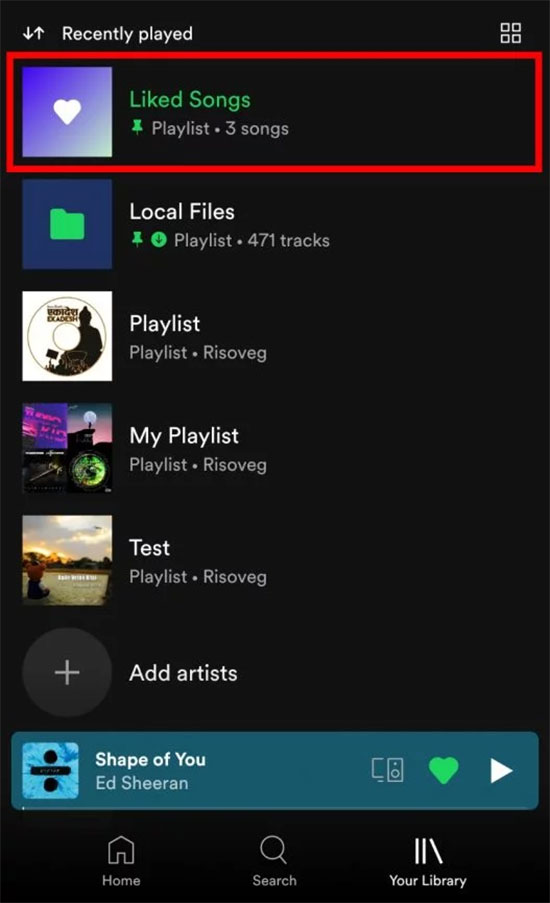 Step 2. Tap the three dots on the side of the song you want to share and select the 'Share' button.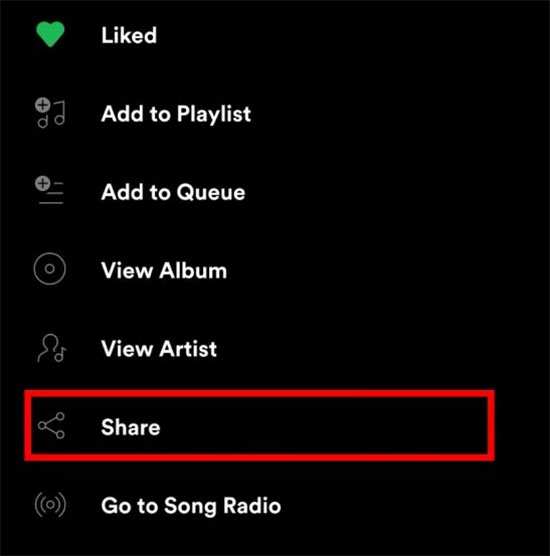 Step 3. It will prompt you to select a location to share, e.g. WeChat, Messenger, etc. After that, you can smoothly share your favorite song to a specific place.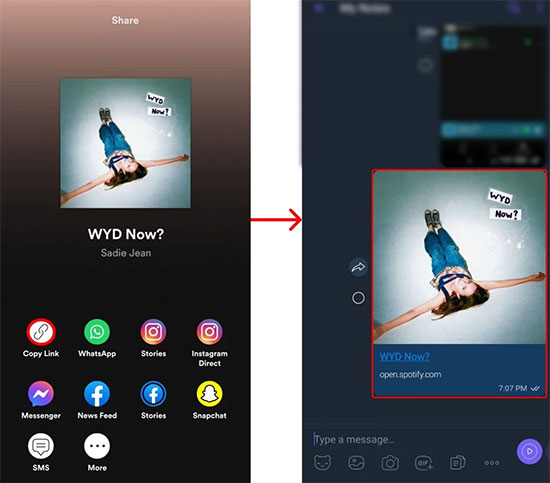 Part 2. How to Share Liked Songs Playlist on Spotify
Currently, there is no way to send all Liked Songs playlist on Spotify to another person directly. However, you can create a shareable Liked Songs playlist by copying these songs into a new playlist. Follow these steps to see how you can do this on your computer.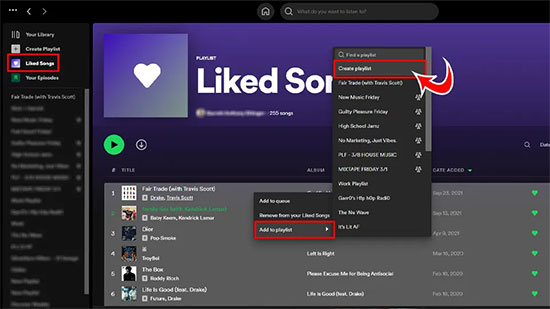 Step 1. Open the Spotify app on your desktop and click on 'Liked Songs' in the left pane.
Step 2. Press "Ctrl+A" or "Command+A" at the same time to select all your favorite songs in the playlist.
Step 3. Right-click on the playlist and move your mouse to "Add to playlist".
Step 4. Click on "Create playlist" and rename the new playlist to convert liked songs to playlist.
How to Share Your New Playlist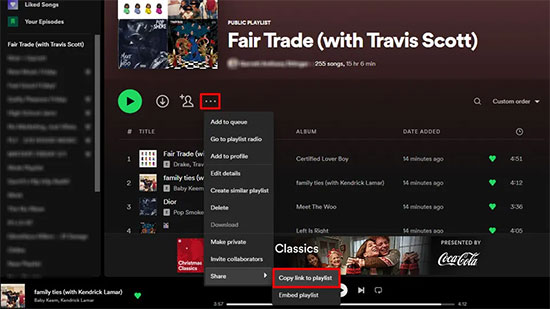 Step 1. Find the newly created playlist and click on the 'three dots' icon in the playlist window.
Step 2. Select the 'Share' and 'Copy Link to Playlist' buttons.
Step 3. Press CTRL+V or Command+V to paste and share the playlist with your friends.
Part 3. How to Make Spotify Liked Songs Public
Can people see your liked songs on Spotify? Can you make your liked songs public on Spotify? Once you've created a new playlist containing all your favorite songs, you can make it public or visible only to you. Making your Spotify playlist public is easy, then your friends, contacts and others on Spotify can search and save your liked tracks.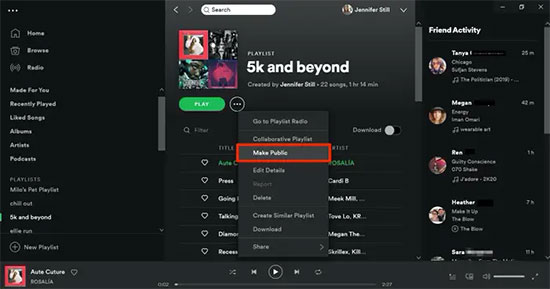 Step 1. Open the Spotify app and hit on the 'Playlists' section to find the playlist you want to make public.
Step 2. Tap the three dot tab and click the "Make Public" button from the list of available options.
Step 3. To hide your liked Spotify songs, follow the same steps to tap "Make Secret" instead of "Make Public".
Part 4. How to Download Liked Songs on Spotify without Premium
As you probably know, Spotify Premium users are the only ones entitled to download favorite songs, while free users can only listen to music online. To break this restriction, many Spotify downloading tools tools have emerged. After careful selection and comparison, we have picked the top AudFree Spotify Music Downloader.
In fact, it's dedicated to downloading all content from Spotify such as songs, albums, playlists, audiobooks and more on your computer locally. Whether you have a Spotify Premium membership or not, you can download as many songs as you like on Spotify without any limit. What's more surprising is that it will convert Spotify songs to MP3, AAC, FLAC, WAV, etc. with 100% original quality and ID3 tag retention.
How to Download Liked Songs on Spotify without Premium
Step 1

Add Spotify Music to AudFree SpoDable

Open the AudFree Spotify Music Downloader from your desktop and select the track you wish to download in the Spotify app. Copy the URL of the track and paste it into the search bar directly, then click the "+" button.
Step 2

Reset Output Format of Spotify Music

Tap on the Menu section in the top right corner and open the Preferences > Convert tab. You can customize the Spotify song output settings such as output format, audio channel, 320 kbps bit rate, 48000 Hz sample rate and more.
Click on the "Convert" icon in the bottom right hand corner to start downloading music from Spotify. Afterwards, hit on the "Converted" button to find all the downloaded Spotify Music files. Then you can listen to your preferred Spotify songs offline on any device or player you want.
Part 5. In Conclusion
In short, this article presents detailed tutorials on how to share liked songs on Spotify. If you desire to download a wide range of Spotify songs without premium, here is also an effective method for your reference. Try sharing your musical tastes with friends and enjoy favorite Spotify music to the fullest.