Spotify is the major streaming service globally, known for its excellent music recommendations and playlists. It's a great place to find new music, and loyal fans can keep up with what their favorite superstar artists have coming out next. How well-known are your famous musicians? Check out our list of top artists on Spotify in 2022 to see how much they're worth on the global music scene. It can also indicate how unusual or mainstream your musical tastes are.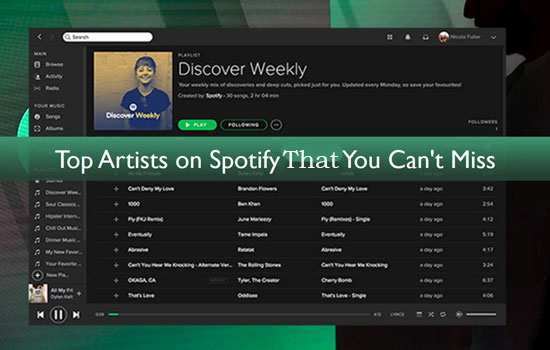 Part 1. What Factors to Determine the Best Artists on Spotify?
Experts consider several factors when determining the best artists globally; one of them is Spotify stream count. We'll use a couple of Spotify terms throughout this article, and it's best to define them ahead of time so that those who aren't familiar with the terms can understand what we're talking about.
Spotify Monthly Listeners
Spotify monthly listeners explain the number of unique listeners who spent more than 30 seconds listening to a singer over a 28-day rolling window. When an artist launches a new song or becomes famous online, their monthly Spotify listeners increase. Best artists always are the most listened to artists on Spotify.
Spotify Popularity Score
The number of streams, replay value, save rate, and other factors factor into the Spotify popularity score.
Part 2. Most Listened to Artists on Spotify - Top 10
This list is bound to change because we're still in the first quarter of 2022. The following is a list of the most popular artist on Spotify in 2022.
1. Ed Sheeran
In March 2022, the Shape of You singer has the most Spotify streams. With over 94.28 million followers, this vocalist's dominance of Spotify charts is unsurprising. He's in charge of Ariana Grande, the world's second-most-followed Spotify artist, with approximately 17 million followers.
Despite not releasing albums as frequently as NBA Youngboy or Lil Durk, the pop star consistently ranks number 1 artist on Spotify in the most-streamed artist's list.
2. Justin Bieber
Justin Bieber is the second vocalist on our list. His debut EP, My World, gave the Canadian singer his early fame. He has a cult following known as Beliebers. Bieber, like Ed Sheeran, is no stranger to the Spotify charts. While Bieber is 36 million followers short of Ed Sheeran in terms of monthly listeners, the "Purpose" singer is the closest in terms of monthly listeners. JB has a monthly listenership of 78.14 million people.
3. The Weeknd
On our list of the top 10 most popular artists on Spotify, The Weeknd is the next artist. Thanks to his recent album Dawn FM, The Weeknd now has 78.08 million monthly listeners. As previously mentioned, when artists release new songs and albums, their monthly listenership increases. The Weeknd is the third most popular artist on Spotify, with 42.93 million followers.
4. Taylor Swift
Taylor Swift is still at the top of the charts, despite her "countless" squabbles with Spotify over artists' low pay. The singer's song "You Belong with Me" has 55.30 million monthly Spotify listeners, making it one of Spotify's most famous artists. Watching the talented singer and songwriter progress from a teen country musician to a worldwide pop star is incredible.
5. Dua Lipa
Dua Lipa is the first female singer to be recognized as the most listened to artist on Spotify in March 2022. Her song, Don't Start Now is in the list of most streamed song on Spotify. She has a monthly Spotify audience of 68 million people. However, the English singer and songwriter are not among Spotify's top 20 most famous artists.
6. Imagine Dragons
The first pop band on this list is Imagine Dragons. The four-piece band has 38.91 million followers and 57.79 million monthly listeners. Fans eagerly anticipate their new album, which also serves as their sixth studio album, as they tour around the world.
7. Eminem
On the Spotify platform, Eminem has 54.01 million monthly listeners. It is not the first time the rap legend has appeared on this list, and he shows no signs of slowing down any time soon.
8. Coldplay
Coldplay is the second most popular band monthly. Imagine Dragons leads the British rock band by 90,000 streams. Coldplay is nowhere near Imagine Dragons in terms of Spotify subscribers. They re-released "Let Somebody Go" in 2022 and a cover of Kid Cudi's "Day 'n' Nite", a 13-year-old song.
9. Doja Cat
Doja Cat, 2021's best-selling female rapper, is back in 2022 to defend her title. On Spotify, she has 56.05 million followers who listen to her rap and pop music. The Grammy Awards, which will take place on April 3, 2022, have nominated the well-known American rapper for eight awards.
10. Ariana Grande
The most popular female vocalist on Spotify, Ariana Grande, would not be complete without her inclusion. She also has a monthly listenership of 54.01 million people. "Positions", her single, is one of the most-streamed songs on the planet.
Part 3. How to Download All Artist Songs on Spotify
If you are looking for a solution that can help you download all the songs and playlists from the Spotify music streaming platform, then feel lucky as we are about to introduce you to one such platform right now. Whereas, in general, only premium members of Spotify are allowed to download all of the songs so they can play them later when they are offline. And now you can use AudFree Spotify Music Downloader to download all of your favorite playlists for free of cost. Downloading all the music is now made as easy as it sounds to you.
All you will have to do is drag and drop any streaming track from the Spotify app. And AudFree Spotify Music Downloader will quickly download it for you, making such Spotify premium features for you for a lifetime.
Not only is it a high-end Spotify song downloader, but it's also a capable Spotify converter. AudFree Spotify Music Converter for Windows uses advanced decoding and recoding technology to convert Spotify to MP3 and additional audio files at a 5X faster rate on the computer. On macOS 10.14 and higher, the Mac version of AudFree Spodable is limited to 1x speed.
AudFree Spotify Music Converter
To download and convert the music of top 10 most popular artist on Spotify offline for free, following these steps using AudFree Spotify Music Converter.
Step 1

Add Spotify music to AudFree

Search the artist on Spotify who you want to listen to his songs offline, and then find all the songs you want to download and simply drag them on the interface of AudFree Spotify Music Converter. You can also copy the link to the songs and then paste it to the search box on AudFree, finally click the "+" icon to upload the songs from one of the top artists.
Step 2

Personalize the output settings for Spotify songs

On the top right corner, click and open the menu bar. Choose the Preference button, then the Convert button on the new window. Select one output format for the song from Spotify, which will convert Spotify music to MP3, FLAC, WAV, etc. Then change any other parameters as provided. Click "OK" to save your settings.
Step 3

Download the songs from the top artist on Spotify

To start the Spotify music conversion, click the "Convert" button on the bottom right corner. The tool will convert and download Spotify songs to computer. Once all the songs have been downloaded, click the "Converted" icon to find Spotify songs and play them on multiple devices.
Part 4. FAQs about Top Artists on Spotify
Q1: Who Is the Number 1 Artist on Spotify?
As of April 2022, Ed Sheeran holds the record for the most monthly Spotify listeners for a male artist, while Dua Lipa has the record for the most monthly Spotify listeners for a female artist. The most famous female artist is Ariana Grande, while the most popular male artist is Ed Sheeran.
Q2: How to See Your Top Artists on Spotify?
Go to statsforspotify.com and log in with your Spotify account to find out what yours is. You choose to see the Top Artists or Top Tracks on the website. It then presents you with personal lists of your favorite artists and songs from the previous four weeks, six months, and all time.
Q3: How to Play All Artist Songs on Spotify?
Enter the artist's name into the search bar, but don't click on the artist's name in the results list because it will take you to the artist's page. Instead, go to the "songs" option and click "see all songs" at the bottom. You will find a list of entire songs from a specific artist there.
Part 5. In the Summary
Have any of your favorite musicians made our list of the most listened to artists on Spotify in 2022? There's nothing to be concerned about if this isn't the case. Nothing is out of reach with your unfailing support. Keep in mind that as time passes, this index may change. Lil Nas X, Juice Wrld, Olivia Rodrigo, Bad Bunny, Kid Laroi, Drake, and others appear on the expanded list, including the first 20 artists. Olivia Rodrigo's future nostalgia has over 130 million weekly streams, making her the most streamed female artist.
Now that you have recognized top artists on Spotify, and if you get the idea to listen to their songs offline without premium, the AudFree Spotify Music Converter will be your best choice. It downloads soundtracks from Spotify to the most commonly used audio formats at a faster speed, so that you can enjoy all artist songs anywhere you like.