As 2022 draws to a close, Spotify Wrapped 2022 is just around the corner. It is a personalized list summarizing your Spotify listening experience over the past year. For those who use Spotify regularly, it's always fun to look back at his/her summary of the year-round music playback.
Want to find out your listening milestones for 2022? Can't wait to experience the exciting new features of Spotify Wrapped? Here, you can find out the latest news on Spotify Wrapped 2022 and check out your own personalized Creator Wrapped.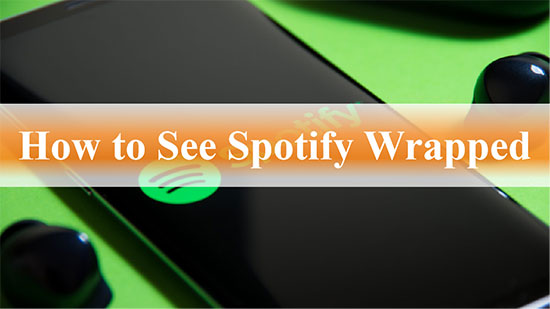 Part 1. Spotify Wrapped 2022: Latest News
What Is Spotify Wrapped
Through an annual in-depth survey of its users' listening habits, Spotify presents them with a compilation of their listening data on the platform over the past year, known as Spotify Wrapped. It historically includes users' favorite artists, songs, genres, podcasts and listening times. In addition, the Wrapped campaign details the most listened to and streamed content on Spotify service throughout the year.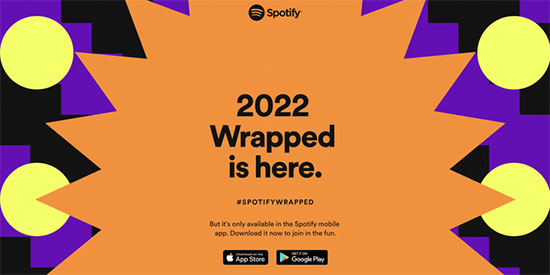 When Does Spotify Wrapped Come Out
Since 2016, Spotify Wrapped events are published in early December each year. And Spotify Wrapped only includes Spotify events from 1 January to 31 October in any given year. Now, Spotify Wrapped 2022 goes live on 30 November, allowing users to view their annual charts.
What Does Spotify Wrapped Show You
Classic Features
The most popular artists, songs, albums and podcasts of 2022 worldwide. The artists, genres, songs and podcasts that users themselves listen to regularly, and the amount of time they spend listening to music on Spotify.
New and Interesting Feature
Your Listening Personality. Spotify Wrapped creates 16 different listening personality types and later showcases your listening personality and musical tastes based on your listening habits during the year. We could call it the MBTI test for music.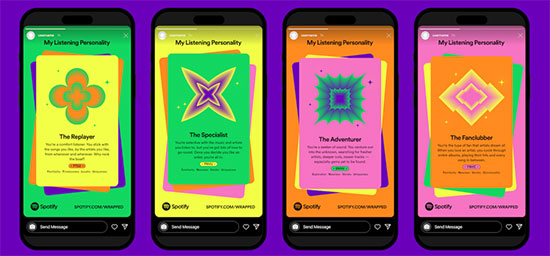 Audio Day. It will show your listening habits at morning, midday and evening, giving you a glimpse into the evolution of your music tastes throughout the day.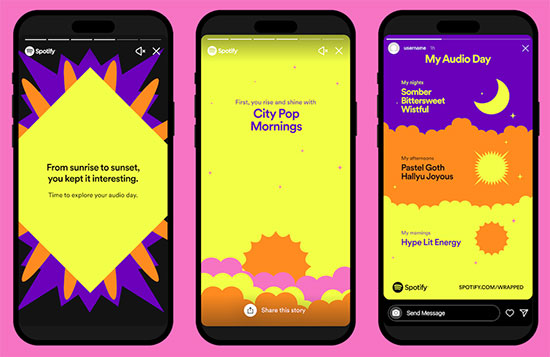 Share Wrapped Cards. This year's new feature is to share Wrapped cards on WhatsApp and Line.
Your Artist Messages. Through "Your Artist Messages", selected eligible fans will receive end-of-year thank you videos from top artists, thanking fans for their support. Each video is followed by that artist's song that lucky fan listened to most often this year.
1. Bad Bunny
2. Taylor Swift
3. Drake
4. The Weeknd
5. BTS
1. "Un Verano Sin Ti" by Bad Bunny
2. "Harry's House" by Harry Styles
3. "SOUR" by Olivia Rodrigo
4. "=" by Ed Sheeran
5. "Planet Her" by Doja Cat
Most-Streamed Songs Globally
1. "As It Was" by Harry Styles
2. "Heat Waves" by Glass Animals
3. "STAY (with Justin Bieber)" by The Kid LAROI
4. "Me Porto Bonito" by Bad Bunny feat. Chencho Corleon
5. "Tití Me Preguntó" by Bad Bunny
Most-Streamed Podcasts Globally
1. The Joe Rogan Experience
2. Call Her Daddy
3. Anything Goes with Emma Chamberlain
4. Case 63 (All Languages)
5. Crime Junkie
Part 2. How to See Spotify Wrapped 2022 on Mobile App
All Spotify users can only view Spotify Wrapped 2022 in the Spotify mobile app. Make sure you are using the latest version 8.7.78 or higher of Spotify app and follow the steps below to access it.
Check Spotify Wrapped from Spotify Mobile App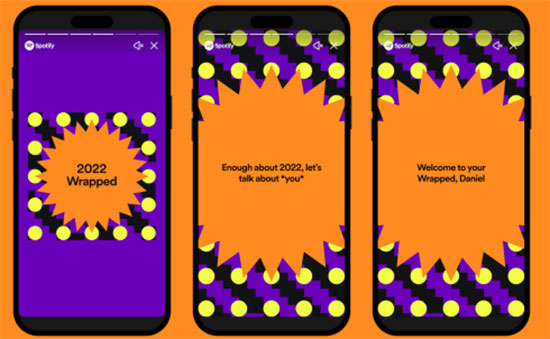 Step 1. Launch the Spotify app on your iOS or Android device and enter your login details.
Step 2. On the home screen, click on the Spotify Wrapped 2022 banner. If it's not there, you can simply type Wrapped into the search bar.
Step 3. You'll get Spotify Wrapped story for an in-depth look at your customized stats. Click the Share this story button to share your Spotify Wrapped to social media platforms.
Part 3. How to Download Spotify Wrapped without Premium
By now, you should be well on your way to Spotify Wrapped 2022. If you're a Spotify premium subscriber, you can download the Spotify Wrapped songs and playlist directly. But how do free users back up their Spotify Wrapped for offline listening? To meet the needs of free users, we have found a useful assistant called AudFree Spotify Music Downloader.
This powerful tool is dedicated to downloading Spotify tracks, albums, playlists, podcasts and more to your computer locally. Moreover, it can convert Spotify to MP3, FLAC, AAC, etc. with 100% quality and parameters maintained. You can find the full ID3 tags such as artist, album, genre, year, etc. in the converted Spotify music files. With it, you can nicely download Spotify Wrapped content without premium subscription.
How to Download Spotify Wrapped without Premium
Step 1

Add Songs from Spotify Wrapped to AudFree SpoDable

Once you find Spotify Wrapped, you can start adding your favorite Spotify music to AudFree SpoDable. One is to copy the track link from Spotify Wrapped and paste it into the search bar, then press the "+" button next to it. The other is to drag and drop the songs onto the main page directly.
Step 2

Adjust Spotify Output Settings and Related Parameters

Click on the Menu icon in the top right corner and select the Preferences > Convert option. A new settings window will appear where you will be able to adjust output parameters such as format, bit rate, sample rate, channels etc. by clicking on the drop down icons for each option.
Step 3

Download and Convert Songs from Spotify Wrapped

When all the above steps have been completed, click on the "Convert" button in the bottom right hand corner. The program will begin to decrypt the Spotify tracks and download music from Spotify to computer. After the conversion, you can tap the Converted button to check the local Spotify Wrapped files on your computer.
Part 4. In Conclusion
Spotify Wrapped 2022, which Spotify users around the world look forward to every year, is ready. Here's everything you need to know about this fun feature. Try out look at Spotify Wrapped and share personalized results with friends and family to compare music tastes.