Most audiophiles are familiar with the "Heart" feature, which is a measure of goodness. That's how to like a song on Spotify. However, things are a bit different with the "Dislike" option which is not portrayed. Well, you find several ways to dislike a song on Spotify. You can breathe a sigh of relief for the songs curated for you that you disapprove of. Simply "Dislike" them and let them not play on your schedule. Let's peruse more on disliking a song on Spotify.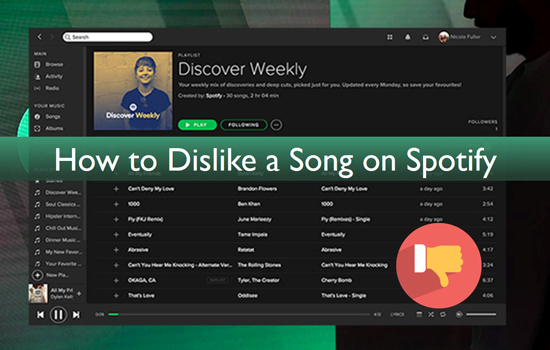 Part 1. Dislike a Song on Spotify - What You Need to Know
Several ways are available to dislike a song on Spotify. As much as using the "Heart" indicates you are voting for a song, the dislike options you have include hiding, skipping, or simply choosing not to play the song. In this way, Spotify's algorithm will train to skip the disliked songs from its playing list.
Part 2. How to Block Disliked Songs on Spotify Mobile
If you don't like the song that Spotify mixed for you, you don't need to play it. Just follow these steps and learn how to dislike a song on Spotify iPhone and Android mobile.
Step 1. First, tap on the song you dislike.
Step 2. Then click on the "Three dots" on the song page.
Step 3. Choose the "Don't play this song" option to block the disliked song. The song will be blocked from all playlists and radio stations.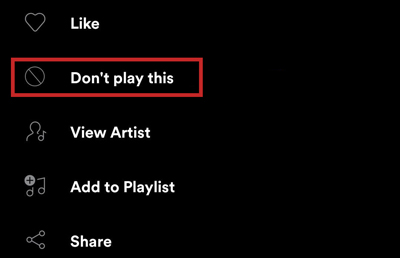 How to Block Disliked Songs in Spotify Premium
Here is how to dislike songs on Spotify with premium.
Step 1. When a song you dislike appears, first, tap on the "Three dots" at the top-right of your device screen.
Step 2. Next, tap on the "Hide song" option.
Step 3. Your disliked song will be blocked from playing.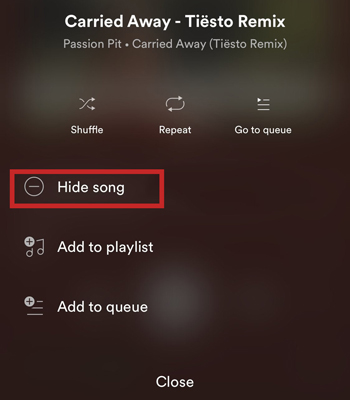 How to Block Disliked Songs in Spotify Free
Free users on Spotify also find it possible to block any song they dislike.
Step 1. First, open the Spotify app on your device.
Step 2. Start playing a song and then; open the "Playback" screen.
Step 3. Tap on the "Hide" icon that is located on the right side of the play/pause button.
Step 4. The disliked song will eventually be hidden from the rest of the playlist or station.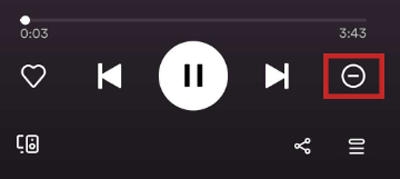 Part 3. How to Dislike Any Song on Spotify
Other than choosing which Spotify song to dislike, you can locally download only the songs you have at heart for offline playback. AudFree Spotify Music Converter is all you need to acquire the best tracks. This app will losslessly convert Spotify playlists and tracks to any output format. Among the formats, its supports are FLAC, MP3, AAC, WAV, M4A, etc.
AudFree SpoDable also adopts the latest innovative decoding and re-encoding technology to convert your files at a high rate of 5X speed. What's more, you can easily stream your tracks from Spotify to any device including game consoles, mobile devices, USB drives, Car Plays, and many more. Have it your way and customize your tracks to your preferences.
Main Features of AudFree Spotify Music Converter
How to Block Any Disliked Spotify Song
The process is painless and the steps are few with AudFree Spotify Music Converter to download Spotify playlist to MP3, or other audio forms. If you were worried about how do you dislike a song on Spotify, then worry less now.
Step 1

Open AudFree Spotify Music Converter

AudFree SpoDable supports both Mac and Windows operating systems. Just head to the official website and select your computer's version then click on the "Download" tab to download the app. Next, install it and launch it on your computer. Also, make sure that the Spotify application is already installed on your device.
Step 2

Add Spotify songs you like to AudFree SpoDable

You have the freedom to dislike any song and only select the ones you like to listen to. Drag and drop the liked playlist to the AudFree SpoDable conversion window. Alternatively, copy the URL of the playlist and paste it into the search box in the converter app. Click on the "+" button to add your selection for conversion.
Step 3

Customize the parameters of your liked Spotify songs

Define all output formats and parameters of choice. Just go to the "Menu" bar > "Preferences" and wait for a new window to open. First, choose the output format then proceed to customize the parameters such as sample rate, audio channel, bit rate, etc.
Step 4

Download and convert your liked Spotify music

Click on the "OK" tab to confirm your settings, then click the "Convert" button to start the converting process. Finally, your Spotify playlist will be converted to the laid settings and ready for offline playback. Remember, only the tracks you like and add will be the ones you enjoy from now on.
Part 4. In Conclusion
Learning how to dislike a song on Spotify doesn't require rocket science. And being that Spotify curates tracks based on your liked songs, these options have allowed you to turn down any of such. More so, the best Spotify playlist downloader, AudFree SpoDable, works in a few clicks to download and convert Spotify tracks. With this, you can select only your liked songs to convert and listen to on any device forever.