Applications, including Facebook, make sharing of content easy. With Spotify, however, things are a bit different. Unless you add friends of Spotify, it is impossible for you to share content with them. In a bid to enjoy your experience on Spotify, you want to consider adding as many friends as possible on your Spotify account.
The question however is, are you able to add friends on Spotify? If your answer is yes, that is awesome. In case your answer is no, then, you are at the right place. The reason is that this piece will not only provide you with one but two ways through which you can add friends on Spotify.
Additionally, the piece shall guide you on the procedure of downloading the Spotify application and Spotify music for sharing a Spotify playlist with friends without account in case you are stuck on how to use it.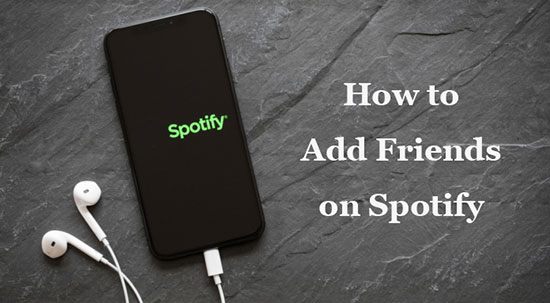 Part 1. How to Add Friends on Spotify with Facebook Account
If you already have a Facebook account, then you need to observe the following few steps in an attempt of adding more friends or people on Spotify:
Step 1. Log in or sign in into your Spotify account.
Step 2. Click on the follow option situated at the left column of the Spotify screen of your account. Doing so will take you to the Follow page of your Spotify account.
Step 3. Click on the Find Friends option that appears on this Follow page. This directs you to view a list of people who are already your friends on Facebook.
Step 4. You can choose the longer way of going through your entire Facebook friend list once you click the search bar that appears on the upper left side and add your preferred friends. However, if you know the name of your friend, you can easily type in their name on the search bar.
Step 5. Click on the name that you have typed or that which has appeared on the Facebook friend list that displayed.
Step 6. After this, you should search for the follow option that normally appears behind that friend you need to add. Click on this follow button until it changes its status to following.
Step 7. Once the status has changed from follow to following this is a positive indication that you have succeeded on how to add a friend on Spotify.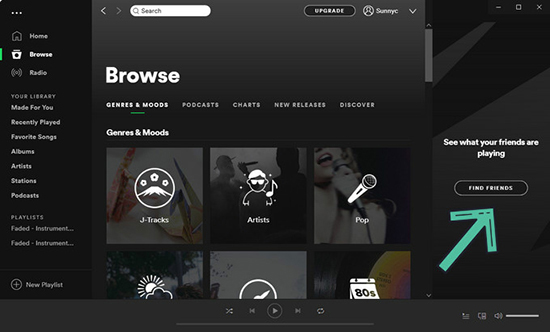 You probably think that you have reached your dead end on how to add a friend on Spotify since you do not have a Facebook account right? Fortunately, adding friends on Spotify is not only dependent on one's Facebook account. You can also add friends on Spotify without a Facebook account.
See Also: How to Disconnect Spotify from Facebook
Part 2. How To Add Friends on Spotify without Facebook
As mentioned, it is possible to add friends on Spotify without a Facebook account. Here is the procedure you need to follow as long as you have an account with Spotify
Step 1. Open the home page of your Spotify account by clicking on the Spotify app icon. If you have not signed in to your account, then, you will need to enter your correct username and password before opening the home page.
Step 2. Scroll to the upper right corner of your account screen where you will find a search bar.
Step 3. On this search bar, go ahead and type the Spotify username of the friend you intend to add. You must type their username as it appears on their Spotify profile. Failure to this, there is a likelihood that you will either not find the friend or run into a lot of people with the name that you have typed.
Step 4. Peruse through the profile options that appear after you searching the username and once you are on the correct profile scroll down until you see the button labeled Follow.
Step 5. Click on this button and as in the previous case; once the status changes from follow to following, this is a sign you already added the persons as a friend on Spotify.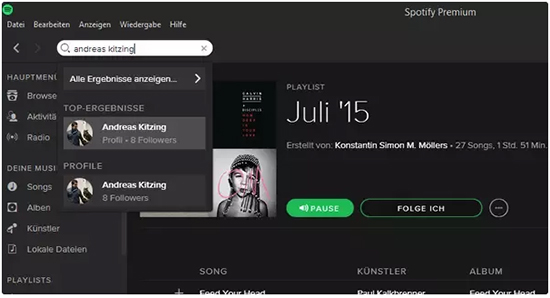 It is necessary to point out that adding friends in Spotify without Facebook account will require that you know the username of the person you want to add. The reason is that unlike when you add a friend when you have a Facebook account, the names will not automatically appear.
Part 3. Download Spotify Offline for Sharing with Friend without An Active Account
Although you may have a Spotify account, not all your friend will have this application. Hence, the high chance of them not being on your friends list on Spotify. However, you can still be able to share with them some of the Spotify tunes using AudFree Spotify Song Downloader. Here is a simple process of what you will need to do:
Step 1. Download the application AudFree Spotify Music Converter from its official site or just by clicking the above download button.
Step 2. Import your Spotify songs, playlist or albums to the AudFree application that you'd like to share with friends. You can easily do this through dragging and dropping the URL of the songs from Spotify to AudFree address.
Step 3. The next step is to customize the format as well as other settings of the imported tracks iv. From here, begin downloading Spotify music offline while converting Spotify to MP3. Once the conversion has become done, it becomes easy to share with your friends on or off Spotify.
The fascinating attribute about this app is that it has a first free trial which you can use to gauge whether you like the application before downloading the premium version. This premium version shouldn't worry you as it is relatively affordable. Besides the price, you will enjoy the high-quality tracks produced by this application. It does not matter if you have the expertise or not since Audfree Spotify Song Downloader contains an easy to use interface.
In Conclusion
None of the procedures listed in this piece is technical. Therefore, you should be able to add friends on Spotify and share your best audios with them using the AudFree Spotify Music Converter in the shortest time possible. However, you will have to ensure that you have a stable internet connection, especially when you are adding or searching for friends on Spotify. The reason is that the procedure will not complete in the absence of an internet connection.