Spotify is one of the most popular music streaming services in the world. And there is a very good reason why everyone, including myself, loves to use the service. We get free access to millions of different great songs that would otherwise cost an arm and a leg. In addition, the service gives you the ability to share Spotify playlists with almost anyone at a click of a button. If you love to share the music you are listening to with friends then here are some of the best ways to share playlists on Spotify.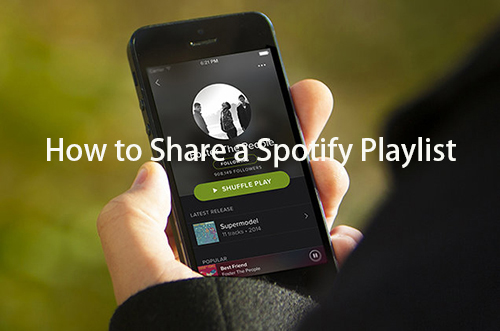 Method 1: Share Spotify Playlists with Friends via Desktop App
When we listen to a great track, the first person who comes to our mind is one of the close friends or family members that we think will love the song. Well, Spotify makes it possible to directly share Spotify playlists with friends and family as long as they are on Spotify. So, don't let an opportunity to share a great song with friends pass by.
How do you share music on Spotify directly with friends? First, launch the Spotify app on your device. Find a really great song you would want to share with your friends and then select the "share" button on the menu bar. Menu window will pop up with several suggestions, select the "send to" button and the app will suggest the name of friends on Spotify you can share Spotify playlists with. Select the friends you want to share the music with and then click the "send" button. Your playlist will automatically be shared to the said friends.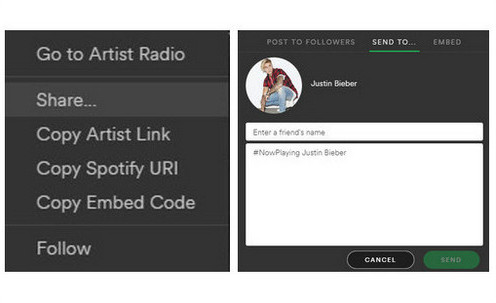 Method 2: Share Spotify Playlists Using the Social Channel
This is one of the easiest ways to share great music with friends and family. Today nearly half of the world's population is on social media. If most of your friends are on social media then you can share Spotify playlist with one person by clicking a few buttons.
When you find a great song that you would want to share with other people, all you need to do is right-click the music and then "post to followers" on the menu that pops up. A number of social media channels such as Twitter, Tumblr and Facebook will show up. Select the social media channels you would like to share your playlist on. This will prompt you to log into the account and connect. Once this is done click on the "share" button and a link to the song you shared will be published on the selected channels for your friends to see.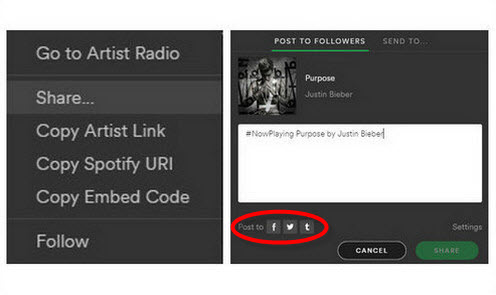 Method 3: Share Spotify Playlists by Email
This is another great way to share Spotify playlists with your acquaintances. Quite often a lot of people may skip checking their social media pages but will most definitely check their emails a couple of times a day. This makes sharing a Spotify playlist over email very impactful especially for music that really speaks to your heart.
There are two ways to share Spotify playlists through email. The first method is quite simple. All you need is to right click on the song you want to share and then click on the "copy song link" icon. You can then paste the link in your email and send to friends. The problem with this is that your acquaintances must have registered on the Spotify to play the song from their end.
For friends and acquaintances that are not on Spotify, there is an alternative way you can use to share Spotify playlists by email. Before you share any music you will first need to find, download and install a Spotify Music Converter on your device. This is a third-party app that lets you convert your Spotify music to a version that can be played using windows or even on a Mac PC.
My all-time favorite music converter for this purpose is the AudFree Spotify Music Converter for Mac/ Spotify Music Converter for Windows. This is an awesome music converter that strips off the DRM protection from the Spotify songs allowing you to download and play the songs you love in any audio format. This means that if you are sharing your playlist via emails then your friends will enjoy playing the songs on any device they have.
To use the AudFree Spotify Music Converter follow these simple steps:
Step 1

Download, install and registerAudFree software

To download the music converter head to the official page of the AudFree Music Converter. There are two versions of the app: one of Mac and the other for Windows. Select the version you want depending on the devices you use. Click on the download button to download it. Once you have downloaded it, install the app on your device by clicking and on the app file and following the prompts. Once you have installed the app launch it and register using the license provided.
Step 2

Add your Spotify playlists

When you launch the AudFree Spotify Music Converter, the Spotify app will be automatically loaded. This means that all you need to do is browse through your Spotify account to find great songs you would want to share. When you find a great song you want to add to your playlist, just drag the song to the AudFree main window. Repeat this until you have built a sizable playlist to share with friends and family.
Step 3

Set the output settings

Now on the menu bar select "Preferences" to adjust the output settings to MP3 or any other format you would like. This will allow you to download the right quality of music for based on your preferences.
Step 4

Download Spotify playlist

To download your playlist locate and click on the "Convert" button. The AudFree Spotify Music Converter will convert and download your playlist as required. You can now share the music from your computing device with friends.
Method 4: Share Spotify Playlists via Burning to CD Method
You can actually share Spotify Playlists by burning great music to a compact disk and then sending it out to friends as a gift. This is a creative way to get your mates to listen to some really great songs. Well, with the popularity of online music streaming services, people no longer gift others CDs. But that's the trick here. When you sent someone a CD, they will be curious to want to listen to it so as to find out what you send them. In addition, it is the best way to share music with friends who rarely use the internet or live in places with poor internet access.
You just need to use the professional AudFree Spotify Music Converter mentioned above to convert Spotify music to common audio formats, like MP3. And then you can use iTunes to burn Spotify MP3 files to CD via clicking the "Burn to CD" button. Your songs will be copied to a CD in the CD player. For more detailed information, you can refer to the helpful source page: How to Burn CD from Spotify. Now, you can take out the CD, write something inspirational on top, wrap it nicely and send to a friend.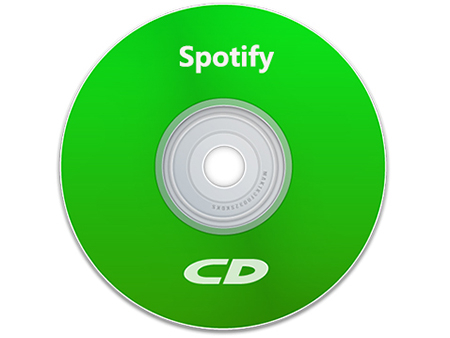 In Conclusion
One of the best things about listening to music on Spotify is the fact that you can actually share Spotify playlists with almost anyone. If you are a fan of Spotify it is time you started putting a smile on the faces of your friends by sharing with them the great music that you find on the service.
Do you still have some trouble in sharing a playlist to your best friend? If yes, please write download on the comment area, and we will give the further assistance for you.