Does Spotify have a mini player? I am looking for an option for a Spotify mini player Windows 10, but it seems impossible. It would be handy to use the Spotify pop out player to control basic music playback. Any suggestions? - Question from the Spotify Community
Admittedly, the Spotify desktop mini player is not yet available, but you can access the small player by using the Spotify web player in your browser. In this article, we'll cover the various ways to get Spotify mini player on Windows and Mac so you can control Spotify Music playback at your fingertips.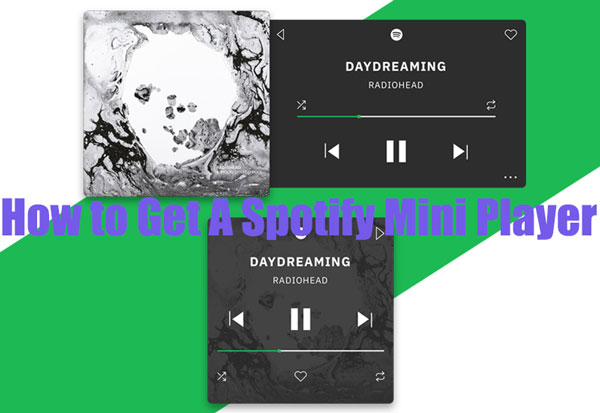 Part 1. How to Get Spotify Mini Player on Chrome
The Spotify miniplayer is currently only available in the Spotify web player. Whether you are a free or premium user, you can easily access the Spotify web player. Without further ado, let's get started with the detailed steps to make Spotify mini player with web player in Chrome.
How to Open Spotify Mini Player with Web Player
Step 1. Launch Google Chrome on your Mac or Windows computer and visit Open.Spotify.com to the Spotify web player.
Step 2. Sign in with your Spotify account and start playing some music. From the bottom control bar, click on the mini player icon next to the heart.
Step 3. A mini Spotify player with album artwork now appears. You are allowed to move this Spotify mini player PC around on the screen and enjoy the basic functions, such as pausing the music, playing the previous track or the next track.
Part 2. How to Make Spotify Mini Player Mac
Here are some recommended third-party widgets or apps to get Spotify mini player Mac OS. This way, you are able to perform simple controls on your screen such as pausing, skipping music, adjusting volume, etc. Read on to find out more about them.
SpotMenu Mini Player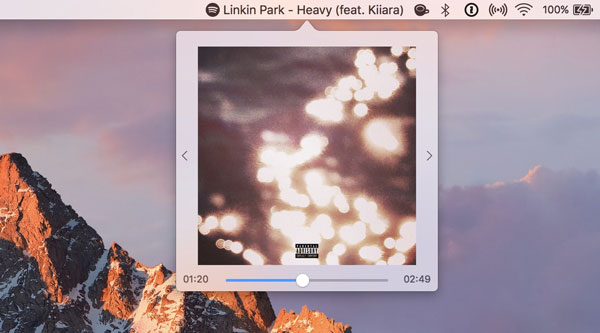 The default behavior of SpotMenu is to bring a 'Now Playing' interface made specifically for Spotify to the menu bar on Mac. If you click on it, a Spotify small player with album art pops up, making it easy to interact with Spotify Music. It allows you to pause music, play the previous/next track, and drag the music playing forward/backward.
Download the latest version of SpotMenu as a zip file from GitHub, or from the Mac App Store directly. Unzip the archive and run the SpotMenu app as well as the Spotify app. Afterwards, the metadata of Spotify Music should be displayed in the menu bar.
MiniPlay for Spotify and iTunes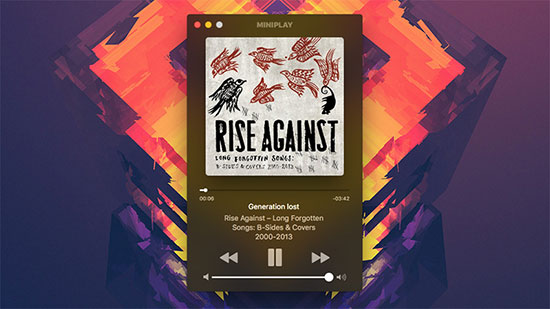 MiniPlay shows you what's currently playing in your favorite Spotify Music app and there's no more switching between Spotify and iTunes. You can see what songs are playing, control the music app's playback and adjust the sound level in the notification centre. What's even more surprising is its ability to preview full-size album artwork.
Part 3. How to Use Spotify Mini Player Windows
Want to make a Spotify mini player for Windows? Check out the two tools below for a great pop out player that facilitates simple music controls such as pause, play, skip and rewind.
Lofi Spotify Mini Player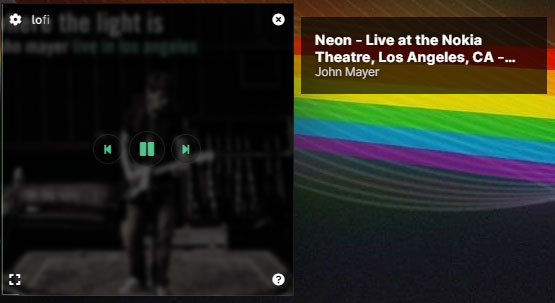 Lofi is a lightweight and free open source application. It is a minimalist Spotify player with 4 visualizations, but it does not replace the Spotify desktop application, nor does it play music independently of the Spotify app. Lofi provides more intuitive and enjoyable access to frequently used functions, including pause/play, and previous/next track
Step 1. Launch the Spotify desktop app and sign in with your account. Then open Lofi mini player for Spotify.
Step 2. Click Sign in on the Lofi screen. You will then be directed to a new tab where you will be asked to authorize Lofi to access Spotify.
Step 3. Once connected, Lofi should be able to sync the music you are playing within the Spotify app, including album art, titles, and artists. You can switch to Spotify Music visualizer and go into full screen mode.
Alfred Spotify Mini Player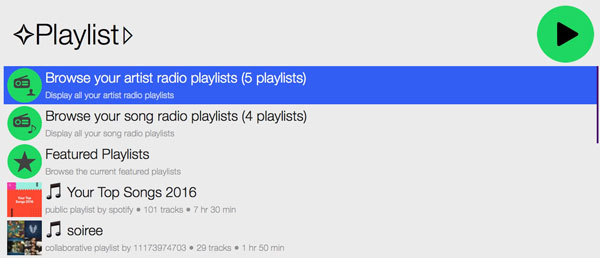 Alfred Spotify mini player is free and open source, offering various features such as full control over your playlists, online fuzzy search for tracks, albums, playlists and more. It can be a bit complicated to set up before experiencing all the features. If you are interested, you can visit its official website to download the latest version of this application and learn the detailed setup steps.
Part 4. How to Play Spotify Music on Any Mini Player
Truth be told, there will be pros and cons to the methods outlined above. But one thing is for sure, if you get Spotify mini player through a free Spotify account, you have to put up with the limitation of not being able to skip the ads. To further improve the listening experience with Spotify mini player, we have come across AudFree Spotify Music Converter to save you from this hassle.
It is an excellent tool that will help you download Spotify Music in its original sound quality without Premium. It will also retain all the songs' ID3 tags information such as album cover, artist, genre, title, etc. Thus, you are able to play Spotify Music offline on other media players with built-in mini player feature without ad disturbance.
AudFree Spotify Music Converter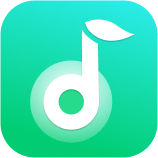 Download Spotify Music with or without Spotify Premium
Convert Spotify to MP3, AAC, WAV, FLAC, etc.
Play Spotify Music on any media player with mini player
Work at 5X faster speed, edit output music parameters
How to Download and Play Spotify Music with Any Mini Player
Step 1

Add Spotify Songs/Playlists/Albums to AudFree SpoDable

Launch AudFree Spotify Music Converter on your computer and you will see the Spotify app open automatically. To import Spotify Music, you can drag and drop Spotify Music into the main interface. Or copy and paste the link to Spotify track into the search box and click the "+" button.
Step 2

Set Output Format for Spotify Mini Player

Please click on the preferences and convert section in the top right corner. Here you can customize the output parameters including output format, channels, sample rate and bit rate. We recommend that you select the output format as MP3 to ensure that your downloaded Spotify Music is compatible with all media players.
Step 3

Convert Spotify Music for Mini Spotify Player

Once all the settings have been saved, click the "Convert" button in the bottom right corner of the main interface to start the conversion process. It will work at 5X faster speed, so you don't have to wait long. When the conversion is complete, you can find the downloaded Spotify Music files in your local output folder.
Step 4

Play Spotify Music on Any Mini Player

On Windows: Open Groove Music and drag and drop the downloaded Spotify Music onto the Groove Music interface. Then play one of the Spotify songs and click on the 'Play in mini view' button to set up the Spotify small player.
On Mac: Launch iTunes and transfer your Spotify Music to iTunes. Then play your favorite Spotify song, hover over the album cover and click the 'Mini Player' button.
Part 5. FAQs of Spotify Mini Player
Q1: What Is the Spotify Mini Player?
The mini Spotify player takes up very little space on your screen and allows you to adjust the volume, search for songs, choose which songs to play next and much more. With it, you can view the album art of the song you're playing directly without having to open your Spotify Music app.
Q2: Is There a Spotify Mini Player?
Currently, the Spotify desktop mini player is not available. Fortunately, Spotify web player enables you to make mini Spotify player for Mac and Windows.
Q3: Can You Minimize Spotify?
Spotify's minimization options can be set simply. Go to Settings/Display Advanced Settings and find the "Close button should minimize Spotify to the tray" option.
Part 6. In Conclusion
You've learned about the various ways to get Spotify mini player on Windows and Mac. Which method do you prefer? By the way, to enjoy ad-free Spotify Music on any mini player offline, AudFree Spotify Music Converter is definitely a good choice to surprise you.