If you use Spotify regularly, either on your computer or on your mobile device, you probably have problems with the application. Maybe the songs aren't downloading, Spotify won't play local files, Spotify skipping songs by itself, etc.
To prevent this from happening to you, in this article, we will focus on Spotify playback and show you the common causes and 10 top solutions to solve the issue of Spotify keeps skipping songs.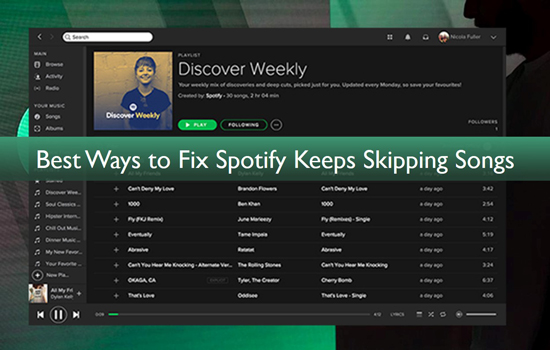 Part 1. Why Does Spotify Keep Skipping Songs
Why is my Spotify skipping songs? The reasons for this can be varied, such as an unstable internet connection, Spotify taking up too much cache, incorrect settings on the device, etc. Some users are worried that there is no way to fix Spotify automatically skipping songs, no worries, this guide summarizes some practical solutions. Without further ado, read on to find out more.
Part 2. How to Fix Spotify Skipping Songs - Common Methods
Note that there is no universal solution as such. You will need to try each of the solutions mentioned below and see which one works best for you. So, with that in mind, let's go!
Fix 1. Check Internet Connection
The playback of Spotify songs is dependent on the network environment. If spotify randomly skips songs, you should first consider the internet connection and the condition of your router. You can disconnect from the internet, restart your router and then make sure you are on a good, fast internet condition.
Fix 2. Reboot Your Device
If your device is not running smoothly, the Spotify web player skipping songs issue can also happen. In this case, the most straightforward way is to turn off and restart your device as it will fix most of the errors on your device. After that, try playing a Spotify song and see if the Spotify app works properly.
When you have problems with your Spotify account, or your premium subscription has just expired, you may experience Spotify skipping songs. Simply log out of your current Spotify account and then log in again to see if the problem is resolved.
Step 1. Open the Spotify app and log in to your Spotify account.
Step 2. Go to your profile and go to the "Account Overview" page.
Step 3. Scroll down to find the "Sign Out Everywhere" button and click on it.
Step 4. Run the Spotify app again and sign in to your account.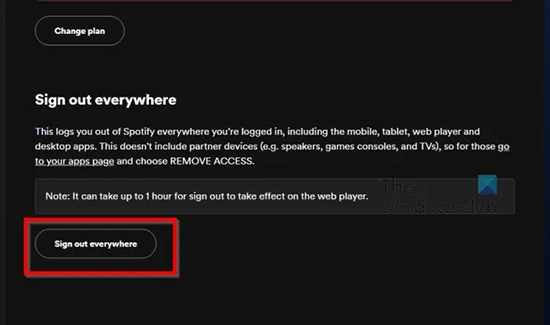 Fix 4. Uninstall and Reinstall Spotify App
The trigger for Spotify skipping songs by itself may be the Spotify app itself. A simple solution is to uninstall the Spotify app and install its latest version through an authorized app store. After that, see if you can play Spotify songs in the way you want without any problems.
Step 1. Go to Settings > Apps > Show all apps and select Spotify from the list.
Step 2. Then scroll to the bottom and note the version number of the application.
Step 3. Then scroll up, press Uninstall > OK in the confirmation dialog box.
Step 4. Once you've done that, download latest version of the Spotify app.
Step 5. Then install it and log in with your credentials.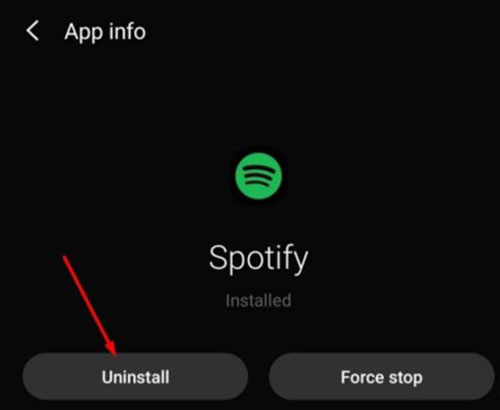 Fix 5. Switch Spotify Streaming Quality
You may not be able to play high quality Spotify song when the network environment is too weak. At this point, the Spotify browser skipping songs issue arises. Therefore, reducing the streaming quality is the best option. Simply navigate to the Settings section of the Spotify app and switch the music quality to Normal or Low. Then you will find that the Spotify song can be played without any skipping.
If a large amount of temporary data accumulates over time, it can interfere with the proper functioning of the application. Therefore, you should clear Spotify cache at regular intervals, and this may be the time to do so.
Step 1. Click Settings > Apps > Show all apps and choose Spotify from the list.
Step 2. Then go to the Storage section and tap Clear Cache.
Step 3. Once you've done that, launch the Spotify app to see if Spotify Web Player keeps skipping songs issue has been fixed well.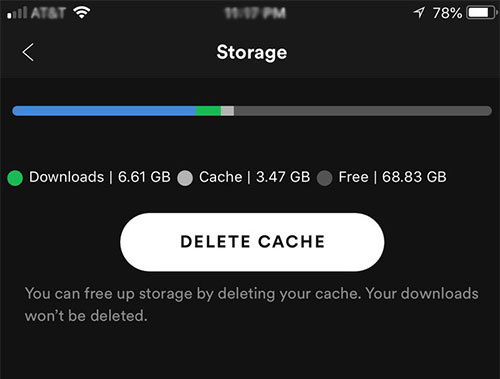 Fix 7. Disable Spotify's Non-pause Playback
Non-stop playback is the uninterrupted playback of consecutive audio tracks without any silence between them during the changeover time of a song. So the tracks in your song will follow each other without any pauses. While this feature streamlines the track-changing process and provides an immersive listening experience, it could be the random nature of the playlist. Therefore, it is recommended that you disable this feature and then check the results.
Step 1. Launch Spotify and press the Settings icon in the top right corner.
Step 2. Scroll down to the Playback section and turn off the switch next to Gapless.
Step 3. See if this solves the problem of Spotify skipping songs in the playlist.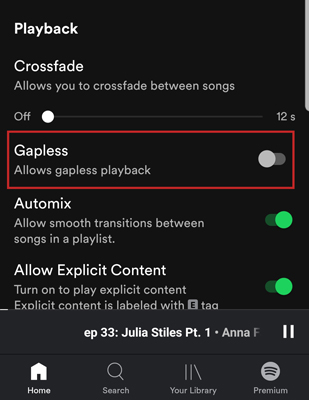 Fix 8. Optimize Storage Space on Your Device
If your device is short of storage space, the Spotify app will not run properly and in turn the problem of Spotify constantly skipping songs will occur. Similarly, it's a good idea to check and free up storage space on your device. Once you've done that, see if you can play the Spotify songs smoothly.
Fix 9. Downgrade the Spotify App
Many users have reported that the songs skipping on Spotify issue occurs after updating the app. Therefore, it is possible that the developer has provided a faulty update. Until the developer comes up with another fix for this problem, you should consider downgrading the app to the previous stable version.
Part 3. How to Solve Songs Skipping on Spotify - Ultimate Method
AudFree Spotify Music Converter is the definitive solution if the above ways couldn't fix your issue well. As the undisputed leader in on-demand music streaming, free and paid users of Spotify can access more than 82 million songs. But the tracks have been applied in the Ogg Vorbis format in all songs and playlists, which prevents members from listening to Spotify music on most popular devices and players.
To break this dilemma, AudFree Spotify Music Converter for Windows and Mac is designed to help you easily convert Spotify to MP3, FLAC, AAC, WAV, M4A, M4B and other common audio formats with zero quality loss. Then you can play Spotify tracks on any music player at any time. In this case, if you meet Spotify skipping songs issue, you can try to use any other media player to enjoy your Spotify tracks well. Let's see how to use AudFree SpoDable to download Spotify music offline at 5X speed for perfect playback.
AudFree Spotify Music Converter
How to Download Spotify Music Offline to Avoid Playback Issues
Step 1

Import Playlists from Spotify to AudFree SpoDable

Please fire up your AudFree Spotify Music Converter and the Spotify desktop client. After that, you can search favorite music and playlists on Spotify and copy the paste the URL of Spotify track to the address bar of AudFree SpoDable. Then click the '+' button to load them automatically.
Step 2

Change the Output Settings for Spotify Music

Now go to the Menu bar and select the Preference option to adjust the parameters for Spotify according to your preference. Under the Convert column, set the output formats, sample rate, bit rate,channels, etc.
Step 3

Download Spotify Music for Offline Playback

Hit on the 'Convert' button at the right-bottom corner of the AudFree SpoDable. It will automatically bring you offline Spotify music downloads and you can locate them in the local folder on your computer.
Part 4. FAQ of Spotify Skipping Songs
Why Do Spotify Songs Stop Playing after 10 Second?
It could be that you haven't downloaded Spotify song for offline listening. Alternatively, you may experience intermittent Spotify playback when your device is in battery saver or power saving mode.
Does Spotify Have a Limit on Skips?
If you're a Spotify Premium subscriber, you can skip as many Spotify songs as you want. For free users, on the other hand, you can only skip six songs per hour.
How to Avoid Spotify Skipping Songs?
In fact, this article mentions some common methods to temporarily solve this problem. If you desire to avoid any Spotify playback problems forever, backing up Spotify for offline playback via AudFree Spotify Music Converter is the optimal solution.
Part 5. Conclusion
Here are 10 different ways to solve the problem of Spotify keeps skipping songs. As far as the official position on this issue is concerned, Spotify is aware of this problem, but has not given a deadline for releasing a fix. As soon as this happens, we will update this guide accordingly. Nevertheless, if you're a Spotify fan, AudFree Spotify Music Converter is the best and most ideal solution you'll ever need to end this problem for good.