Q: Why is my Spotify crackling? When I'm playing Spotify Music on my Android device, I hear a crackling sound, similar to a speaker explosion, which is really annoying. And I find that this problem is limited to Spotify app, other apps like YouTube and iTunes don't have the playback errors. What's going on here? Any suggestions?
The Spotify crackling issue is not an isolated case, many users have complained about the same problem in the Spotify forums. Based on this, this article will explain the possible causes and common countermeasures for Spotify crackling. The post will also end with an ultimate solution to solve any Spotify problem in great ease.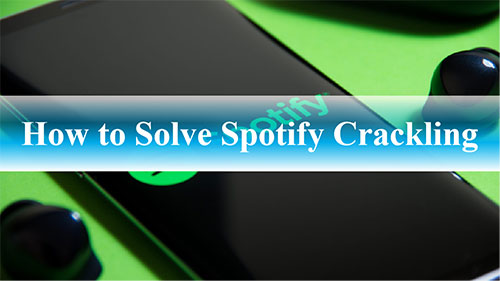 Part 1. Why Is Spotify Crackling
Generally speaking, Spotify crackling issue can be largely due to a problem with the speakers, which causes the sound to crackle irregularly. Sometimes, when you're playing a corrupted Spotify cache file, the song also becomes choppy and thus crackles.
If you're using wireless headphones and experiencing Spotify crackling, the most common cause is a connection problem, known as Bluetooth interference. So, it happens when something gets in the way of the wireless signal from the audio source to the wireless headphones.
Part 2. How to Fix Spotify Crackling Issue - Common Solutions
Because the cause of Spotify crackling problem is uncertain, they may all have different methods of resolution. Let's follow the common solutions below to troubleshoot possible problems step by step.
1. Clean the Speaker Surface
These days, people are used to using their Android phones on a continuous daily basis, which can make the speaker grille prone to accumulating dust and dirt, and subsequently hearing a crackling sound when listening to Spotify Music. The straightforward solution to Spotify crackling Android is to clean the outside of the speaker and remove any dust or debris that clogs the small holes.
2. Lower the Volume of Spotify Music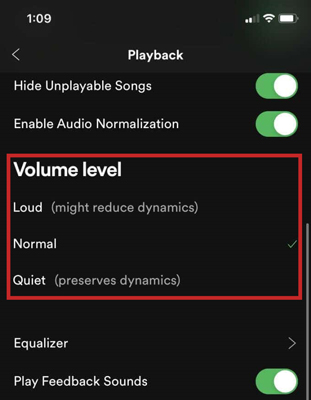 When you play Spotify Music at extremely high volume levels, it tends to crackle, especially from the speakers on your computer. If you're playing music at a high volume level and the song is at a high frequency, you may hear Spotify crackling sound. Try lowering the volume a bit and see if the problem is resolved.
3. Change the Audio Playback Settings
When you face the situation that Spotify keeps crackling on your Mac computer, you may want to try to change the output device settings to solve the Spotify crackling Mac problem. Please right-click the Speaker icon at the bottom-right corner of your desktop and select Playback Devices and Advanced options. After that, you can change the audio quality and sample rate under the "Default format" option. Finally, reopen Spotify to play music and see if the problem still exists.
4. Restart Your Computer and Spotify App
If you are eager to speed up getting rid of Spotify crackling Windows 10 issue, you might want to try restarting your app and computer. Sometimes, your computer runs for too long without shutting down, which can cause the application to run slowly. Likewise, a timely restart of the Spotify app will resolve the crackling sound on Spotify.
5. Clear Spotify Software Cache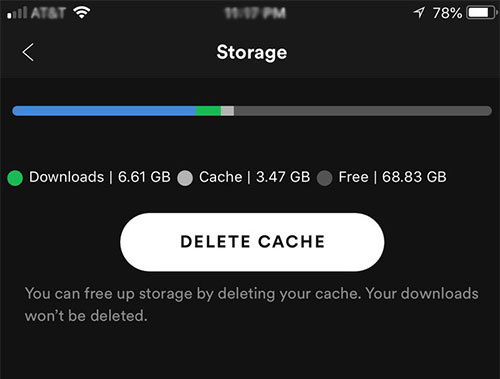 When you are experiencing Spotify crackling iPhone issue, it may be due to the corrupt Spotify cache files you are playing. At this point, you need to clear the Spotify cache, which will remove all temporary song caches. After that, you should be able to play music on Spotify normally without the crackling sound.
6. Re-Pair Your Bluetooth Headset
Once the Bluetooth keeps crackling, you can troubleshoot the Spotify crackling problem by checking the distance between the Bluetooth speaker and the audio source. After that, unpair the Bluetooth and start re-pairing with another device, then remember to check the battery life of both devices.
Part 3. How to Solve Spotify Crackling - Ultimate Solution
If none of the above methods work, then you may want to try the ultimate solution that can effectively solve any Spotify problem - AudFree Spotify Music Converter. This reliable tool for Windows and Mac systems is dedicated to Spotify Music downloading and conversion. Thus, you can play your favorite Spotify Music without any regret.
Its amazing feature is to download and convert Spotify to MP3, AAC, FLAC, etc. without any quality loss. After that, without Spotify Premium and Spotify app, you are capable of listening to Spotify Music offline on any device as you wish. Also, the ID3 tags and metadata information of Spotify Music will be kept intact, in this case, you don't need to worry about any Spotify sound issues like Spotify crackling.
Main Features of AudFree Spotify Music Converter
How to Solve Spotify Crackling Permanently
Step 1

Add Spotify Songs to AudFree SpoDable

Install and launch AudFree Spotify Music Converter on your Windows or Mac computer. After that, you can add Spotify Music from two methods. One is to drag and drop Spotify songs to the tool's conversion window directly. Or copy the URL of the favorite track and paste it to the top address bar. Then, click the nearby '+' icon to finish adding the tracks.
Step 2

Customize Spotify Music Output Settings

Press the three horizontal buttons at the top right of the screen, then select Preference and Convert icon. At this point, you can edit the output parameters of Spotify Music in the settings window that opens. For example, you can set the output format of Spotify Music to MP3, FLAC, AAC and other common formats according to your needs.
Step 3

Resolve Spotify Crackling Issue Forever

Finally, click the 'Convert' button at the bottom right and wait for a while until the conversion is done. Then you can access the Spotify Music files in your computer's local drive. In turn, you are allowed to listen to Spotify Music offline without Premium whenever and wherever possible. Meanwhile, you can overcome Spotify crackling problem smoothly and enjoy Spotify Music in a perfect way.
Part 4. In Conclusion
This article introduces the common solutions to solve Spotify crackling problem for Android, iPhone, Mac and Windows devices. If you still can't fix Spotify crackling sound issue effectively, then AudFree Spotify Music Converter will be your best and perfect partner to deal with any Spotify problem.