Spotify is known as the best music streaming service, as it is widely used to play millions of songs, music and podcasts by people around the world for free. It's an app specially designed to let people search and access trending artists and singers as well as discover new albums and music.
It allows you to make a personal playlist and share those playlists around. It even allows you to download music and play it offline. It can be listened to on mobile, desktop, tablet and TV, as per convenience.
While Spotify lets people enjoy and have the best music experience without ad breaks, too often, there are problems reported with Spotify which limit its usefulness. This article is a step-by-step guide to solving your problem. Whether Spotify stops playing on iPhone/Mac or Windows, it will help you find and stream your favorite music and podcasts without Spotify stopping while playing.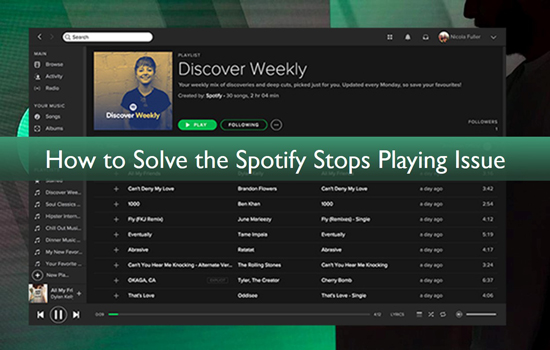 Part 1. Why Does Spotify Stop Playing?
Why does Spotify randomly stop playing is a question that is having people wonder and look for a solution. You may be encountering different kinds of problems like app crashing and you ending up on home screen or app freezing. Yes, it can randomly stop out of nowhere.
Following are some things that might be causing problems:
If Spotify stops playing when screen is on iPhone, you may need to delete the app and then reinstall Spotify.
It may simply be due to your device needing to restart.
Sometimes it is due to the fact that Spotify is added to the list of sleeping apps on your device.
Sometimes there are multiple apps running in the background, which makes your phone slow and in turn stop Spotify.
Your device may be in battery saver mode.
Spotify may stop randomly if you have not updated to the latest version.
It may be in the need of a fresh start by logging out and logging in again
Slow internet can cause problems because of live streaming you are required to have a fast speed internet.
Low phone storage can make it difficult for Spotify to run smoothly.
Part 2. How to Fix Spotify Stops Playing (Common Methods)
1. Restart Your Windows/Mac
Spotify stops playing on iPhone, if there are so many apps running in the background leading to slow processing of the device. To fix this issue, restart your device to give it a fresh start.
2. Sleeping Apps
Most devices nowadays have the sleeping apps feature. It saves the device's battery by shutting out background apps from running. To prevent Spotify from stopping, make sure that Spotify is not added to the list of your sleeping apps.
3. Uninstall and Reinstall Spotify
Before wondering 'why does Spotify stop playing?', start off with something as simple as deleting and reinstalling Spotify. Deleting it clears the junk cache and reinstalling gives you the latest version of the app. It also does not let you lose data.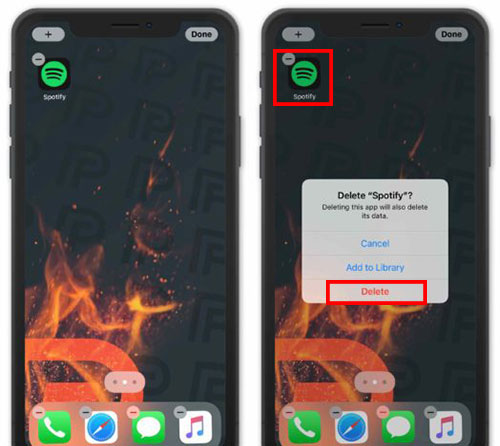 4. Turn Off Battery Saver Mode
Turning on the battery saver mode on your device may be the reason why Spotify stops playing when screen is off on iPhone or other devices. To optimize Spotify battery use, you may also restrict the amount of battery used by other apps.
5. Update Your Device
You may be using an older version if Spotify stops playing on iPhone, Android, Mac, and PC. Check for recent updates and update the app if you are using an older version.
6. Reconnect Tour Internet Connection
If your Spotify stops playing in offline mode or while streaming online, it could simply be an internet problem. Disconnect and then reconnect to your internet connection to refresh it. Streaming quality can also be turned down for smoother playing.
7. Clear Cache
Clear Spotify cache to remove the junks. Cache can cause low space that can make Spotify to stop frequently.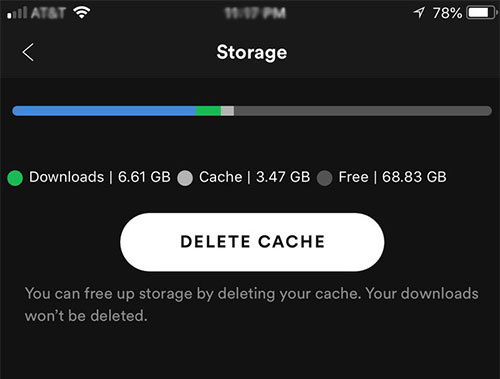 Part 3. How to Avoid Spotify Stopping Playing Again
Spotify offers access to over 70 million music tracks, however unfortunately, those tracks are available only in Ogg Vorbis format. This particular format doesn't let the members listen to their favorite music on common devices that support MP3 format. It also keeps crashing, leaving people with the question that why does Spotify randomly stop playing?
AudFree Spotify Music Converter for Windows and Mac is a solution to many Spotify problems, including Spotify stopping playing. It is designed to aid its users to convert Spotify Ogg Vorbis to FLAC, AAC, MP3, M4A, M4B, WAV and other regular audio file formats. It does so without affecting the file quality. It is the ultimate solution to listening to Spotify tracks offline on any device you like without any disruption, or Spotify stopping to play altogether.
Typically, it is only possible to download Spotify playlists and songs to play offline for Premium Spotify users. However, with recent Spotify updates, it is reported that the Premium Spotify stops playing in offline mode. The AudFree Spotify Music downloader addresses this problem by making it super easy to download Spotify music offline. In this case, you won't meet the issue that Spotify can't play offline anymore.
How to Download Spotify Music for Offline Playback without Limits
Step 1. All you have to do is to make an account and just drag and drop any song from Spotify. AudFree Spotify Music Downloader makes Spotify premium free for a lifetime. And it also works for free Spotify users.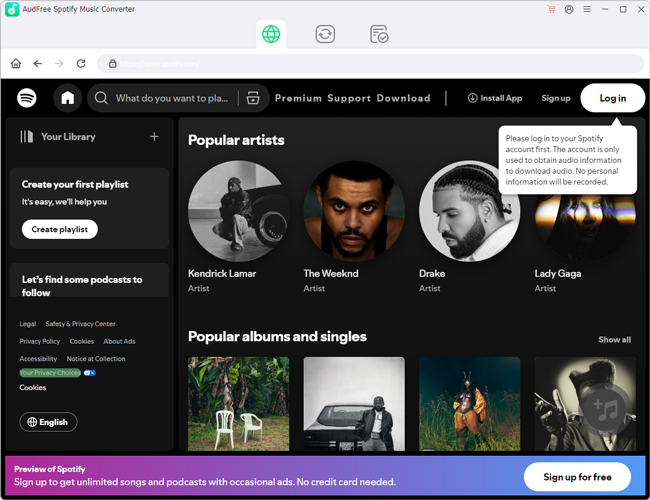 Step 2. When you click the 'Convert' button, the download process starts. Other than converting Spotify to FLAC, or other formats and downloading them offline, AudFree Spotify Music Converter lets you convert Spotify tracks at 5 times faster speed on your Windows computer.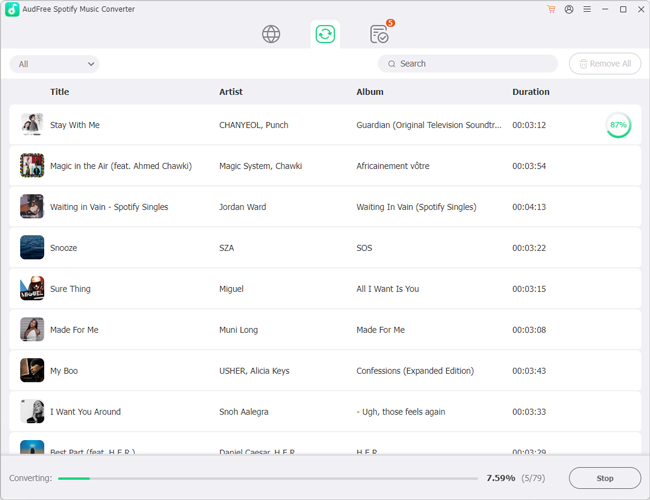 With the help of this Spotify Music Converter, you have learned how to listen to Spotify offline without premium on any device, freely, which leaves people with no more worry about why Spotify stops playing. The downloaded tracks may be transferred to any kind of cloud or hard or removable storage device.
Part 4. In Conclusion
Spotify is certainly a very popular live streaming music application among music lovers. It offers a wide range of music you can download or listen to live all in one place.
However, recently Spotify users are facing issues like Spotify stops playing after a few seconds. People are also experiencing other kinds of issues like app freezing or crashing. There are multiple factors that contribute to the issues.
Sometimes there are so many apps running in the background that make your device slow hence Spotify can stop. Sometimes it's due to low storage, other times Spotify may randomly stop if you have not updated to the latest version. Slow internet may also cause issues because you are required to have a fast speed internet for live streaming. There are so many things that can be done in order to maximize a positive Spotify experience.
This article covers many common solutions to fix the above Spotify problems. If these tips can't fix them well, you can also give AudFree Spotify Music Converter a try. It offers an ultimate solution to all of your Spotify issues. Either Spotify stops playing in offline mode or it stops playing when screen is off, it gets you covered by letting you download Spotify music offline and converting it to MP3 and other audio formats. Now, you can enjoy the music trip with Spotify without any hassle.