Q: I have subscribed to Spotify Premium with the intention of enjoying the full features of Spotify such as ad-free playback, offline downloads, etc., but I'm having problems with "Spotify logged me out and I can't login", which is very frustrating. Why am I logged out of Spotify? Is there any way to solve this dilemma?
Actually, it's quite common to encounter Spotify logged me out error and it could be caused by different reasons. If you're having the same trouble, don't worry, this article will cover top 11 fixes to solve Spotify account log me out issue with ease.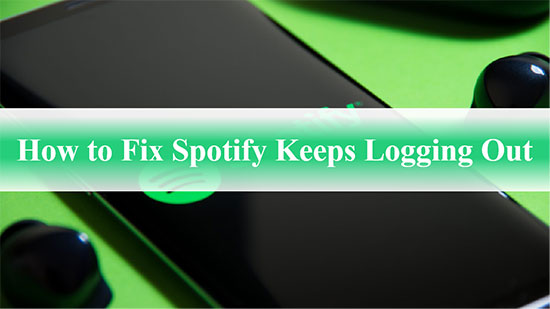 Part 1. Why Did Spotify Randomly Log Me Out
First of all, it is essential to understand the reason why Spotify signed me out. Generally speaking, there are multiple potential reasons why this may happen, and we will list some common factors below.
⚠️ Spotify server issues: Sometimes, Spotify's servers may experience downtime, which can cause users to get signed out of Spotify accounts.
⚠️ Security concerns: If Spotify detects any suspicious activity on your account, it may log you out to protect your personal information and your account from being compromised.
⚠️ Spotify account issues: There may be issues with Spotify account, such as a problem with payment method or an expired subscription, that can cause Spotify log me out everywhere .
⚠️ Device-related issues: If you're using an older or incompatible device, or if there are issues with your device's software or hardware, you will encounter the "my Spotify logged me out" problem.
⚠️ Outdated Spotify app: Sometimes, when Spotify releases a new update, it may sign you out to ensure that you're using the latest version of the app and to prevent any issues that may arise from using an outdated version.
For these reasons, we will show you 11 effective solutions to help you log in to your Spotify account smoothly. To save you time, we recommend you navigate to Part 4 directly to get a one-and-done solution using AudFree Spotify Music Converter. If you wish, you can also try the following solutions one by one.
Part 2. How to Solve Spotify Logged Me Out Issue - Common Fixes
It's time to take some viable and common approaches to fix the problem of my Spotify account log me out.
✔️ Fix 1. Check if Spotify is Down
The first thing you should do is to check if the Spotify server is down. You can do this by visiting the Spotify Status page or checking social media platforms like Twitter for any updates from Spotify. By checking the status of Spotify servers, you can quickly determine if the problem is with your account or not. This can save you time and effort in trying to fix the issue on your end when it's actually a server-related issue.
✔️ Fix 2. Restart Your Device
Once you got logged out of Spotify, you can try restarting your device. When you restart your device, it clears the device's RAM and resets all the running processes. This can help fix any software-related issues that may be causing the Spotify not letting me log in error.
✔️ Fix 3. Update Spotify App
Updating your Spotify app is an essential step in fixing the issue of Spotify signed out. If you're using an outdated version of the Spotify app, it may cause errors and system invalidation. Spotify regularly releases updates to fix bugs and improve the app's performance. By updating your Spotify app, you can enjoy uninterrupted music streaming on Spotify.
✔️ Fix 4. Uninstall and Reinstall Spotify App
This tip helps to remove any corrupted files that may be causing issues with your account. It's a simple fix that only takes a few minutes to complete, and it can help fix any compatibility issues with your device's operating system. By uninstalling and reinstalling the Spotify app, you may be able to log in to Spotify account smoothly.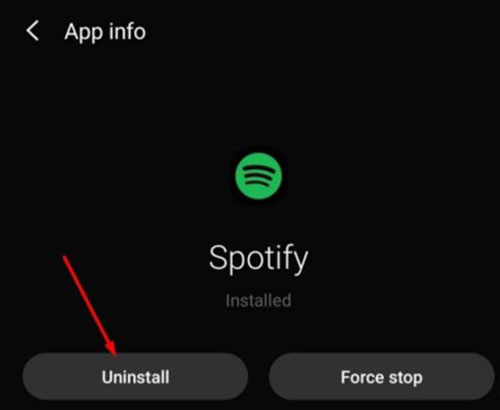 ✔️ Fix 5. Clear Spotify App Cache
Over time, the Spotify app may accumulate temporary files, which will cause Spotify to run slowly or even with errors, so you need to clear Spotify cache from time to time. Once you've done that, restart Spotify app and see if the Spotify won't let me log in issue is resolved.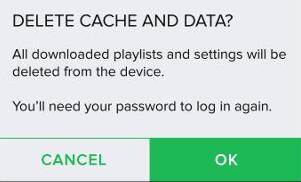 Part 3. How to Fix Spotify Account Log Me Out - Advanced Fixes
If the common fixes above didn't solve the "Spotify logged me out and won't log back in" problem, you may need to try more advanced fixes as follows:
💡 Fix 1. Sign out of Spotify from All Devices and Sign in Again
If someone is using your Spotify account on a different device, you may experience the situation where Spotify log me out of all devices. At this point, the troubleshooting step is to log out of your Spotify account on all devices and sign in again, then you can essentially reset your account's login status across all devices.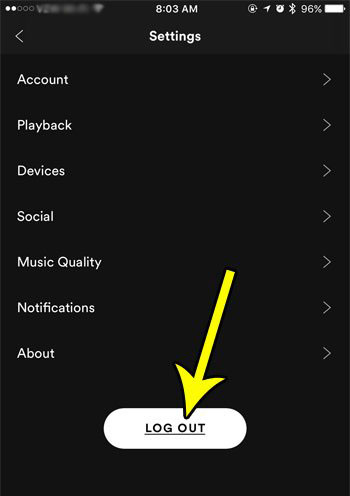 Step 1. Open the Spotify software on your device or navigate to Spotify's website.
Step 2. Click on the profile icon and select "Accounts" from the list.
Step 3. Scroll down to the bottom of the page on the Spotify account overview page, then click the "Log out" button.
💡 Fix 2. Reset Spotify Password
If Spotify detects any suspicious activity on your account, it may automatically log you out for security reasons. In such cases, resetting your password can help secure your account and prevent unauthorized access. Additionally, if you suspect that someone else has access to your account, resetting your password can help prevent them from logging in again.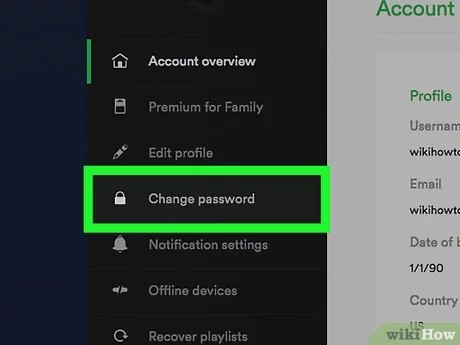 Step 1. Go to the Spotify website to log in to your Spotify account, then navigate to Spotify's password reset page.
Step 2. Enter your current password in the appropriate field and set a new one.
Step 3. Click the "Set New Password" button.
Step 4. Sign in to your Spotify account with the newly created password and check if the "Spotify keeps logging me out" issue is resolved.
💡 Fix 3. Uninstall System Cleaning Apps
Cleaning apps sometimes can be the culprit for Spotify logged out, as they often interfere with the operation of other programs on your device. System cleaning apps work by scanning your device for files and data that can be safely removed to free up space and improve performance. However, some of the files that these apps target may be necessary for the proper functioning of other programs, including Spotify. Try to uninstall or temporarily disable clean apps and see if that helps.
💡 Fix 4. Remove Third-Party Application Access
Some third-party apps may be accessing your Spotify account without your knowledge or consent. These apps can include social media platforms, music discovery services, and other tools that integrate with Spotify. When these apps access your Spotify account, they may make changes to your settings or interfere with the operation of the app. This can cause issues such as signing you out of Spotify or preventing the app from working properly.
By removing third-party application access, you can ensure that only authorized apps are able to access your Spotify account. This can help prevent any interference or unauthorized activity that may be causing the issue. To disable access to third-party applications, you can refer to the following tutorial.
Step 1. Open a web browser and go to the Spotify website.
Step 2. Log in to your Spotify account and click on your profile picture in the top right corner of the screen.
Step 3. Select "Account" from the drop-down menu, then scroll down to the "Apps" section and click on "View Details".
Step 4. To revoke access for an app, click on the "Revoke Access" button next to its name.
Step 5. Once you have removed access for all unwanted apps, log out of your Spotify account and then log back in again.
💡 Fix 5. Contact Spotify Support
If none of the above fixes worked, you can contact Spotify support for further assistance. They may be able to help you resolve the issue or provide more information on what's causing Spotify signed out issue.
Part 4. How to Avoid Spotify Signed Me Out Issue in the Future
To tell you the truth, the above solutions seem to solve the problem of Spotify logged me out temporarily, and the root of the problem lies mainly in the Spotify app itself. In this situation, we have prepared a once and for all solution for you, which is to download Spotify Music to your computer locally so that you can play Spotify offline anytime without the Spotify app and Spotify account.
In reality, if you want to achieve this goal, a professional AudFree Spotify Music Downloader can offer a helping hand. It is specially designed to download and convert Spotify Music to MP3, FLAC, AAC and other popular audio formats. As a result, it can remove Spotify's protection restrictions so that you're able to transfer and play Spotify Music offline on any device whenever and wherever you like, without the need for a Spotify account and app.
How to Download Spotify Music Locally for Offline Playback
Step 1

Add Spotify Songs to AudFree SpoDable

Install and launch AudFree SpoDable from your computer desktop, then the Spotify software will open automatically at the same time. Find any Spotify Music you like, then drag and drop it to the conversion window of this converter. Or copy and paste the link of the track into the search box above and press the Add button next to it.
Step 2

Set Spotify Music Output Format

Please go to Preferences > Convert options to open the settings window. At this point, you can convert Spotify to MP3 or other common audio formats. Also, if you need, you are allowed to customize the audio channels, bit rate, sample rate, codec, etc. in this window.
Step 3

Download Spotify Music for Offline Playback

After the above settings are done, click the Convert button at the bottom right corner to start the downloading and conversion process. Once done, you can view all your Spotify songs on your computer locally, then it's free to enjoy your Spotify Music without worrying about the issue with Spotify account logged out.
Part 5. In Conclusion
After reading the above content, you may have good knowledge about the reasons and fixes for Spotify logged me out error. Besides, this article also introduces an ultimate method to listen to Spotify Music without logging into the Spotify app and thus solve the problem of Spotify signed out perfectly. Anyway, we hope the above solutions will be helpful to you.