Q: I don't want Spotify to keep posting what I'm listening to on my Facebook. The slide bar shows that sharing songs I'm currently listening to on Facebook is off, but a few friends of mine on Facebook who are not following me on Spotify said that they can still see what I am listening to. How to hide friend activity on Spotify once and for all?
Yeah, it can be annoying to some people if their friends are mocking on their taste in music, though Spotify has developed great music sharing features to encourage users to share music. If you have some shameful songs (like we all do) on Spotify and want to hide your 'guilty pleasures', here are a few tips on how to hide what you are listening to on Spotify. Don't miss it if you have the same problem.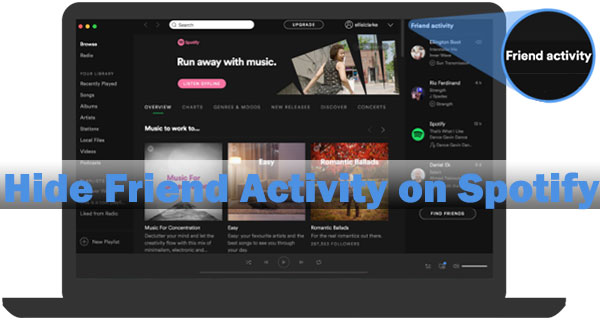 Part 1. Tips on How to Hide Friend Listening Activity on Spotify
Many Spotify users would log in to Spotify with their Facebook account for convenience and then add friends on Spotify, so by default, whoever follows them can see what they are listening to at the moment. Don't' worry. There exist several ways for users to hide Spotify activity by making secret playlists, creating a private session, or disabling all sharing activity. Now let's take a closer look at how to do hide friend listening activity on Spotify step by step.
Make a secret playlist on Spotify
Spotify enables users to make a collaborative playlist, of course, they have equally created the feature to make a secret playlist where you can put in the songs that 'embarrass' you. This way, you don't have to hide all your listening activities and your friends won't notice.
Step 1. Open Spotify on your phone and go to Your Library section.
Step 2. Find the playlist you want to make secret or create a new playlist.
Step 3. Press on the three dots and select Make secret.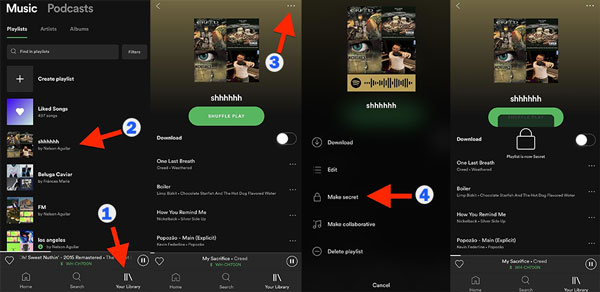 If you want to make your playlist public again, just open the playlist, press on three dots to Make public.
For the desktop app, the steps are even easier. Find the playlist you want to make secret from the left column and right-click on it to select Make Secret.
Make all Spotify playlists secret
It is also possible if you want to hide all the future newly created playlist once and for all. Go to Settings on the Spotify desktop app. Scroll down to Social section and deactivate 'Automatically make new playlist public'.

Start a private session to listen anonymously
A private session will hide what you are listening to just for a certain period. This considerate feature allows you to listen to what you want freely without worrying about being spotted by friends. What you are listening to will be hidden in the Friend Activity feed.
Step 1. Go to the Home section and press on Settings.
Step 2. Tap Social and activate Private session.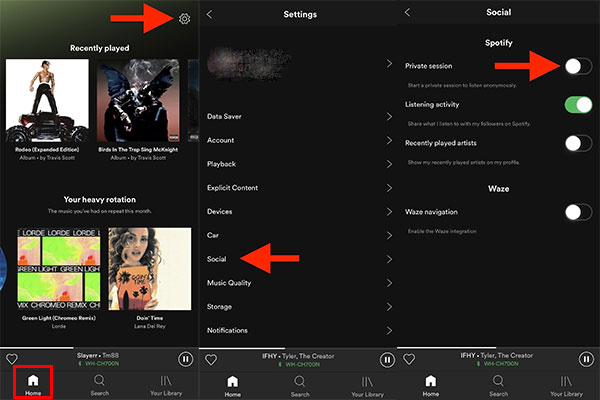 On the desktop app, just go to your account on the top-right corner, select Privat Session. Then a blue lock logo will show up on your account indicating that private session is on.
If you want to end the Private session, just follow the same steps to deactivate it. Besides, the private session will end automatically once you close the Spotify app or after a long period of inactivity, so you need to start it again. Some may wonder if the private session will affect Spotify's music recommendations like Discover Weekly. This answer is No.
Disable all my listening activity
In Spotify mobile app, go to Home > Settings > Social (same steps as in the above picture). Here, you can disable sharing Listening activity to stop sharing what you are listening to with your followers on Spotify. For the desktop app, users can do it in the Settings, and scroll down to Social to disable 'Sharing my listening activity on Spotify'. You can also select to hide your recently played artists below.

Now, your listening activity will be hidden in the Friend Activity feed, and your friends or followers will no longer able to find out your listening taste. But please make sure you have disabled it on all devices or otherwise you might show up in the friend activity every now and then.
In addition, if you have connected your Facebook account to Spotify, you can also deactivate the option to share your activity on Facebook, but the old posts stay on your Facebook page unless you delete them.
Part 2. Ultimate Way to Spotify Hide Friend Activity
We are here to provide you the ultimate way to hide friend activity on Spotify, which is to download Spotify music to local files. Then you get to listen to Spotify offline without Premium in another network-free media player such as VLC, so you no longer have to hide your Spotify listening habits from your friends. With AudFree Spotify Music Downloader, you can do it easily, because this software is capable of downloading Spotify music at 5X speed with 100% original quality preserved.
While downloading Spotify tracks, albums, or playlists at high speed, all the ID3 tag information will be kept. Moreover, AudFree Spotify Music Downloader enables users to convert Spotify music to many common audio formats like MP3, AAC, FLAC, WAV, etc. so that we can transfer Spotify songs to a USB drive or play them in the car without the Internet.
After installing AudFree Spotify Music Downloader on your desktop, all you need to do is to follow the simple three steps below and it will save you all troubles to hide listening activity on Spotify. The downloading process required you to install the Spotify desktop app as well.
Step 1. Launch AudFree Spotify Music Downloader and the Spotify app will open automatically.
Step 2. Find the Spotify tracks, albums, playlists you want to download and drag them into AudFree Spotify Music Downloader.
Step 3. Click the 'Convert' button to start to download Spotify songs for private listening.
Not for long, you can find the downloaded Spotify music in the local folder and you can play them on any media players offline.
Privacy is of vital importance nowadays especially when you are on the Internet, even you are just listening to some music. After reading these tips to protect your privacy, you have learned how to hide friend activity on Spotify in several ways. Why don't you try the method that suits you best now?