I have mistakenly thought that I could only use social account to subscribe Spotify music service and registered it with my Facebook account to access to its large music library. Now, I want to use Spotify without Facebook since sometimes the Spotify music has been posted in public without any notification. So, how to unlink Spotify from Facebook?
Yes, Spotify can work perfectly fine without Facebook. As for Spotify disconnect from Facebook, there are a lot of ways to achieve this. It could be really easy or really complicated, which depends on which platform you are using Spotify and what subscription you are choosing. But please don't worry. No matter which situation you are in, you can find the right way to disconnect Spotify from Facebook without problem.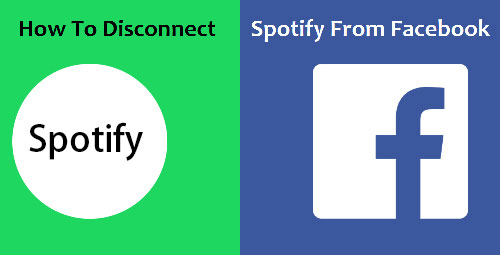 Part 1. Disconnect Facebook from Spotify on Your Computer
Spotify offers two tiers for users to subscribe: Spotify Free and Premium. If you are using a premium Spotify account, you need to cancel this Premium subscription in advance and re-subscribe it on your new account for getting additional Spotify features. Plus, for Spotify paying users with student discount, you are unable to use this account until 12 months have elapsed from singing up it. Now, let's start to cancel Facebook account from Spotify.
Delete Facebook Account from Spotify
Step 1. Please navigate to Spotify web player or Spotify app and go to your account page.
Step 2. In the 'Account Overview' window, please scroll down to the bottom and click 'SING OUT EVERYTHING' button.
Step 3. Create your new account without using Facebook account. Please be noted that the same email address can apply for one account.
Note: If you would like to keep the old email address associated with your Facebook account, you first need to close the old Spotify account permanently. And the music and playlists saved on Spotify with your old account will not sync to your new account. You need to save or create them again.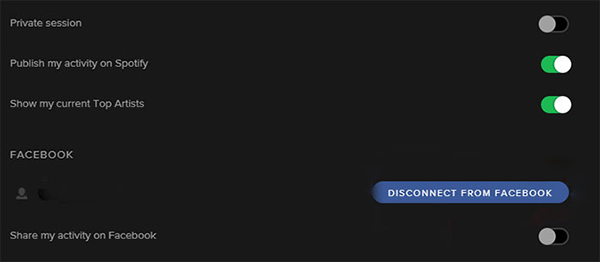 Unlink Spotify from Facebook
If you don't use your Facebook account to sing up Spotify subscription, it could be easier to disconnect Spotify account from Facebook.
Step 1. Launch Spotify app from your computer desktop and login your Spotify account details.
Step 2. In the top-right corner, there is a down-arrow icon, please touch it and then select 'Settings' button.
Step 3. Under 'Social' menu, please scroll down to Facebook option and click the 'DISCONNECT FROM FACEBOOK' tab.
No matter you are using a free or premium account, you can follow the above way to remove Facebook from Spotify app on computer only if you are not subscribing Spotify with Facebook account.
Part 2. Disconnect Spotify from Facebook on Mobile Devices
It's an easy task to close Spotify from Facebook by following the above way. But it's impossible to finish these steps on mobiles devices. If you would like to log off Spotify account logged in Facebook on iPhone or Android, you are required to do this via Facebook page or Facebook app.
Remove Spotify from Facebook on iPhone/Android
Step 1. Please click the 'f' icon on your phone's screen to open Facebook and login your Facebook account and password.
Step 2. Tap the hamburger icon in the top-right corner, scroll down to 'Account Settings' and click it.
Step 3. Click the 'Apps' -> Logged in with Facebook' button to select Spotify to open a new window.
Step 4. Now, you need to choose 'Remove App' and click 'Remove' to confirm this action and you will remove Spotify from your Facebook and revoke Spotify's ability to post on Facebook.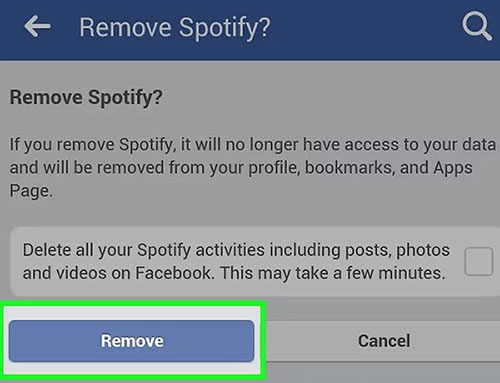 Remove Spotify from Facebook on the Facebook Website
If you don't use your Facebook account to sing up Spotify subscription, it could be easier to disconnect Spotify account from Facebook.
Step 1. Go to the Facebook web page and login your email address and password if you are not.
Step 2. Click the 'down-arrow' icon to in the top-right corner of the main interface and click the 'Setting' option.
Step 3. Please touch the 'Apps' button to find Spotify app and hover the mouse over 'Spotify'.
Step 4. Now, you will see a X option and you need to click it. And then it will pop up a message, you just need to touch 'Remove' button when prompted.
More Tips: Backup Spotify Music from Old Spotify Account Logged with Facebook
When you disconnect Spotify from Facebook, the largest hassle you will meet is that saved Spotify music and playlists on your old account will be not able to sync to your new account automatically, especially for subscribing Spotify premium plan with Facebook account. You might consider that you can download Spotify files to your local folder with Premium subscription. But it's important note that you can only get cache Spotify files. That's to say, this way doesn't work when syncing Spotify files to your new Spotify account.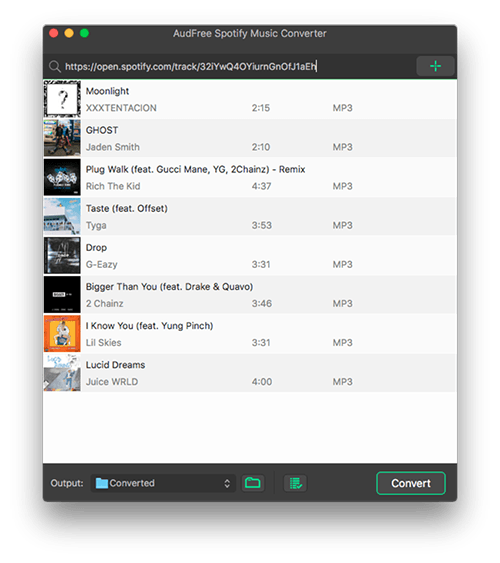 To solve this problem, you need to get help from the third-party Spotify solution, like AudFree Spotify Music Converter for Mac/Windows, which can download Spotify songs, playlists and albums to your local computer for offline listening and convert Spotify to MP3, FLAC, WAV, AAC and other common audio formats. And then you can not only sync them to your new Spotify library by adding local files to Spotify but also play Spotify music offline on any device and music player.
If you don't have no idea about how to download Spotify playlist offline, you can refer to this source pae: How to Download Spotify Music without Premium. Besides, you don't need to upgrade to Spotify Premium to use this software, since it can work well with Spotify app for free Spotify users.