Greetings. I've been a Spotify Premium user for over two years & currently operating Spotify on an Android device/LG and smartphone. While online reading, I found that Spotify's new feature, the Daily Mix playlist is available for all premium users. However, when I checked, I noticed that the Spotify Daily Mix playlist hadn't been raised yet in my Library on my premium account. I did a reinstall, but still, nothing appeared. And as far as I know, I'm using the latest Spotify version because I downloaded it from the Google Play Store today while reinstalling. Anybody who can provide some help would be appreciated! - A user on the Internet.
Do you want to have Spotify Daily Mix on PC/Android? If yes, go through this essay and follow every step to understand better and use Spotify Daily Mix. This article will provide you with step-by-step information about Spotify Daily Mix: how it works, how to find your Daily Mix on Spotify, and how to save and refresh Spotify Daily Mix.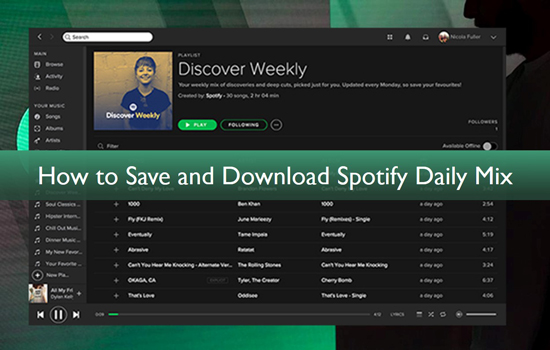 Part 1. What Is Spotify Daily Mix, and How Does it Work
An additional imperturbable tool is the Daily Mix, a feature having both Spotify Premium and Free excess to users for their mobile and desktop.
The Daily Mix is a set of more than six pre-mixed playlists designed for users with their favorite music. You can find Spotify Daily Mix on desktop in "Your Library", the radio tab on premium mobile, or the home screen for users with the new free app experience.
Spotify Daily Mix provides its users the familiar, comfortable, and relaxing music according to their listening modes and choices. It aimed to provide an excellent musical experience. It reflects users listening moods rather than matching their desired music against predefined genera.
Daily Mix detects distinct subgroupings within users' listening arrangements through clustering technology and builds recommendations accordingly, mixing new suggestions with the known and preferred favorites.
Spotify Daily Mix Algorithm pays attention to listening history and active feedback of users and records a user's most commonly attended artists to create the Daily Mix (suggestions and recommendations).
The like/dislike icons of Spotify Daily Mix allow users to navigate the Mix. "Disliking" by the user will exclude the song or artist from all combinations.
Part 2. How to Find Daily Mix on Spotify
If you are a long-term user of Spotify but Daily Mix is not appearing in your Library. Try the following steps:
Step 1. Try to log out and come back in again.
Step 2. Reboot your device to refresh the account status on the server. (If you are an Android user, remember to have Spotify version Android 6.2.0 or above to see the feature).
Step 3. Hit the "Search" button or tab on the Spotify app.
Step 4. Click on the "Made for You" icon.
Step 5. Keep scrolling down to the bottom, and you will find the daily mixes there.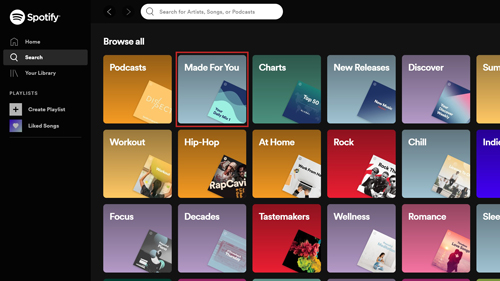 Part 3. How to Save Spotify Daily Mix as Playlist
Step 1. Open your Daily Mix.
Step 2. Go to 'Search' to find your desired songs.
Step 3. Select 'Made for you'.
Step 4. Please select 6 music tracks by clicking on them or using CMD+A (Mac) or CTRL+A (Windows).
Step 5. Drag your selected tracks to a new playlist.
The Spotify Daily Mix playlists constantly get updated by themselves so that the songs can disappear from your timeline after a short time. If you want to listen to your favorite songs repeatedly, you can click the heart to save them to your Like Songs or add them to your playlist.

Part 4. How to Refresh Spotify Daily Mix
Spotify Daily Mixes grow with the evolvement of your music taste and doesn't refresh every day. If you dislike or ban a song, that music track will not appear in your Daily Mix anymore, and Spotify Daily Mix will not play it again or will not include them in the future mixes.
Step 1. Open your Daily Mix.
Step 2. Hit the "Search" button.
Step 3. Select 'Made for you'.
Step 4. Search your favorites Tracks and listen to Daily Mixes.
The more songs you listen to (both from your Daily Mixes and other non-personalized playlists), the more often your Daily Mixes will update, and they will become better and more varied. Each Daily Mix is based on a different genre of music according to your listening patterns.
Part 5. How to Download Spotify Daily Mix Offline
AudFree Spotify Music Converter will convert Spotify Daily Mixes directly to your local file folder without Premium. There is no need to add the song to your Library or playlist. Drag and drop the music, and the track will download directly.
AudFree Spotify Music Converter is designed to convert Spotify audios into MP3, AAC, M4A, M4B, WAV, and FLAC. This tool can download Spotify Daily Mix songs with 5X faster speed within a few minutes. After conversion, you will get almost 100% of the original song quality. You can also change the audio channels, bit rates, sample rates of Spotify Daily Mix songs before the conversion.
Steps to Use Audfree Music Converter for Downloading Daily Mix Offline
Step 1

Launch AudFree Music Converter and Import Daily Mix Songs from Spotify

Open the AudFree software. Then drag and drop tracks from the Spotify Daily Mix playlist into the AudFree interface.
Step 2

Set up output parameters of Spotify Daily Mix playlist

After adding music tracks from Spotify to AudFree Music Converter, you can choose the output audio format to download Spotify playlist to MP3, FLAC, etc. Output parameters like audio channel, bit rate, and sample rate are also changeable. Click the OK button after the setting is set.
Step 3

Start the conversion of Spotify Daily Mix playlist

Click the "Convert" button to begin uploading Spotify music tracks when you complete the settings. After the conversion, all the files will be saved to your selected folder. You could browse all the converted songs by clicking the "Converted" icon and steering to the output wallet.
Step 4

Enjoy Spotify Daily Mix songs offline without premium

Now you can listen to Spotify Daily Mixes without premium. Spotify Daily Mix can play on any media player, and you can manage them in your self-created playlist.
Part 6. Conclusion
Spotify Daily Mix is a playlist made for you. It brings up to 6 mixes that let you dive deeper into the moods.
AudFree Spotify Converter for Mac/Windows is a smooth Spotify music downloader for Premium and Free subscribers. It can help you download over 30 million songs/playlists/albums from Spotify as MP3, FLAC, WAV, AAC for offline listening on any device or player.