Without a doubt, Spotify is a leading music platform with all the right features. But one incredibly useful but often overlooked feature on Spotify pre-save feature, which has the ability to pre-save upcoming songs and albums. Surprisingly, many users and even some artists are unaware of how to harness the power of pre-saving to their advantage.
The good news is that pre-saving upcoming releases on Spotify isn't overly technical, and with just a few easy steps, you can master it. This comprehensive guide will walk you through the process, providing clear and actionable guidance to help you pre-save a song or album on Spotify effortlessly. In the end, you'll understand the ins and outs of Spotify pre-saving and discover a dedicated solution to streamline your music listening experience.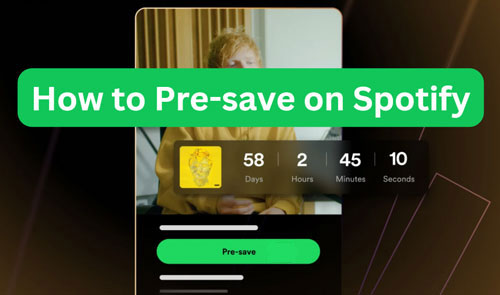 Part 1. What Is Pre-save on Spotify
What does pre-save on Spotify do? It is like reserving a front-row seat for your favourite music before it officially arrives. It's a simple way to ensure you're among the first to listen when an artist you love releases new songs or albums.
By clicking the "Pre-save" button, you tell Spotify to automatically add the upcoming music to your library or a chosen playlist as soon as it becomes available, saving you the hassle of searching for it later.
Part 2. How to Make a Pre-save on Spotify [For Artists]
For artists who to want to make a pre-save on Spotify, Music Gateway tool is the way to go. It's a free tool that is easy to use. Once you have a link, copy the Spotify pre-save link and send it to your email list, website, or social networking accounts.
The link is a simple landing page with your cover art and release date displayed. Still, collecting valuable listener data, such as marketable email addresses, may also be a terrific method. Here's how to use it.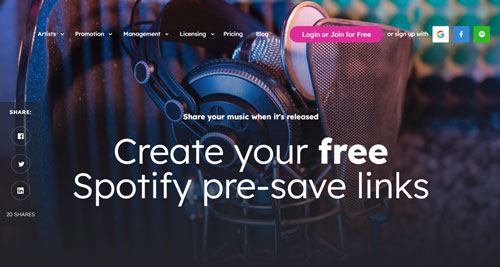 Step 1. Use the free tool Music Gateway.
Step 2. Fill up your artist information, including your name and Spotify ID.
Step 3. Upload a picture of the artist.
Step 4. Fill in your release information: date, name, and Spotify Product ID (find out how to further acquire your Spotify Product ID).
Step 5. Include a photograph of the release.
Step 6. Make your Spotify pre save link, and you're ready!
Part 3. How to Pre-save on Spotify [For Users]
Now if you're a user, there are two dedicated ways to pre-save Spotify songs and albums. Let's explore each one in detail below.
Way 1. Via Artists' Website
How do you pre-save on Spotify? The first way requires going to the artist's website portal. Remember that pre-saving music on Spotify does not allow you to listen to it immediately. You will have to wait for the song to be released before listening. Spotify pre-save feature adds it to your collection, eliminating the need to look for new music as it becomes available. Here's how this method works.
View also: Top Artists on Spotify
Step 1. First, visit your favorite artist's website to learn more about their future songs.
Step 2. If they've enabled pre-saves for their future music, there will be a 'Pre-Order' button. Then click on it and hit on 'Pre-Save' button for Spotify.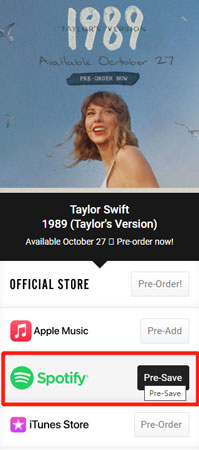 Step 3. Hit on the 'Pre-Save on Spotify' option to go to successfully pre-save a song on Spotify. If you aren't already logged into Spotify, you'll be prompted to authorize your account on the artist's website with your Spotify username and password.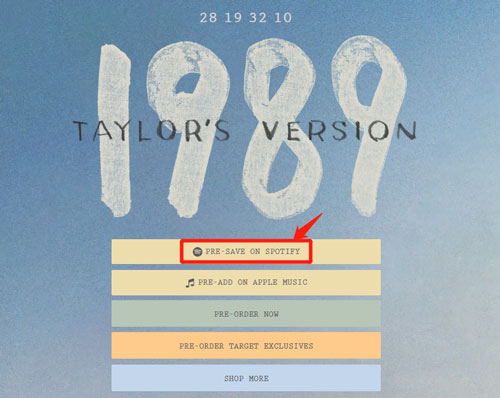 Step 4. After that, you have to complete the on-screen prompts, then hit the 'Complete' button to store the future songs in your Spotify account. Sometimes, you need to add upcoming music to specific playlists to finish this process.
Way 2. By Countdown Pages on Spotify
A Countdown Page simplifies the marketing of a new release for artists by driving streams in the first week of release and allows free advertising inside the Spotify platform rather than on social media and elsewhere. As a user, you can use these countdown pages to pre-save on Spotify.
Step 1. Go to an artist's profile and choose Upcoming Releases to locate a Countdown Page.
Step 2. Users can pre-order and preview the track listing on the same website.
Part 4. FAQs about Spotify Pre-save
Q1: Is Pre-save on Spotify Free?
A: You can pre save on Spotify for free, an excellent approach to ensure that no one misses your release. Creating a buzz in the run-up to the release of a new song or album is an excellent approach to guarantee a strong start with your audience.
Q2: How to Remove Pre-save on Spotify?
A: You can follow the steps below to make it.
Step 1. Navigate to your Library in the Spotify app.
Step 2. Choose the album for which you wish to undo the pre-save.
Step 3. Select the three dots to the right of the album title.
Step 4. Finally hit "Remove from your Library".
Q3: Why Pre-save on Spotify?
A: By utilizing the pre-save option, you can guarantee that your single, EP, or album receives the highest number of listens on the day it is released. It's a simple approach to delivering vital data to artists for communication and marketing initiatives.
Part 5. How to Play Pre-saved Songs on Spotify Offline without Premium
Listening to your favorite Spotify songs offline, even without a Premium subscription, is possible, thanks to the AudFree Spotify Music Converter. This powerful tool opens a world of possibilities, enabling you to enjoy your pre-saved tracks without an internet connection.
One of its standout features is its ability to convert Spotify pre-saved songs into various formats, such as MP3, FLAC, AAC, or other audio formats, allowing you to choose the one that best suits your needs. What sets AudFree Spotify Music Converter apart is its commitment to preserving the original sound quality.
Additionally, AudFree SpoDable boasts an impressive 5X conversion speed, so you won't have to wait long to enjoy your converted tracks. Plus, it doesn't just stop at the music itself. AudFree Spotify Music Converter ensures that your original ID3 tags, including song titles, artists, and album information, remain intact.
Note: Only after your pre-saved Spotify songs are released can you download and play them offline using this excellent Spotify music converter with a free Spotify account.
AudFree Spotify Music Converter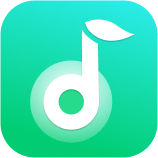 Convert Spotify music to MP3 or various formats effortlessly
Preserve original sound quality for an immersive experience
Enjoy a quick 5X conversion speed for offline listening
Keep track of details intact for seamless organization
Now, you can try these steps to play pre-saved songs on Spotify offline without Premium using AudFree Spotify Music Converter.
Step 1. Download and launch AudFree Spotify Music Converter on your Mac/Windows. This software is bundled with the Spotify desktop app. Please prepare it well on your computer in advance.
Step 2. Navigate your Spotify playlist and right-click the song you wish to convert. Then copy its URL and paste on the AudFree Spotify Music Converter search box. Click the + button to add.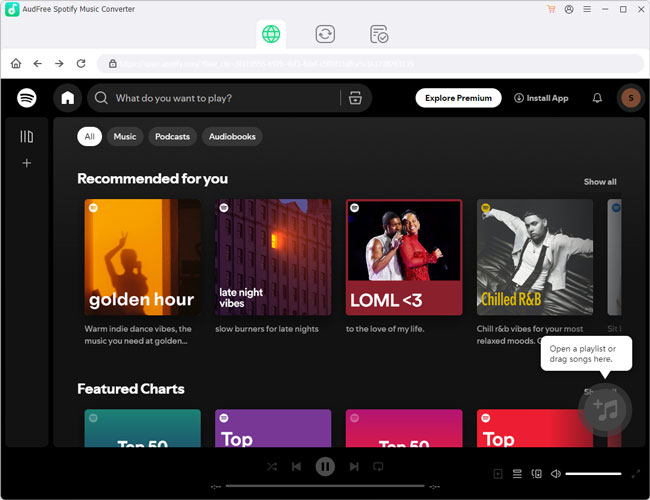 Step 3. Now go to Preferences from the top menu. On the new window, select your desired output format and customize other audio parameters of Spotify music downloads.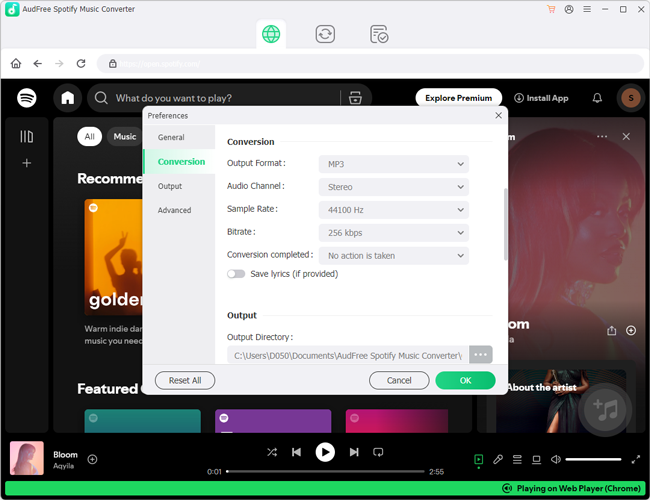 Step 4. To begin converting, click the 'Convert' button. Once the process completes, locate the downloaded tracks on your local storage. Now, you can play and transfer Spotify pre-saved songs anywhere.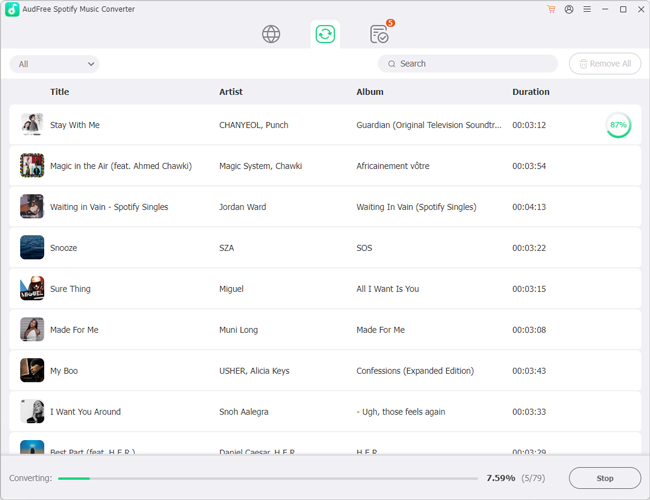 Part 6. Conclusion
To wrap it up, Spotify pre-save feature is an easy way to enhance your Spotify experience and create excitement around upcoming songs and albums. Whether you're an artist looking to promote your music or a user eager to stay ahead of the curve, you want to try out this feature. Even better, you don't need a Spotify Premium plan to enjoy it. With AudFree Spotify Music Converter, you can now listen to your pre-saved Spotify songs offline without a premium account.
View also: How to Listen to Spotify Music Offline