Without a doubt, Maroon 5 is one of the most popular 21st-century bands, who debuted 20 years ago with the release of their album 'Songs About Jane'. Maroon 5, the well-known American pop rock bands from Los Angeles, California has been more and more adept to change with the times in the last two decades.
When it comes to the best Maroon 5 songs, the latest song could be 'Memories', one of five singles in the seventh studio album, Jordi. This single has peaked at No.2 on the Billboard Hot 100 after it was released. The second song could be 'Girls Like You' from Maroon 5's album, Red Pill Blues (2017) featuring Cardi B, which reached at No. 1 on Billboard Hot 100 for sixth week.
Want to learn more about Maroon 5 songs and listen to these wonderful albums offline on the go? Just follow this article to master the skill of free Maroon 5 songs MP3 download for offline listening and find more popular Maroon 5 songs.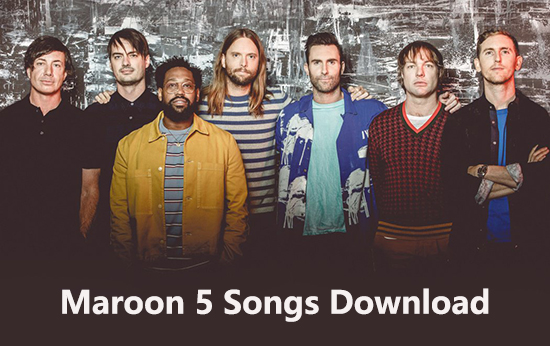 Part 1. Maroon 5 Songs Download Tool You Should Have
Maroon 5's 'Memories', 'Girls Like You', 'Wait', 'Converts', 'Payphone', What Lovers Do' and other popular songs are available on Spotify, Apple Music, iHeart, SoundCloud, Jango and Amazon Music. If you would like to download Maroon 5 songs offline, you'll be required to subscribe premium plan from one of six streaming music services. As for free access of Maroon 5 songs, you can get back to Spotify, the world's largest music site, which enables users to listen to Maroon's all songs and albums without upgrading to subscription account.
But if you would like to focus on Maroon 5 songs free download or best Maroon 5 songs MP3 download, you'd get help from a professional third-party Spotify downloader, such as AudFree Spotify Music Converter for Windows and Mac dedicated to extract MP3 tracks from Maroon 5 songs on Spotify app no matter you are using free or premium account.
You are bound to rely on AudFree Spotify Music Converter to get Maroon 4 songs MP3 free download. Besides, you are also given the option to download all Maroon 5 songs to FLAC, WAV, AAC, M4A, and M4B. With so many common output formats, you can play Maroon 5 songs anywhere without paying any penny. By the way, it also aims to enhance output audio quality by customizing bit rate, sample rate, etc. of Maroon 5 song downloads.
AudFree Spotify Maroon 5 Songs Downloader
Part 2. Complete Guide on Maroon 5 Songs Free Download as MP3
Please download and install the free trial version of AudFree Spotify Music Converter on your Mac or Windows computer and make sure you have installed Spotify desktop app in advance. You will directly add favorite Maroon 5 songs from Spotify app to this Spotify song downloader. Here, we will take 'Wait' and 'Wipe Your Eyes' as example to show you how to download Maroon 5 songs with a free Spotify account.
Step 1

Import Best Maroon 5 Songs from Spotify

Please launch this smart music converter and Spotify app will be launched automatically. Then you can discover and drag 'Wait' or 'Wipe Your Eyes' from Spotify to AudFree SpoDable. If you have received the URL of this song, you can directly copy this link to AudFree SpoDable's search box and click '+' button to add Maroon 5 songs. You can also add Maroon 5 albums or Maroon 5 playlists to download directly.
Step 2

Set output Maroon 5 songs as MP3

To get Maroon 5 'Wait' song free download and 'Wipe Your Eyes' MP3 download, please enter to Preference -> Convert option to launch the setting window, in which you can set output format as MP3. If you are a free Spotify user, you're suggested to set the bit rate as 320 kbps to enhance the output quality.
Step 3

Maroon 5 All Songs MP3 Download

When all settings done, you can simply click the 'Convert' button at the bottom-right corner of the main interface. You will see that AudFree Spotify Music Converter will start downloading and converting 'Wait' and 'Wipe Your Eyes' by Maroon 5 from Spotify to MP3 files for playback on all device and music players offline without problem.
Note: The trail version of Spotify converter has time limitation, to break this lock, you'd better to purchase the full version.
Part 3. Detailed Introduction to Maroon 5's Album & Best Songs
This pop rock band, Maroon 5 has released seven studio albums from 2002 to 2022. The seven albums are titled 'Jordi', 'Red Pill Blues', 'V', 'Overexposed', 'Hands All Over', 'It Won't Be Soon Before Long', and 'Songs About Jane'. The latest album, Jordi as the seventh album was released on Jane 11, 2021, which covers five singles. Among these Maroon 5 albums, they contains many popular songs. Let's countdown ten of their best.
Memories: This is the first single of the seventh album of Maroon 5, which was suddenly released on September 20, 2019. The music video of this song is the Top 10 most-viewed Maroon 5 videos on YouTube. Listening to this melodious, melodic pop song is the right thing to do all fall.
What Lovers Do: As the leading single from Red Pill Blues album, 'What Lovers Do' was released on August 30, 2017 featuring American R&B singer SZA and containing an interpolation of the 2016 song 'Sexual' by Neiked. This song is considered as one of the heaviest works to date, which is acclaimed by critics and fans.
Wait: As the second single in the sixth album by Maroon 5, 'Wait' was officially launched to US contemporary hit radio on January 16, 2018. It also came with a Snapchat version on Spotify and Vevo and an official music video on Vevo, which has watched over 100 million times.
Girls Like You: As Billboard described, the remix version of 'Girls Like You' would be the Maroon 5's third single from this album featuring Cardi B, which not only topped on Billboard Hot 100, but also on Mainstream Top 40, Hot 100 Airplay charts as well as Adult Top 40 as a pop song.
Sugar: 'Sugar' is one of the most frequently heard songs at wedding ceremonies, which is being cherished for years. What's more, this Maroon 5 'Sugar' song was also nominated for Best Pop Duo/Group Performance at the 58th Grammy Awards.
Moves Like Jagger: It's the fourth and final single from Maroon 5's third studio album. While you play this 'Moves like Japper' song, you can't wait to go out dancing. Perfect dance moves can impress a love interest well.
Payphone: As the first song from Maroon 5's 'Overexposed' album, it's available for people who are getting over a break up. Besides, this song became the band's first chart-topper in the UK.
She Will Be Loved: It's a song about a turbulent romance involving two real-life friends. 'She Will Be Loved' was hitted No. 1 on the Mainstream Top 40 and Adult Top 40 charts.
Animals: 'Animals' released on August 25, 2014, was the second song from Maroon 5's fifth 'V' album. The song peaked at No.3 on the Billboard Hot 100 and was very popular in many countries all over the world.
Maps: As the lead single from the fifth studio album, "Maps" was widely acclaimed by music critics because of the charming song's melody and chilled-out vibe. The Maroon 5 song was also a commercial success as it topped the charts.
Other popular songs you can't miss are 'Harder to Breathe', 'Makes Me Wonder', 'One More Night', etc. They are all available on Spotify app.
Part 4. In Conclusion
That's all about Maroon 5 songs and how to download songs from Spotify for free easily. As for all songs download offline by Maroon 5, you can refer to the above step-by-step tutorial on downloading Maroon 5 discography as MP3 in Part 2 to make it possible with the help of AudFree Spotify Music Converter. After then, you can freely transfer Maroon 5 songs to any device for offline playback. What're your favorite songs by Maroon 5 band? Leave them in the common area as below.