On 20 November 2015, Adele's third studio album, 25 was released by XL Recordings and Columbia Records after nearly 5 years since the release of her previous album, 21, sold over 30 million copies. There is no gainsaying that 25 is the best-selling album in 2015 and 2016 and it played an important role in music library, which also encourages a renewed interest to purchase physical release rather than downloading or streaming music online.
Today, let's make a detailed review of the Adele 25 album and get more effective tips on Adele 25 album free download so that you can listen to the Adele album anywhere offline.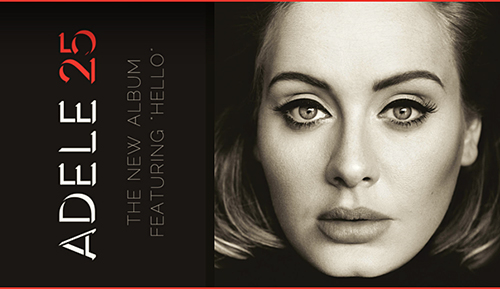 Part 1. Adele 25 Album Review – One of the Best-selling Albums of All-time
Unlike the previous album releases by Adele, 25's production combined the use of electronic elements and the rhythm patterns, as well as the R&B and organ elements of the 1980s. With the first release of 25 album by Adele, it received lots of positive reviews from critics, who praised Adele's vocal performance and album's creative production.
Accolades of Adele 25 Album
With the 22 million copies sold within that year, 25 has been ranked at No. 2 on Rolling Stone magazine's 'The 50 Best Albums of 2015' and so did in American newspaper, Newsday. Besides, it earned the British Album of the Year and its first single 'Hello' won the British Single of the Year at the 2016 BRIT Award. Moreover, album 25 also won the 2017 Grammy Award for Album of the Year and Best Pop Vocal Album and the 'Hello' earned the Grammys for Record of the Year, Song of the Year as well as Best Pop Solo Performance.
Adele Album 25 Song List
Adele's 25 is consisting of 11 songs. It includes the following songs: 'Hello', 'Send My Love (To Your New Lover)', 'I Miss You', 'When We Were Young', 'Remedy', 'Water Under the Bridge', 'River Lea', 'Love in the Dark', 'Million Years Ago', 'All I Ask' and 'Sweetest Devotion'. Although only 'Hello', 'Send My Love' and 'When We Were Young' are available for Apple Music at the first released time, the full 25 album can be discovered and streamed on almost all online music streaming services on June 24, 2016, such as Apple Music, Spotify, YouTube and Amazon.
Here, you can listen to and download Adele 25 album below or through Spotify app.
Part 2. How to Download and Listen to Adele 25 Album
Adele 25 is available for almost all music streaming sites. Since Spotify is the world's largest streaming service with over 188 million active premium subscribers, I'd like to show you the step-by-step tips on Adele 25 album download from Spotify. It's important to note that you need to upgrade to Spotify Premium subscription for $9.99 per month to get the offline playback feature. Before get started, please make sure you have subscribed it successfully.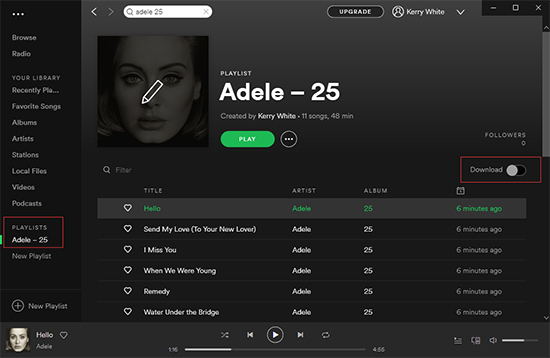 Step 1. Launch Spotify app on your computer or mobile device and go to the Search section.
Step 2. In the top search bar, please type 'Adele 25' and click the Enter button to search it.
Step 3. Hit on the Adele's 25 in the album section from the result. Now you need to convert 25 album songs to a playlist for make it available for offline listening.
Step 4. Press the menu button and choose 'Add to Playlist' -> New Playlist button to create it as a playlist.
Step 5. In your Playlist bar at the left-side bar, you will see 'Adele-25' and please select it. Now, please switch the 'Download' toggle button on to download this album. After that, you can listen to these songs by Adele offline.
Part 3. How to Get Adele 25 Album Free MP3 Download
With Spotify Premium subscription, it's very easy to download 25 full album offline. But you should know that Spotify tracks are encoded in Ogg Vorbis format, which can't be recognized by many common devices and music players. To make Adele album more compatible, you need to find other way to convert Adele 25 album to MP3. Besides, what if you are a free Spotify user? You will even not have the rights to download full album by Adele for offline listening.
If you don't have a Spotify premium account and are looking for a great way to download Adele 25 album for free as MP3, you can have a try of AudFree Music Downloader for Spotify. It's designed to free and premium Spotify users to download albums and playlists from Spotify and convert them to MP3, FLAC, WAV, AAC, M4A and M4B for better offline streaming. Now, let's get started on Adele 25 album free download.
Step 1

Import Adele 25 Album to download

If you have received the URL of Adele 25 album, you can directly copy and paste it to AudFree Spotify Music Downloader's search box to add it. Be well noted that it supports downloading Spotify album with a free Spotify account. Or you can drag individual songs in 25 album from Spotify to AudFree Spotify Music Downloader's main screen to import them one by one.
Step 2

Set Adele 25 album output format as MP3

To download Adele 25 album to MP3 files, you need to enter to top menu bar and choose Preferences -> Convert option to define output format as MP3. If you are a free user, you are also suggested to adjust the bite rate as 320 kbps to enhance output quality of 25 album.
Step 3

Download Adele 25 album to MP3 with free account

Please press the Convert button at the bottom-right corner of the main interface and AudFree Spotify Music Converter will start the downloading and converting process to get Adele 25 MP3 files. One thing you need to pay attention is that you need to pay for $ 14.95 to get the full version of this smart AudFree Spotify Music Converter solution. Anyway, it deserves that as you will keep Adele 25 album songs locally forever.
Part 4. In Conclusion
The reason for the third studio by Adele called 25 is that this album's songs are a reflection of Adele's life and frame of mind at 25 years old. You can feel the mood of 25-year-old Adele while listening to this album.
Now, all Adele 25 full album downloads are located in the destination folder on your computer and you can enjoy Adele 25 album offline on any device in accordance with your requirement. Besides, the fourth studio album by Adele was released on 19 November 2021, called 30. It's also able to use the same way in this article to get Adele 30 album downloads for free for offline enjoyment.