With the booming development of technology in the 21st century, smart watches are gradually becoming our inseparable partners, and many people are even using them to listen to music. There are undoubtedly Huawei, Samsung and Apple Watch at the top of the current smartwatch list, but when it comes to relatively affordable smartwatches, OPPO Watch must be the best choice. If you don't know much about this brand, it doesn't matter, let me tell you more about it.
On the one hand, OPPO Watch has a medium price, long battery life and good water resistance. On the other hand, it provides users with basic health monitoring and the ability to stream music such as Spotify for a comfortable listening experience. Streaming music is certainly a topic of particular interest to the general public. Some of you may be wondering how to play Spotify on OPPO Watch, this article will answer your confusion, read on to find out the details.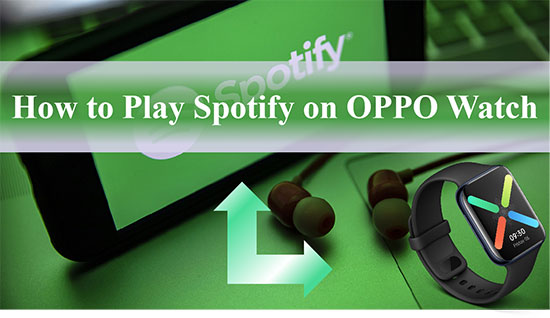 Part 1. Can you Listen to Spotify on OPPO Watch
As a matter of fact, the music streaming industry is getting more and more popular and current smartwatches are following the craze to incorporate streaming music features, and OPPO Watch is no exception. It is possible to listen to the hot Spotify on OPPO Watch and control the playback of Spotify Music, such as pausing, skipping forward and skipping backward.
So how does it all work? It all boils down to the fact that OPPO Watch comes with Wear OS, so you can get the full Play Store and add any app you like to OPPO Watch, such as downloading Google Keep, a leading app for fitness professionals, and Spotify app, a music lover's paradise.
Part 2. How to Play Spotify on OPPO Watch with Phone
As mentioned above, since OPPO Watch is equipped with Wear OS, you are allowed to download and install the Spotify app to OPPO Watch directly via Google Play. Then simply pair the watch with your phone to stream Spotify Music to your OPPO Watch without any problems. Follow the guide below to enjoy Spotify Music on OPPO Watch with ease.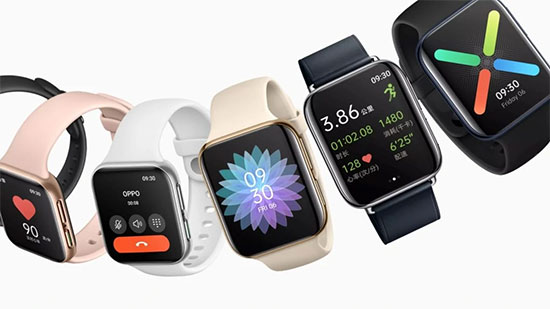 Step 1. Run your OPPO Watch and press the home button, tap the Google Play icon, select the search icon, and enter Spotify to start finding Spotify software.
Step 2. Follow the on-screen instructions to install Spotify app on your OPPO Watch.
Step 3. Launch the Spotify software on your phone, then browse your music library and choose your favored Spotify song or playlist to play.
Step 4. Pair your OPPO Watch with your Android phone or iPhone. Then open Spotify app on your watch, tap the device icon, and select the device you want to connect to OPPO Watch from the list of devices. After that you can simply play Spotify Music on OPPO Watch.
Part 3. How to Play Spotify on OPPO Watch without Phone
While the above method works well to control Spotify playback on OPPO Watch, it's all limited to having your phone around. Have you ever thought of playing Spotify Music offline on OPPO Watch without your phone? It's not difficult at all, just download Spotify Music to computer as a local file and then upload it to OPPO Watch.
Inevitably, you can't download Spotify Music to your computer locally, because Spotify Music is protected by digital rights. Therefore, a professional third-party tool is needed to solve your immediate dilemma in a timely manner. Here is the comprehensive AudFree Spotify Music Downloader, carefully designed to download songs, playlists, albums from Spotify to MP3, FLAC, WAV for offline listening on OPPO Watch. What's more, it is able to download all types of Spotify songs to your Windows or Mac computer, no matter you are using Spotify's free or Premium plan.
How to Download and Convert Spotify for OPPO Watch
Step 1

Add Spotify Songs to AudFree SpoDable

Whether you are Spotify free users or Premium subscribers, there are two methods of importing songs that you can choose. The simple method is to drag and drop your favorite Spotify Music into the conversion window of AudFree SpoDable. Or copy and paste the URL of the track into the search box and press the '+' tab next to it.
Step 2

Customize Spotify Music Output Format and Parameter

To define Spotify Music output format, click Menu bar > Preference, where you can convert Spotify Music to MP3, M4A, AAC, etc. Generally, in this step, you can also customize other parameters such as bit rate, sample rate, audio channels, etc.
Step 3

Download and Convert Spotify Music for OPPO Watch

Once all the above settings meet your needs, click the "Convert" button to start the conversion process of Spotify Music. After conversion, it's time to start uploading Spotify Music to OPPO Watch for offline listening.
How to Upload Spotify to OPPO Watch
Now that you've got Spotify download for OPPO Watch, then follow the guide below to upload Spotify to your OPPO Watch without any restrictions.

Step 1. Connect your phone to your computer with a USB cable and transfer the downloaded Spotify Music files from your computer to phone.
Step 2. Install and access the WearOS app on your phone and click the "Start Setup" button. When the Bluetooth pairing request pops up, click the Pairing button on your phone and select your Google account to connect your OPPO Watch to your phone smoothly.
Step 3. Select OPPO Watch to transfer Spotify Music files on your phone, click Accept or Pairing option to start adding files to OPPO Watch. Now you can enjoy Spotify Music offline on your OPPO Watch at all times and places.
Part 4. In Conclusion
Whether you have your phone with you or not, here is the right way for you to play Spotify Music on OPPO Watch. Comparatively speaking, Spotify download to OPPO Watch can be achieved through AudFree Spotify Music Converter, which enables great offline listening of Spotify Music. By the way, if you have other possible solutions, please feel free to comment below.