Are you looking to add some musical flair to your live streams or online meetings? Playing music through your microphone can be a great way to enhance your virtual experience. In this article, we will guide you through the process of streaming Spotify through mic. Read on to learn the two best ways about how to play Spotify through your mic with ease.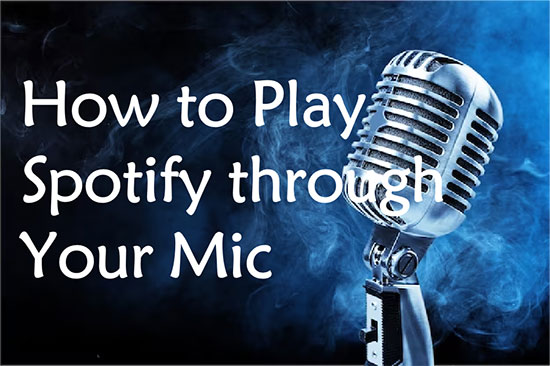 Part 1. How to Play Spotify through Your Mic - Preparation
Before we dive into the process of inputting Spotify audio into mic, it's important to ensure that you have access to all the music you want to play. One way to do this is by adding local music to your Spotify library, then you can easily access all your favorite tunes without having to switch between multiple applications. Just follow these simple steps.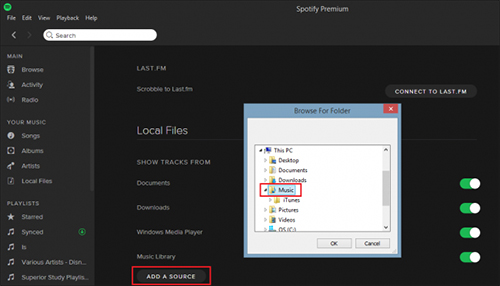 Step 1. Open the Spotify application on the desktop.
Step 2. Click the arrow to the right of the top account name and tap "Settings" in the drop-down menu.
Step 3. Scroll down and click on the "Local Files" section.
Step 4. Slide the button next to "Show local files" to the right to activate it.
Step 5. Click on "Add a source" and select the folder where your local music is stored.
Step 6. Toggle the switch next to the folder to make it available in your Spotify library.
How to Select Software to Make Spotify Play through Mic
To make Spotify play through microphone, you will need software that can route the audio from Spotify to your microphone. Here's how to select the best software for the job.
✔️ Research different software options such as VoiceMeeter, Virtual Audio Cable, MorphVox, Soundpad or Rust Soundboard.
✔️ Consider your specific needs such as compatibility with your computer and ease of use.
✔️ Read reviews and tutorials to determine which software is best suited for you.
For this article, we will be using VoiceMeeter as it is a popular and user-friendly option. It offers a lot of flexibility and control over audio routing and is free. It can be used to route Spotify audio through your microphone, making it possible to play music during a voice chat or stream. Additionally, it is compatible with a wide range of audio devices and software applications.
Part 2. How to Stream Spotify through Mic with VoiceMeeter
Now that you have selected the software you want to use, it's time to set up VoiceMeeter and learn how to play Spotify through mic. Follow these steps:
Step 1. Download and install VoiceMeeter, which acts as a virtual audio mixer and virtual microphone.
Step 2. Go to "App volume and device preferences" in Windows 10 settings and select Spotify's output to VoiceMeeter Input.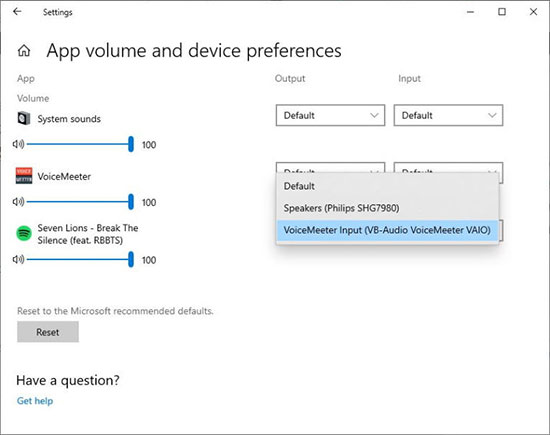 Step 3. Change the default setting of your microphone to your system sounds by going to "Control Panel > Hardware & Sound > Manage Audio Devices > Recording" and choosing the "Stereo Mix" option as the default microphone.
Step 4. Choose your primary speakers (your headphones) in the A1 tab of VoiceMeeter.
Step 5. You can listen to the music playing on Spotify via VoiceMeeter Output 1 (A1).
Step 6. To silence any unwanted noises produced by VoiceMeeter, click the green highlighted >A in VoiceMeeter Input, while keeping the orange circular >A (VoiceMeeter Output 2, A2) on to send sounds via the virtual microphone.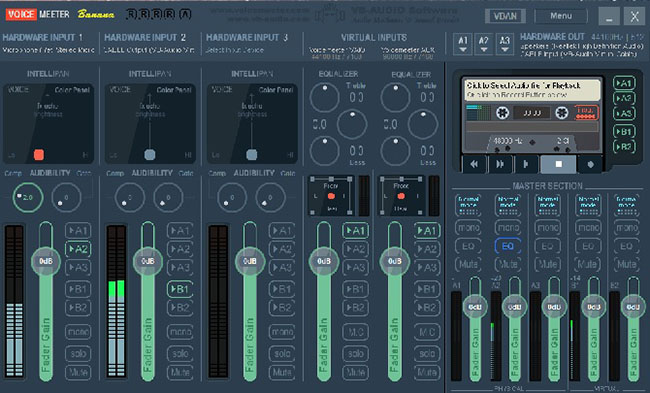 Part 3. How to Play Local Spotify Music through Mic
Since playing local music via microphone is possible, why not just download local Spotify music for free play? To achieve this process, AudFree Spotify Music Converter is the necessary helper. It can nicely download Spotify music, albums, playlists to Windows or Mac locally. And this tool is available for Spotify free and premium users.
Moreover, it converts Spotify to MP3, AAC, FLAC, WAV, M4A, M4B with super fast 5X speed. Meanwhile, the converted ID3 tags and metadata information will be retained. Therefore, you can easily play local Spotify songs through the microphone.
AudFree Spotify Music Converter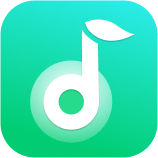 Download Spotify songs, albums, playlists, podcasts locally
Convert Spotify Music to MP3, AAC, WAV and other common formats
Play local Spotify music through mic
Original quality and ID3 tags are well preserved
How to Download Local Spotify Music
Step 1. Open AudFree Spotify Music Converter, then you'll have two options to add the Spotify songs you want to play through mic. The first way is to drag and drop tracks from Spotify directly onto the conversion window. The other way is to paste the link to the Spotify song into the search bar and press the Add button.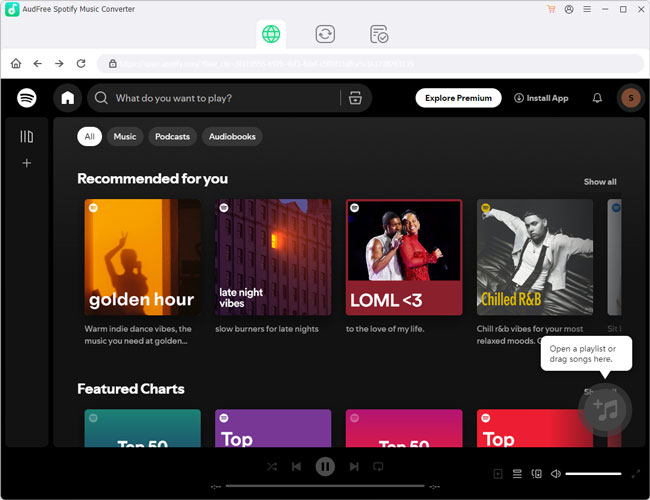 Step 2. Simply click on the Menu bar and select Preferences > Convert to set the output format. Generally, the default output format of AudFree software is MP3, but you can adjust the output format, bit rate, channel, sample rate, etc. to suit your needs.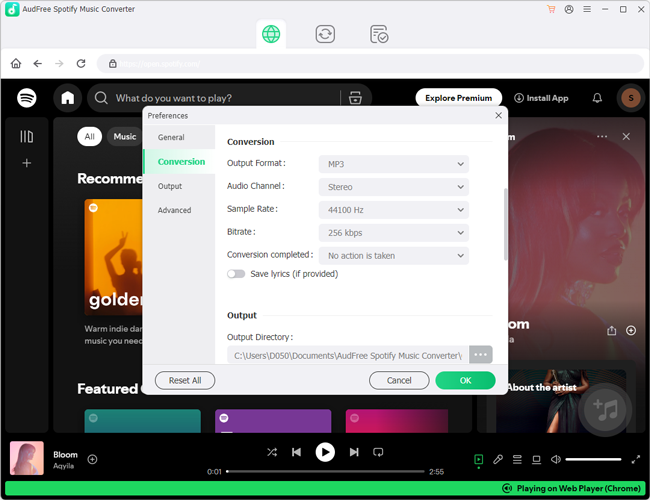 Step 3. Tap the Convert button at the bottom right corner and it will start downloading Spotify tracks locally at a speed of 5X. Once it's done, click the Converted button to navigate to the local Spotify downloads. After that, it's simply to play Spotify through mic.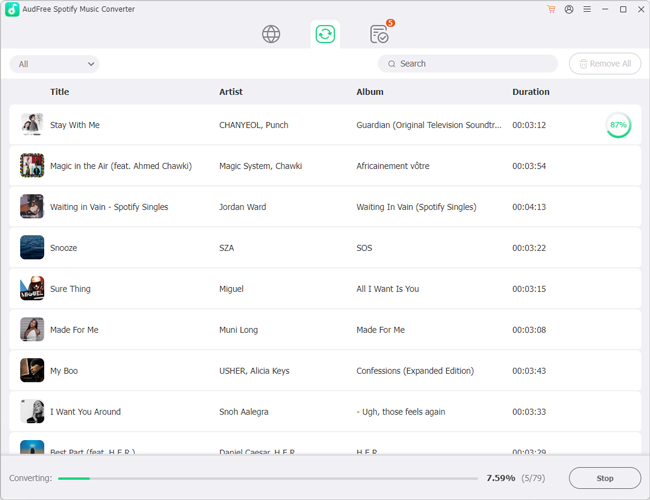 How to Play Local Spotify Music through Mic
Now, it's time to play local Spotify music on your computer through the microphone. The method is as follows.
Step 1. Connect the microphone to your PC and make sure it is working properly.
Step 2. Open your favorite media player (e.g. Windows media player, iTunes, etc.) and select the local Spotify song you want to play.
Step 3. Open your favorite communication application (e.g. Discord, Skype, etc.) and start a voice call with the person you want to share your music with.
Step 4. In the communication application, select the microphone as the audio input device.
Step 5. Start playing the music in your media player and the sound will be transmitted through your microphone to the other participants in the voice call.
Part 4. In Conclusion
Playing Spotify through your mic can be a fun and creative way to enhance your virtual experience. It is recommended to use AudFree Spotify Music Converter to download local Spotify music for mic playback to avoid any copyright restrictions. Just follow the steps outlined in this article to easily stream your favorite Spotify tunes through your microphone.