Q: Spotify is my favorite music streaming service for discovering and listening to music. In my opinion, it would be convenient to collect and manage songs on the Spotify platform. I happen to have some local songs that are not available on Spotify, is it possible to add local files to Spotify for collection? If so, what should I do?
It goes without saying that Spotify does a great job of combining online and local files, and you can add local music to Spotify playlist to create the perfect personalized playlist. Now, let's see how to add local files to Spotify library on your desktop and mobile. You'll also learn about a perfect way to get Spotify local files for free use.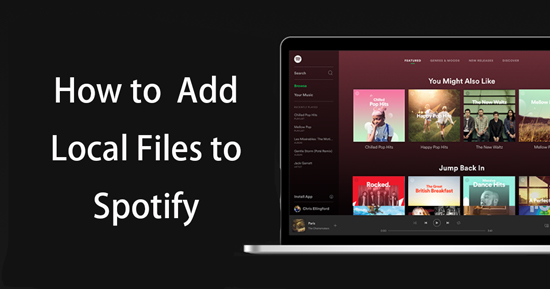 Part 1. How to Add Local Files to Spotify PC
Although it's able to upload music to Spotify, not any audio format is compatible with the Spotify library. Please bear in mind that Spotify supports the following file types: MP3, M4P (unless it contains video) and MP4 (if you have QuickTime installed on your computer).
Please note that Spotify does not allow you to upload local songs on the web player, you can only do this on the Spotify desktop app. For now, make sure your own local songs are supported by Spotify and then refer to the following guide to get local files on Spotify library on Windows and Mac computers.
How to Sync Local Files Spotify on Windows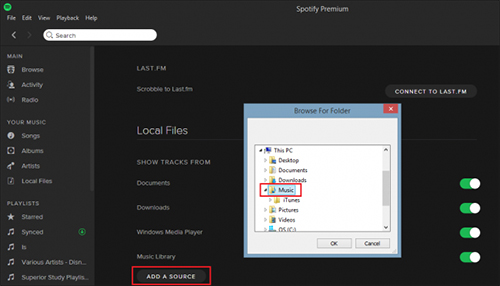 Step 1. Open your Spotify desktop app on Windows, click on your profile icon and name in the top right corner, then select the Settings button.
Step 2. Toggle the Show Local Files icon in the Local Files section and click the Add A Source icon in the Music Library section.
Step 3. Select a target local folder in the Show Songs section and click the OK button. Go back to "Your Library" in the left column of the main screen to find the uploaded local files.
Step 4. You can locate uploaded own songs in the Local Files option at the left-sidebar of Spotify's main interface.
How to Upload Local Files to Spotify on Mac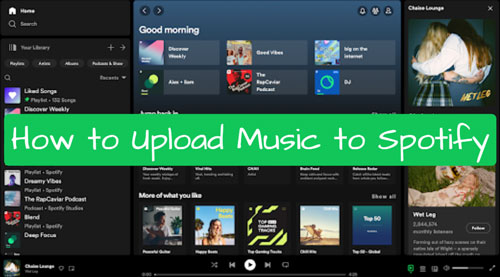 Step 1. Launch the Spotify app on your Mac computer and log in to your personal Spotify account in detail.
Step 2. Go to the "Settings" section in the left sidebar and select the "Edit" and "Preferences" options. In the new window, scroll down to Local Files and toggle the switch next to it.
Step 3. Touch 'Add A Source' to browse the files on your computer, after which select the destination music folder, including the music files you wish to import.
Step 4. Local music will be added to your Spotify library for a while and you can find your uploaded songs in the Local Files option in the left column of Spotify's main interface.
Part 2. How to Add Local Files to Spotify Mobile
Do you prefer to play local files on Spotify mobile? Even if your answer is yes, you still need to follow the above guidelines first as you can only sync songs to your mobile device after you've imported local files into the Spotify desktop app. Let's take a look at how to add local files to Spotify iPhone and Android with Spotify Premium account.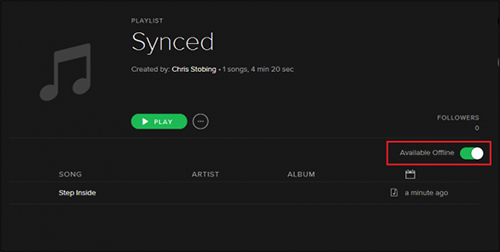 How to Get Local Files on Spotify iPhone
Step 1. Open the Spotify app on your iPhone and sign in to the same Spotify account you were using before.
Step 2. Go to the Settings icon in the top right corner of the screen and in the Settings menu, scroll down and select the Local Files section.
Step 3. Enable the switch for "Local Audio Files", after which go back to "Your Library" in the bottom right corner of the home screen. Find the Spotify playlist with your local files and select the download icon.
How to Put Local Files onto Spotify Android
Step 1. Launch the Spotify app on your Android device and select the "Your Library" section in the bottom bar of the app.
Step 2. At this point, you will be able to find a Spotify playlist or album that contains your uploaded local files. Tap on a local music track and you have free control over its playback.
Step 3. To download a playlist of local files, simply hit on the download arrow icon from the menu.
Note: Please ensure that your desktop and phone are on the same WiFi network.
Part 3. How to Add Songs to Spotify from iTunes
In fact, it is possible to upload local files to Spotify from other streaming music services, such as importing iTunes library to Spotify. It is worth noting that iTunes files are limited to Spotify-compatible MP3, M4P or MP4. Follow the tutorial below to see how to do this.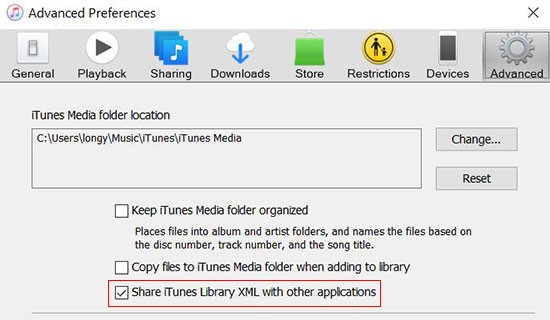 Activate iTunes Share with Spotify
Step 1. Open the iTunes app on your desktop. In the top menu, click on the Edit button and then select the Preferences section to access more advanced settings.
Step 2. Click on the "Advanced" option from the "Advanced Preferences" window, after which tick Share iTunes Library XML with other applications.
Step 3. Hit on the OK button to activate iTunes library on Spotify, then restart the iTunes app to make this setting work.
Import iTunes library to Spotify
Step 1. Open the Spotify desktop application on your desktop, click the Settings icon and scroll down to Local Files.
Step 2. Enable the Local Files button so that it turns green. The iTunes button will then appear in the list, just enable it.
Step 3. Now, go to the Your Library and Local Files section of the side menu and the iTunes file will appear in your Spotify library without any problems.
Tip: The iTunes songs added by this method are still copyright protected and some songs may not be accessible. In this case, you can resort to AudFree Audio Converter to get the iTunes local files. For more information, see this page: How to Import iTunes Playlist to Spotify.
Part 4. How to Keep Spotify Music as Local Files
To make it easier for you to enjoy Spotify songs, it is best to download Spotify Music as local files. However, some users may have found Spotify local files limit due to the fact that Spotify songs are encoded in a special format. Under the circumstances, you'd better turn to a professional AudFree Spotify Music Downloader to get Spotify local downloads.
In fact, this tool has the ability to download Spotify Music to your computer locally whether you subscribe to Spotify Premium or not. What's more, it supports converting Spotify to common formats such as MP3, WAV or FLAC for offline playback on other preferred devices. As for the ID3 tags of the songs, it also keeps them intact for better management of your Spotify library, including artist, album, title and more.
AudFree Spotify to iMovie Converter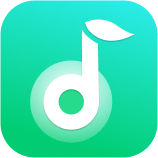 Download Spotify songs, playlists, albums to your computer locally
Convert Spotify to MP3, M4A, WAV, FLAC and other common formats
Save Spotify local files forever without premium
Works at 5X speed when downloading Spotify local files
How to Keep Spotify Music as Local Files
Step 1

Import Spotify Songs to AudFree SpoDable

Here are two ways for you to add Spotify songs to this converter. One is to drag and drop your favorite Spotify Music from the Spotify app onto the main window of this converter directly. The other is to copy and paste the song link to the search bar and press the Add button on the side.
Step 2

Set Output Parameters for Spotify Music

Go to the menu button in the top right corner and select the 'Preferences' icon to open the settings window. Click on the Convert section and you can then select the desired output format such as MP3, AAC, FLAC, etc. In addition, it is possible to edit other Spotify parameters freely such as audio channels, bit rate, sample rate.
Step 3

Download Spotify Songs as Local Files

Press the obvious "Convert" button in the bottom right hand corner to start converting Spotify songs to normal music files. Wait a moment and you can navigate to the target folder on your computer to view these local Spotify Music. Further, it is able to listen to Spotify offline without Premium on other devices and players from now on.
Part 5. FAQs about Spotify Local Files
Q1: How to Access Local Files on a Mobile Device?
To access the local files on your phone, simply open the Files app on your iPhone or Android. It will then display the local files you have downloaded and you can simply search or browse for the file you want.
Q2: How to Fix Spotify Local Files Not Syncing to iPhone?
* Make sure your iPhone and computer are connected to the same local WiFi network.
* The Spotify app is updated on all your devices.
* You must be using the same Spotify account.
* Check that your local files are enabled on the desktop app.
Q3: Why are Spotify Local Files Not Showing on Windows?
If Spotify's 'Show local files' option is not enabled, then you will not be able to see any added Spotify local files on your Windows computer. In this instance, simply enable the option in Spotify settings to resolve the issue.
Q4: What If Some Local Files Can't Be Imported into Spotify?
Spotify only supports MP3, M4P and MP4 files. If some native files are not in a Spotify compatible format, you can use AudFree Audio Converter to convert the format so that it will be recognized by Spotify. This way, you can add local files to Spotify without any restrictions.
Part 6. Summary
Whatever local files you have, you can easily add them to your Spotify library. Now, you can not only play Spotify tracks but also your own local music files via Spotify desktop and mobile app. If you encounter some obstacles in getting Spotify local files, please leave them in the comments section. We will give possible solutions in time.