Music and video streaming have become a part of our daily lives, and Spotify and Hulu are two of the most popular streaming services in the world. In 2017, these two giants joined forces to offer a unique Spotify Hulu bundle deal. This bundle offers students access to both music and video streaming services at a discounted rate.
The partnership has been a huge success and has attracted a lot of attention from students all over the world. In this article, we will discuss everything you need to know about the Spotify Hulu Student deal.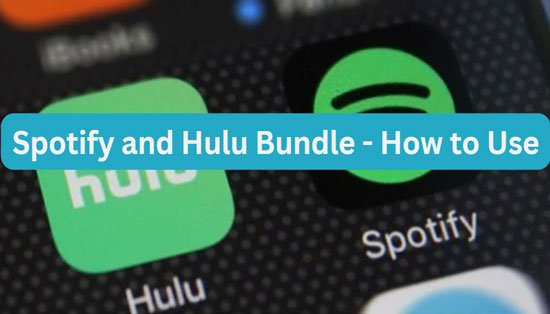 Part 1. What Is Spotify Hulu Bundle
Spotify Premium Student with Hulu is a bundle offer that provides eligible students with access to Spotify Premium, Hulu (ad-supported plan), and Showtime at a discounted price. Students can enjoy the benefits of Spotify Premium, which offers ad-free music streaming, offline playback, and high-quality audio. They can also access Hulu's ad-supported plan, which includes a vast library of movies, TV shows, and original content.
Eligibility Requirement
There are some requirements that you need to fulfill before being eligible for the Spotify Hulu deal.
✔️ Students must be enrolled at a US Title IV accredited college or university.
✔️ You must also be over 18 years old and have a valid Spotify Premium for Students account.
How Much Is Spotify Hulu Student Deal
The Spotify Hulu Showtime bundle costs $4.99 per month. This price includes access to both Spotify Premium and Hulu's Limited Commercials plan. This is a significant discount from the regular price of $9.99 per month for Spotify Premium and $7.99 per month for Hulu's Limited Commercials plan.
| | Spotify Premium | Hulu(With Ads) | Spotify Hulu Bundle |
| --- | --- | --- | --- |
| Price | $9.99/month | $7.99/month | $4.99/month |
Part 2. How to Login to Spotify Hulu Account
With Spotify Hulu account, you can stream your favorite music, TV shows, and movies, all in one place. To get started, you'll need to have an active subscription to both Spotify Student and Hulu. Once you have both subscriptions, you can link your accounts and get Spotify Hulu login to enjoy the benefits of the bundle. Let's take a look at the following steps to understand how to do it.
How to Verify Spotify Premium Student
Before you can take advantage of the Spotify Hulu Student discount, you'll need to verify your Spotify Premium Student account. The process is quick and easy, just follow these steps:
Step 1. Navigate to https://www.spotify.com/us/student/verification/ and log in to your Spotify account.
Step 2. Go to the Spotify Premium Student page and enter your personal information, including your name, date of birth, and school name.
Step 3. You'll then be asked to verify your enrollment status by providing either your student email address or uploading a photo of your student ID.
Step 4. Press the "Verify" button and once your status is verified, you will be redirected to the payment page where you can enter your payment information and complete the process.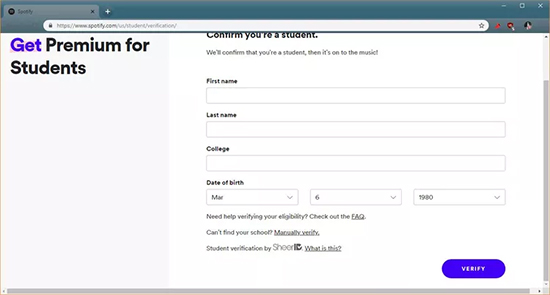 How to Activate Spotify Hulu Account
With Spotify Hulu plan, you'll have access to millions of songs and a vast library of TV shows and movies. Here are the detailed steps to get Spotify Hulu activated.
Option 1. You don't have a Hulu account yet
Step 1. Log in to your Spotify Premium Student account and go to the "Your Account" page.
Step 2. Click on "Activate Hulu" and you'll be redirected to the Hulu website.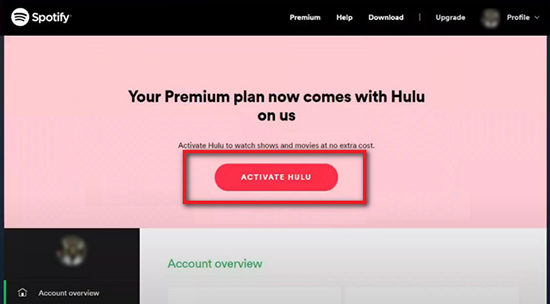 Step 3. Follow the prompts to create a new Hulu account.
Step 4. Once you've created your Hulu account, log in to your Spotify account and you'll be able to get Spotify Premium Student discount and access both services.
Option 2. You've got a Hulu account
Step 1. Make sure your current Hulu account is billed directly through Hulu, if not, you will need to create a new Hulu account.
Step 2. Associate both accounts to the same email address.
Step 3. Follow the same steps as option 1 to activate and access Spotify Hulu account
Part 3. How to Keep Spotify Music Forever after Spotify Hulu Plan Expires
Spotify Premium subscribers can enjoy millions of songs and playlists, as well as the ability to download your favorite tracks for offline listening. However, once your Spotify Hulu for Students plan expires, you may lose access to your downloaded music. Fortunately, there's a solution that allows you to keep your favorite Spotify songs forever: AudFree Spotify Music Downloader.
It is a powerful tool that allows you to download Spotify songs, playlists, and albums locally with free account. You can also convert Spotify songs to MP3, FLAC, AAC, WAV, and other popular audio formats. Then you can keep your Spotify music locally forever, even after your Spotify Hulu bundle expires.
How to Keep Spotify Music Forever
Step 1. Run AudFree Spotify Music Converter, then import Spotify songs/playlists by drag-and-drop function. Or copy and paste the track URL in the upper bar, then click the "+" sign to get the complete lists of songs imported to the program.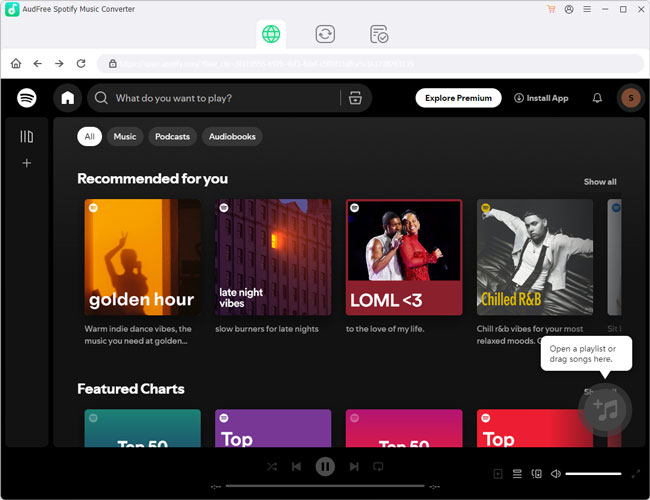 Step 2. Click the "Menu" > "Preference" > "Convert" tab to change the settings such as output format, channel, conversion speed, sample rate and bitrate. Once the settings have been saved, click "OK".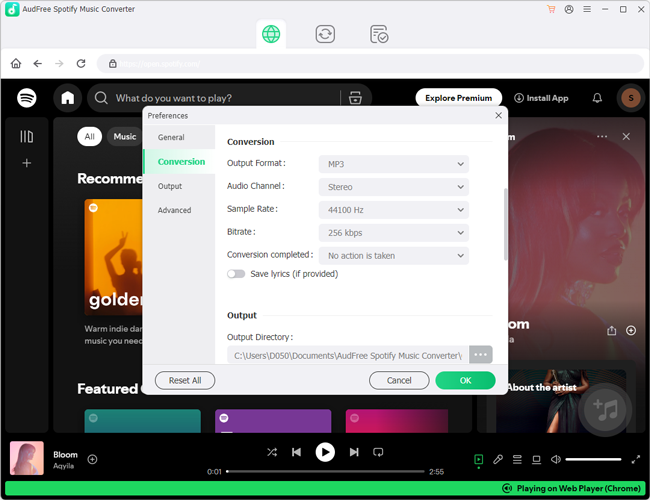 Step 3. Click the "Convert" button and the program will start to convert Spotify songs without losing any metadata. The progress bar against each song will let you know the progress. Once the conversion has been completed you can play Spotify songs offline without Premium on any device of your choice.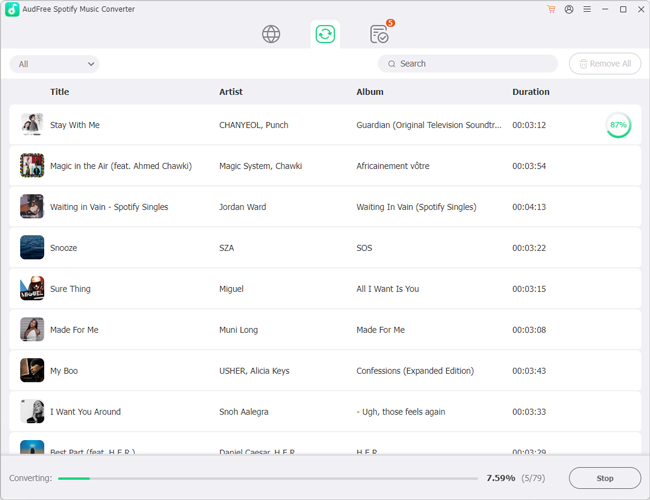 Part 4. FAQS about Spotify Hulu  
Q1: How Long Does the Spotify Hulu Deal Last?
The Student Spotify Hulu plan lasts for as long as you remain eligible for the offer. Once you graduate or are no longer enrolled in an accredited college or university in the United States, you will lose access to the bundle deal.
Q2: Does Spotify Family Come with Hulu?
No, it's only for Spotify Premium Student subscribers. However, eligible family members can still take advantage of the Spotify Hulu Student discount by signing up for their own personal account.
Q3: Does Spotify Hulu Have Ads?
Hulu's Limited Commercials plan does have ads, but there are fewer ads than the regular plan. However, Spotify Premium does not have any ads.
Q4: How to Cancel Hulu Spotify Bundle?
To cancel your Spotify Hulu deal, you need to cancel your Spotify Premium subscription and Hulu subscription separately. Once both subscriptions have been canceled, you will no longer be subscribed to the Spotify and Hulu bundle.
Part 5. In Conclusion
The Spotify and Hulu plan is an excellent deal for students who want to enjoy music and video streaming services without breaking the bank. To redeem Spotify Hulu, you can follow the tutorial mentioned in this article. If you want to keep your favorite Spotify songs after your bundle deal expires, you may want to take advantage of AudFree Spotify Music Downloader. Then have a great trip to Spotify and Hulu!