Spotify allows users to listen to songs for no cost whatsoever but with lots of limitations. Spotify Premium subscribers have the privilege of no ad interruptions, offline listening, better music quality, etc. To explore a wonderful music world, you can't miss the Spotify Premium features.
Before upgrading your account, you may be hesitant whether the premium is worth it. Think from the user's perspective, Spotify offers Spotify Premium free trial to test its key features. Is Spotify Premium worth the money? Just try the Spotify free trial to get your answer by yourself. Nothing loss.
Therefore, how to get a free trial of Spotify? This article will show the complete tutorials on how to get Spotify Premium free trial on the computer and mobile devices.

Part 1. How to Get Spotify 3-month Free Trial on Desktop
4 months ago, Spotify had a 30-day free trial that enables people who haven't used the free Spotify trial to test the Spotify Premium features. This could be the reason why there are so many questions asked by free Spotify users: How to get a 30-day free trial on Spotify.
The good news officially released by Spotify is that Spotify triples its free trial period. It means that you can use Spotify free trial for 3 months. It's important to note that not anyone is eligible for this Spotify Premium free trial of the 3-month period. Please make sure you have ever signed up for a Premium yet. It also works on Spotify student free trial.

Let's see how to get free Spotify Premium trial on your computer.
Step 1. Navigate to the home page of Spotify in your web browser. You will see 'Try Premium free for 3 months' as above.
Step 2. Hit on the green 'Start Free Trial' button to start your free trial trip.
Step 3. It requires you to register a new Spotify account with your email address or Facebook account.
Step 4. Go back to the Spotify Premium page and fill with your payment information. Please don't worry. It won't deduct your money for the first 3 months.
Step 5. Now, please click the 'Start 3-month Free Trial Now' option to confirm your action. After that, you can enjoy all the Spotify Premium features for free.
Note: Please don't forget to cancel the Spotify free trial before the 3 months expired. Otherwise, you will be charged the monthly subscription fee, $9.99.
Part 2. How to Get Spotify Free Trial on Mobile Devices
Previously, Spotify only offers a 7-days free trial on mobile devices. But now, a one-month free trial is available for people who play Spotify music and playlists on iPhone and Android devices. Anyway, the subscription process is the same as getting 7-day free trial on Spotify.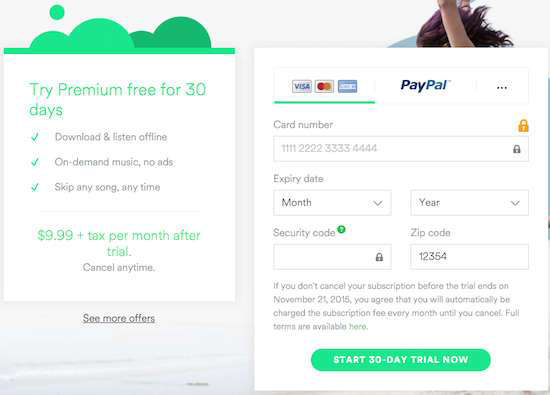 Here, we will take Android as an example to show you how to a get free trial on Spotify app.
Step 1. Install and open the Spotify app on your Android phone and then the main interface of the Spotify app will pop up.
Step 2. Here, you can click the 'LOG IN' to enter your account details. If you don't have one, please create a new one.
Step 3. Tap the 'Your Library' at the lower-right corner of the key interface, and then click the 'Settings' option to open the setting window.
Step 4. Here, you can see the 'GET PREMIUM' button, please click it to navigate to the payment page.
Step 5. Type the credit card number, zip code of your billing address, name, expiration date, etc. After that, please click 'CONTINUE' to start your free 30-day Spotify Premium trial.
Part 3. Keep Spotify Music Forever after Free Trial
Similar to any other streaming music service, all downloaded Spotify music and playlists will disappear once it expires. Unless you decide to renew the subscription fee. It's well known that there is no way to get Spotify Premium free permanently. However, we can choose another road to explore Spotify Premium features. We can download Spotify songs offline and keep them on the local computer when subscribing to Spotify free trial. With it, we can still listen to Spotify offline after canceling Spotify 3-month free trial.
To achieve this goal, we need to get help from a professional Spotify music downloading tool, called AudFree Spotify Music Downloader, which endows Spotify users the ability to download Spotify songs, playlists, audiobooks, podcasts, and other content offline and save them as local files. Besides, it can convert Spotify music to MP3, FLAC, WAV, and other audio formats so that you can enjoy Spotify music anywhere even without the Spotify app anymore.
Here is the simple user tutorial of AudFree Spotify Music Downloader to keep Spotify songs locally.
Step 1. Install the smart Spotify solution and the Spotify app on your computer and open it.
Step 2. Drag and drop Spotify tracks, including individual songs from Spotify to the conversion window.
Step 3. Click the 'Convert' button to start to download and keep Spotify streams at 5X faster speed.
As for the detailed tutorial, please visit this source page: How to Keep Spotify Music Forever.
Part 4. How to Cancel Spotify Free Trial
No matter for what reasons that you'd like to cancel the Spotify Premium, you need to do this before being charged. It should be done before it's set to renew. Otherwise, it will charge you $9.99 every month.
In addition, since you have the skill to download Spotify music forever even without the subscription, it's necessary to unsubscribe the Spotify free trial as soon as possible. Just refer to the manual below.
Step 1. Enter the official website of Spotify and log in to your email address and password.
Step 2. Click 'Profile' in the upper-right side of the main page to choose the 'Account' option.
Step 3. Now, you can tap the 'Manage Plan', which is below the 'Spotify Premium' and choose 'Change or Cancel' icon.
Step 4. Here, you know what you should do. Just click 'Cancel Premium' and 'Yes, cancel' to confirm it.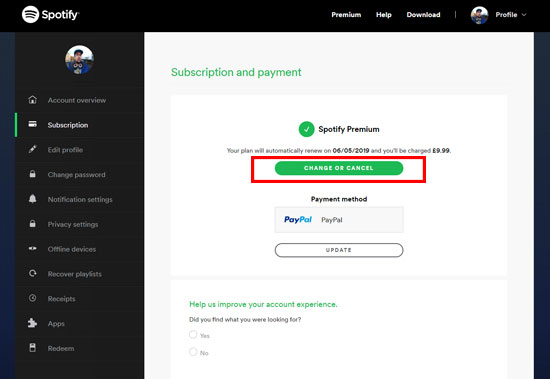 At this step, you have successfully terminated your Spotify Premium free trial. You don't need to worry whether you will be billed unexpectedly.