Spotify has done successfully in music world. Users can stream their favorite music, TV, hit shows, movies and more on Spotify. To pay monthly subscription fees as a Spotify Premium member, you can enjoy over 40 million songs, letting your heart in the music world collision, hitting bright sparks.
Luckily, Spotify Premium for students helps the students to have endless entertainment with monthly discount payment. In this article, we will share tips on how to get Spotify Premium student discount. Simply get Spotify Premium for students to listen any high quality tracks anytime with no ads. Read on and learn.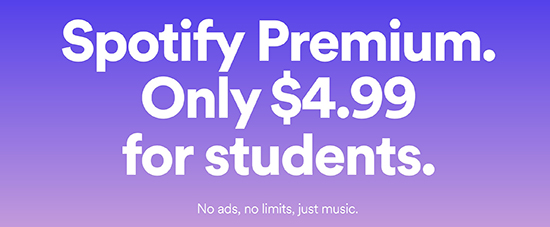 Part 1. Spotify and Spotify Premium for Students
Spotify is a famous music streaming platform that allows you to enjoy DRM-protected and copyright music and podcasts from media companies and record labels. Spotify provides users with millions of music tracks, which can be browsed by album, artist, or genre. And users can build playlists, or edit and share the playlists.
Spotify has region limitation, and now it supports users from Americas, New Zealand, Australia, and most of Europe, and parts of Asia and Africa. Spotify is available on many devices, including macOS, Windows, Linux computers, Windows Phone, iOS devices, Android phones and tablets. So you are able to take Spotify anywhere on the go.
To join the Spotify free plan, you can listen to music with limited features and get the music in compromised quality also with ads. If you join the Spotify Premium subscription plan and pay $9.99 per month, you can enjoy endless entertainment. Spotify Premium allows you to download music and listen offline anywhere anytime. The Premium plan also features with high-quality tracks, no ads interruptions, unlimited skips, and more.
For the detailed differneces between two plans on Spotify, you can refer to this page: Spotify Free vs Spotify Premium
If you are currently a student in a Spotify eligible region, you only need to pay $4.99 per month for the Spotify Premium plan. The Spotify Premium for Students is 50% discount compared with the normal monthly fee for Spotify Premium plan. The Spotify Premium student discount is now available in 36 countries, including America, Australia, Austria, Brazil, Belgium, Chile, Canada, Czech Republic, Colombia, Denmark, England, Ecuador, Estonia, France, Finland, Greece, Germany, Hungary, Hong Kong China, Italy, Ireland, Indonesia, Japan, Latvia, Lithuania, Mexico, New Zealand, Netherlands, Portugal, Philippines, Switzerland, Spain, Singapore, Turkey.
Part 2. How to Get Spotify Premium Student Discount
Before signing up for Spotify Premium with student discount, you have to check whether you qualify for the student discount. Spotify verifies your student status with the SheerID.
First, make sure you are enrolled actively at an accredited university or college in the Spotify eligible countries. Second, Spotify verifies student discount is available for 4 years. You should remember to re-verify your student discount every 12 month. Third, Spotify Premium only allows users over 18 years old to sign up the plan.
If you qualify for the Spotify Premium for college students, just follow the below guide to learn how to get Spotify Premium students discount.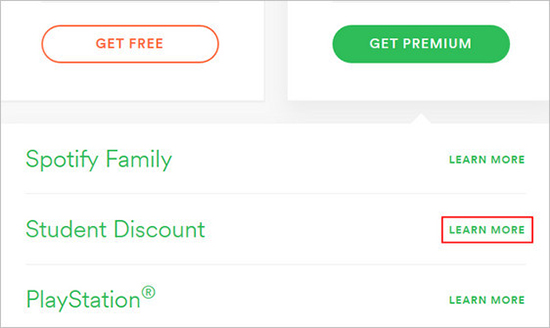 Step 1. Log in your Spotify account. If you do not have a Spotify account, sign up and create one. You can also log in the Spotify with your Facebook account.
Step 2. After you log into your Spotify account, go to the top right corner of the page and click the "Profile" button and select the "Account" option. Now you will see your account information.
Step 3. And then scroll down to the page and click on the "Get Premium" button on the right side of the page.
Step 4. In the "Get Premium" page, you can click on the "Change plan" option beside the "Your plan" option.
Step 5. And then scroll down the page to find the option of "Premium for Students" and click the "GET STUDENT" button.
Step 6. And you will go to the verification page, which requires you to fill out your personal information to confirm that you are a college student. There input the name of you and your college, data of birth as requested. If you cannot find your school, you can choose the "Manually verify" option.
Step 7. When your student status is verified, you can go on to make the payment by following the on-screen instruction.
Part 3. How to Change Spotify Premium to Student Discount
For you have subscribed the Spotify Premium plan and want to switch to student discount, you can follow the below steps to do so.
Step 1. To change your Spotify Premium to student discount, you can go to the student page https://www.spotify.com/us/student/.
Step 2. Click on the "GET STARTED" button and go to the student verification page.
Step 3. Fill out the requested form by entering your name, college name and date of birth. And click the "Verify" button for student verification.
Once approved, the discounted rate from your Premium plan will be credited for your next billing date.
Note: If the Premium plan is paid by company but not Spotify (mobile carrier, internet provider, iTunes, etc.), you have to cancel your current subscription and wait until it revert to Spotify free plan. And then apply for the student discount.
More Tips: Play Spotify Unlimited after Unsubscribing Spotify Student Plan
Once your Spotify students discount subscription has expired, your account will revert back to free version. If so, you can no longer enjoy the Premium privileges. Fortunately, with the help of AudFree Spotify Music Converter, you can always play Spotify unlimited even you unsubscribe Spotify student.
It is must-have software for Spotify music lover. This program is specially designed to help you to download Spotify music as MP3, WAV, FLAC, AAC audio format for offline playing. The trick key is that AudFree Spotify Music Converter can directly remove the DRM-protection from the Spotify songs, allowing you to play the quality music without hassle.
Only 4 steps to download Spotify music for offline playing:
Step 1. Download and launch the AudFree Spotify Music Converter.
Step 2. Drag the Spotify music or playlist to the main interface of the program. Or copy and paste the link for the music to the search bar to get the music.
Step 3. Customize the output format and other parameters.
Step 4. Start to remove the DRM-protection from the music and convert it to your selected format.
Take a trial on this powerful tool and download Spotify music to MP3 for listening to them offline even without Spotify Student subscription.