Have you ever exposed to Spytify Spotify Recorder? Marketed as a free recorder for Spotify, Spytify is assuredly sought-after. However, user feedbacks are diametrically opposed on it. Some of them suffer from its limited applicability. And some hold that the recording performance is a waste of their time. They want a convenient alternative.
In contrary, those who have no experience with Spytify are more willing to try this Spotify freeware, but being tormented by no help of the hands-on tutorial. Focusing on these two cases, this article presents a Spytify review and several Spytify alternatives.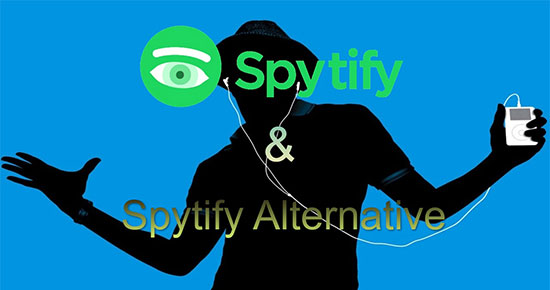 Part 1. Spytify Overview
What Is Spytify Spotify Recorder
Spytify is a cost-free Spotify recorder, focusing on recording Spotify music with lossless audio quality and media tags on Windows only. It holds true on both Spotify free and premium account. Separately, it records Spotify music with free subscription with 160kbps output quality while recording music from Spotify premium subscription with 320kbps output.
Featuring "Mute Ads" option, it prevents commercial ads from being recorded when cooperating with free Spotify account. During recording, all ID3 tags like title, album, artist are kept untouched. Other than that, advanced spying technology makes it possible to automatically split recorded songs into separate Spotify tracks. This is equivalent to a mode of multitasking, which insures continuity of the recording process.
Key Features
✅ High-quality recording: Spytify records music from Spotify in high-quality 320kbps MP3 format.
✅ Automatic track splitting: This Spotify recorder automatically splits tracks and removes ads and silence.
✅ ID3 tags support: It adds ID3 tags to recorded songs, including artist name, album name, and track title.
✅ No sound loss: It guarantees that the recorded Spotify music will not lose any sound quality.
✅ Easy to use: It has a user-friendly interface that makes recording music a breeze.
✅ Free and open-source: Spytify is completely free to use and open-source, which means anyone can contribute to the development of the software.
⚠️ Is Spytify Safe
Spytify has access to your Spotify login credentials, which could be at risk of having their accounts suspended or terminated. Also, installing Spytify may introduce potential viruses to your device. Thus, it is important to understand the potential risks associated with using this software.
Part 2. How to Use Spytify to Record Spotify Music
With Spytify, users can record high-quality audio from Spotify. But you also have to put up with some of its shortcomings. If you don't mind, you can follow the tutorial below to get Spytify download on your device and use it to record favorite Spotify music for free.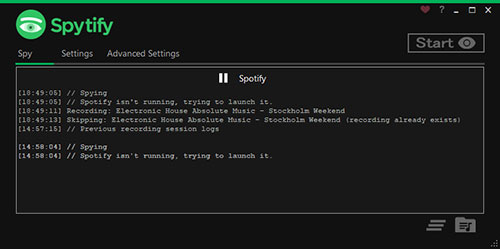 How to Install Spytify
Step 1. Go to the Spytify Github page on your Windows device.
Step 2. Click on the "Download" button and select "Download ZIP".
Step 3. Extract the downloaded ZIP file.
Step 4. Open the extracted folder and run the "Spytify.exe" file.
How Does Spytify Work to Record Spotify
Step 1. Open Spytify on your Windows computer.
Step 2. Next, head to "Settings" to select output path, output quality, output format, etc.
Step 3. Now, click "Start" and Spotify app will automatically launch.
Step 4. Play any song in Spotify and Spytify will start record the playing track from Spotify to your local computer.
Step 5. Wait until the recording is done. Press the "Stop" button to complete the process.
Step 6. Whereafter, you can use the "Open output directory" option at the bottom right corner to find the recorded Spotify files on your local folder.
Part 3. Top 3 Best Alternatives to Spytify for Mac/Windows
Spytify, despite its ease of use, poses obvious and non-negligible risks. If you are looking for a safer way to download Spotify music for free, you can refer to the following 3 top Spytify alternatives.
# 1. AudFree Spotify Music Converter
Acting as a specialized music converter and downloader for Spotify, AudFree Spotify Music Converter is credibly at the top of the list of Spytify alternative. Thanks to its superior conversion technology and lossless quality output, AudFree SpoDable stands out from its peer group.
Running at 5X quicker speed, it converts and downloads Spotify music to MP3, M4A, FLAC, WAV, etc. within minutes for offline listening on any player and device without limits. To provide more flexibility in output, it creates a user-definded option, which allows users to customize output quality and parameter as different needs.
Something else also favored by people is that the operation interface is designed to be easy-to-handle and user-friendly. Its drag-and-drop feature greatly facilitates the addition of Spotify content. Requiring no Spotify Premium subscription, you are free to use it at your service on either Windows and Mac.
How Does AudFree Spotify Music Converter Work
Step 1

Add Spotify music to AudFree SpoDable

In the first place, please download and install AudFree Spotify Music Converter on your computer. Launch it, meanwhile, the Spotify app will start. Search for any tracks, playlists, or albums in Spotify app and then drag them to the tool's main interface. An alternative to adding Spotify music is to copy & paste the track link to the search box and click "+" icon to load.
Step 2

Set output format and parameters

When Spotify tracks are uploaded, move your mouse over a three-line icon on the top right and choose "Preferences" from its drop-down list. On Preferences window, hit on "Convert" to bring out the format window. Here, set output format, channel, sample rate, bit rate, conversion speed, etc. in the basis of your own requirements. Once done, remember to save settings by clicking "OK".
Step 3

Convert and download Spotify music for free

Now, it's your time to start converting and downloading Spotify music without Premium with the help of the "Convert" button. With 5X quicker conversion, the whole process won't take you much time. Upon completion, press the "Converted" button which is marked by a red number on the bottom to quickly locate the downloaded Spotify files on your computer locally.
# 2. AudFree Audio Capture
AudFree Audio Capture, performing in the same method as Spytify, could certainly be as one of the best Spytify alternatives. Its career as a high-quality music recorder makes it easily accessible on Windows and Mac to capture any playing sound and audio from any source, like Spotify, Apple Music, Google Play Music, games, movies, and more.
Like AudFree Spotify Music Converter, AudFree Audio Capture also does a good job in output settings. Not only can it record music from Spotify to MP3, M4A, AAC, M4B, WAV, etc. but also allows the flexible adjustment of audio codec, channel, bit rate, sample rate, and other parameters. Using as a powerful recorder for masses of streaming music platforms, it is built with an ID3 tag editor, with which you are able to customize title, album, artist, composer, cover, etc. for Spotify songs.
How Does AudFree Audio Capture Work
Step 1. First of all, download and install AudFree Audio Capture and Spotify app on computer. Launch AudFree and add "+" icon to add Spotify app to AudFree.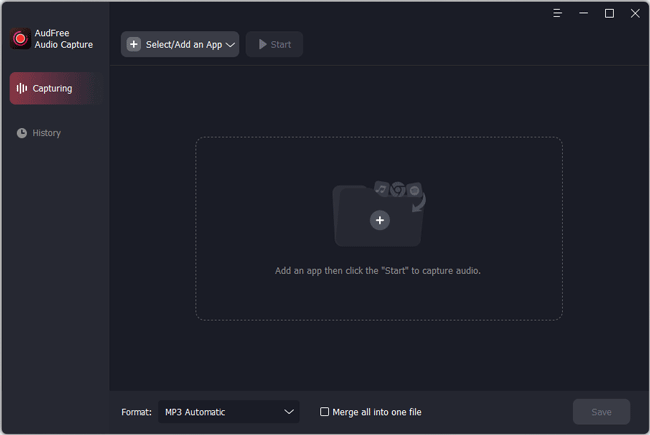 Step 2. Click an audio icon known as "Format" on the bottom right to let format window pop up. Then, set format, codec, channel, sample rate, bit rate, output quality.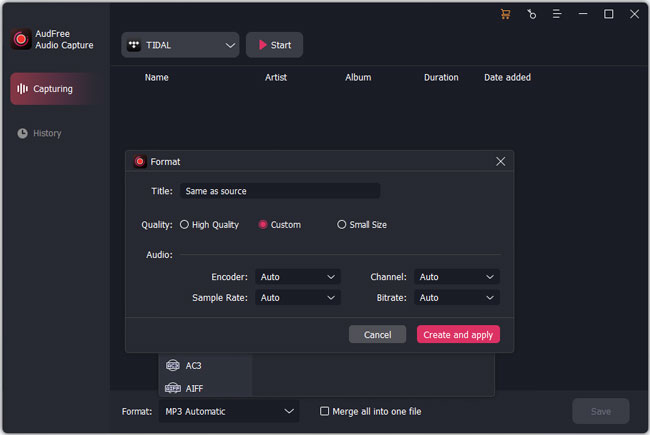 Step 3. After setup, return to the main window and click Spotify to start the Spotify app. Play any Spotify track, and in the meantime AudFree Audio Capture will start record the playing Spotify song.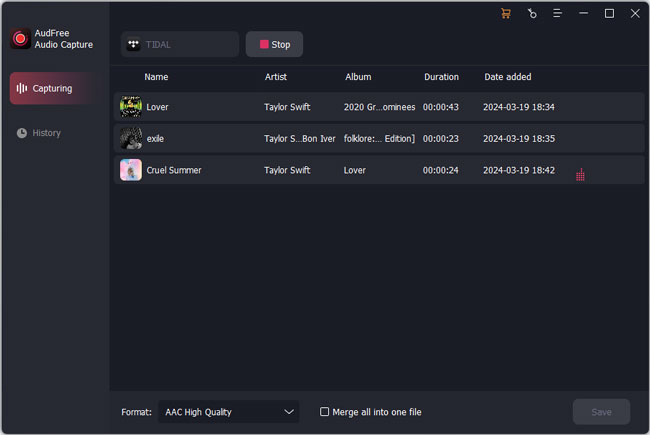 Step 4. Once the recording is done, you can continue capturing Spotify music or choose to end the recording process by clicking the "Stop" button.
Step 5. On each recorded track, there is an "Edit" icon lying. You can choose it to trim Spotify track and customize ID3 tags.
Step 6. Finally, press the "Save" icon to get yourself back to the main interface, in which you hit on the "Converted" icon to find all recorded Spotify songs.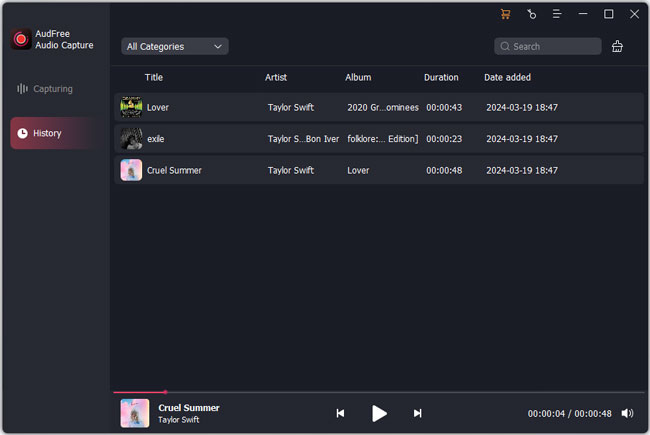 # 3. Spotify Recorder
When it comes to Spytify alternatives, Spotify Recorder should be on the list. As its name implies, Spotify Recorder is a pure recording tool, aiming to record and save music from Spotify to MP3 format on Windows for offline playback on any MP3 player.
It carries a clean user interface and works in simple operation method. Specifically, it can directly record Spotify music from the computer soundcard and then automatically add metadata info of Spotify tracks. Above all, Spotify Recorder is a wholly free tool that works well with free Spotify account.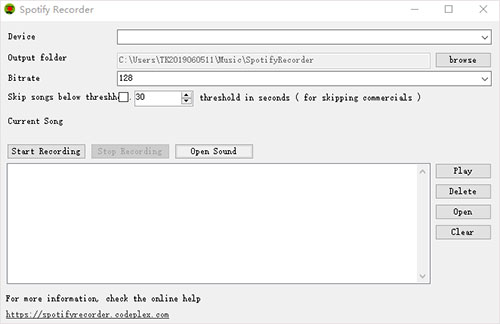 How to Use Spotify Recorder to Record Spotify Music
Step 1. Officially download, install and run Spotify Recorder on your PC.
Step 2. According to your need, configure output folder, audio bit rate, and other settings.
Step 3. Click "Start Recording" while opening Spotify app to play a song.
Step 4. Once recorded, choose "Stop Recording". And then, press the "Open" button to navigate to the destination folder.
Part 4. Conclusion & Comparison
That's all for Spytify Spotify Recorder and 3 alternatives to Spytify. To give you a comprehensive insight into these Spotify software, below is a table that clearly and thoroughly compares each feature of them.
| | Spytify | AudFree Spotify Music Converter | AudFree Audio Capture | Spotify Recorder |
| --- | --- | --- | --- | --- |
| Price | Free | $14.95 | $29.95 | Free |
| Compatible OS | Windows | Mac, Windows | Windows, Mac | Windows |
| Ad-Free | Yes | Yes | Yes | No |
| Supported Output Format | MP3, WAV | MP3, FLAC, AAC, M4A, M4B, WAV | MP3, WAV, AAC, FLAC, M4B, M4A | MP3 |
| Conversion Speed | Real time | 5X faster speed | Real time | Real time |
| Clean Interface | ❌ | ✔️ | ✔️ | ✔️ |
| Customize Output Quality | ❌ | ✔️ | ✔️ | Set bit rate only |
| Edit Function | ❌ | ❌ | ✔️ | ❌ |
| Score | ⭐️⭐️⭐️ | ⭐️⭐️⭐️⭐️⭐️ | ⭐️⭐️⭐️⭐️ | ⭐️⭐️⭐️ |
Functionally, they all are designed to save songs from Spotify to local files for offline playback without premium account. It is just the operating principle that differs them from each other. Spytify, AudFree Audio Capture, and Spotify Recorder are essentially a recording tool, which has doomed them to cost you more time to perform the downloading task.
While AudFree Spotify Music Converter, being as a technical music downloader for Spotify, can batch convert and download songs, playlists, albums from Spotify to local files with lossless quality at 5X and even quicker speed. In terms of conversion speed and output quality, AudFree Spotify Music Converter is unmatched by other alternatives to Spytify.