Online music streaming services give direct access to music and songs from all over the world. Spotify's online streaming application contains millions of songs by different artists, belonging to all genres. But all these songs can only be accessed if you have a super-fast internet service.
So, how can you enjoy Spotify music while traveling or when your internet bundle expires? To support offline listening, Spotify does allow its Premium users to download music tracks. But where are Spotify downloads stored? In the following article, we will discuss how to find the downloaded songs on Spotify and where does Spotify download music on Windows, Mac, iPhone and Android.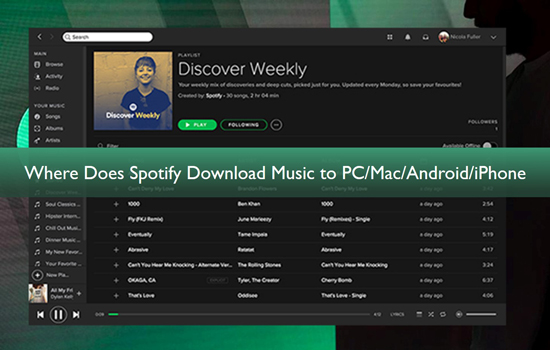 Part 1. How to Find Downloaded Songs on Spotify PC/Mobile
How to Find Downloaded Songs on Spotify iPhone/Android
As a Premium user, you can easily download Spotify songs to your mobile storage and enjoy them when your internet package runs out. Where to find downloaded Spotify songs on phone? Just follow our guide.
Step 1. Open the Spotify app on your mobile phone.
Step 2. Go to "Your Library" tab and open the album or playlist you want to save to your mobile storage.
Step 3. Turn on the toggle in front of the song and download it.
Step 4. Go back to the main playlist and swipe down to reveal the search and filter tools. Tap the "Filter" option.
Step 5. Under the "Filters" tab select "Downloads". Then select Filter downloaded songs, this will allow you to find downloads on Spotify iPhone/Android.
Step 6. Tap on the "Home" icon and click on the "Settings" icon located at the top right corner of the screen.
Step 7. Scroll down and find the "Playback" section, then toggle on the "Offline Mode" option.
Step 8. Once you have turned on Spotify offline mode, you can start listening to your downloaded songs without an internet connection.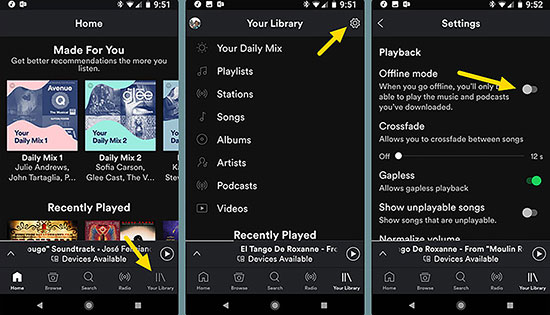 How to See Downloaded Spotify Songs on Windows/Mac
Downloading Spotify music on Mac/Windows is a straightforward process. All you need to do is turn on the toggle button and the music will be stored on your device for offline listening.
However, where do Spotify downloads go on PC is what makes things complicated. To find downloaded Spotify songs on your computer, go through the following steps.
Step 1. Open the Spotify app on your desktop.
Step 2. Go to the "Menu" on the right side of the application.
Step 3. Hit on the "three dots" at the top.
Step 4. Click on "File" and then select "Offline Mode" in the drop down menu.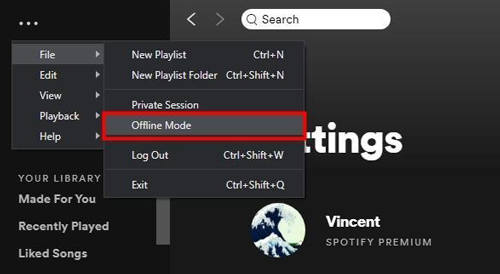 Step 5. Click on the "Your Library" option located in the left-hand menu and play all the songs that you have downloaded offline.
Part 2. Where Are Spotify Downloads Stored on PC/Mobile
Now, the question arises, where does Spotify store downloaded music? The fact is that once you have downloaded a Spotify song, the downloaded music will be a cached file and not easily found. To find out Spotify downloaded songs location on your mobile and desktop device, follow the steps given.
Where Does Spotify Store Downloaded Music on Mac/Windows
Step 1. Open the Spotify app and click on "Profile" in the top-left corner of the screen to open the menu, then select "Settings" from the menu options.
Step 2. Scroll down to the "Storage" section, and go to "Offline Song Storage", which will give you the location of your downloaded song on your PC.
Step 3. Here, you will see the default location of your offline songs storage folder on your PC.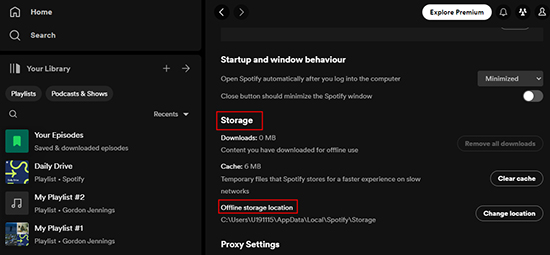 Where Does Spotify Download Music on iPhone/Android
As for where does Spotify store downloads on iPhone and Android devices, the downloaded music is located on Android/data/com.spotify.mobile.android.ui/files/spotifycache/Storage/. You can easily find Spotify music on Android by going to offline storage.
Part 3. How to Download Spotify Songs Locally for Free Use
Although you now know where does Spotify download to on Android, iPhone, Mac and Windows, you still can't enjoy them without the Spotify app. Since the songs, tracks, playlists and podcasts in Spotify seem to be protected by OGG Vorbis, which limits users to listening to Spotify music only through the streaming app. So, how do you conquer this obstacle?
AudFree Spotify Music Converter can help you in downloading the Spotify music locally with just a breeze. By supporting all popular formats, including FLAC, WAV, MP3, M4A and M4B, it allows users to enjoy music on all devices without any restrictions.
The converter is designed with advanced technology that allows you to maintain the quality of every beat and melody of Spotify songs. It comes with all the innovative features users demand in a music converter. Besides, it works 5 times faster, making it the fastest and most reliable music converter available.
AudFree Spotify Music Converter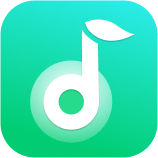 Download Spotify to MP3, FLAC, AAC, WAV and more locally
Preserve the original sound quality and metadata of Spotify songs
Enable users to transfer Spotify songs on a range of different devices
Listen to downloaded songs on Spotify without the Spotify app
How to Download Spotify Songs Locally for Free Use
Step 1

Load Spotify Songs and Playlists

To import Spotify songs and tracks into AudFree Spotify Music Converter, you can drag and drop songs from Spotify app directly. Or copy and paste the URL of the music into the converter and press the Add button. Alternatively, you can add unlimited songs to the converter to save time and energy.
Step 2

Set Output Parameters for Spotify Music

Go to the Menu bar and select Preferences > Convert to open a settings window. At this point, adjust the output format of your Spotify music to MP3, FLAC, WAV, etc. You can also set the bit rate, sample rate, codec, audio channels, etc. to your liking.
Step 3

Download Spotify Songs to Your Computer Locally

After setting all the music files you want, select OK. Then press the Convert button and the software will start downloading and converting Spotify music. After that, all your songs will be transferred to your local folder. You can enjoy Spotify songs offline without Premium and Spotify app whenever and wherever possible.
Part 4. How to Manage Spotify Downloads
Managing your Spotify downloads is a great way to optimize your music listening experience. Whether you want to delete downloaded songs to free up storage space or change the location where your downloaded songs are stored, Spotify offers convenient options to help you stay organized. Let's get started!
How to Delete Downloaded Songs on Spotify
Step 1. Open the Spotify app and go to 'Library' in the bottom right hand corner.
Step 2. Select the album or playlist you wish to delete.
Step 3. Click on the 'three dots' at the top of the playlist, which will open up a menu.
Step 4. Select the 'Delete' option from the menu and the corresponding song will be removed from your Spotify downloads.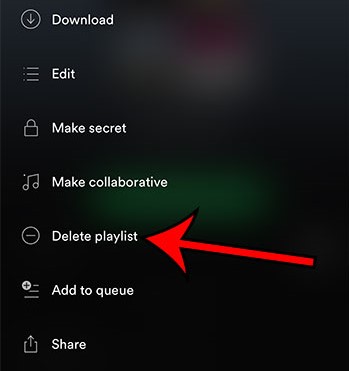 How to Change Spotify Downloaded Songs Location
Step 1. Log in to your Spotify account, click the down arrow button next to your name and select the 'Settings' section.
Step 2. Select the 'Storage' and Offline Song Storage options.
Step 3. Tap the "Change Location" icon to select the desired folder as the Spotify downloaded songs location.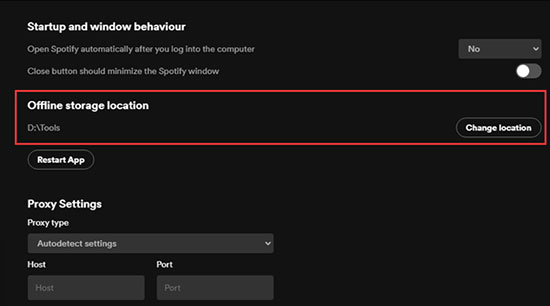 Part 5. FAQs about Spotify Downloads
Q1: How Many Downloads Can You Have on Spotify?
A: Spotify allows Premium users to download up to 10,000 songs per device on up to 5 devices. This means you can have up to 50,000 songs downloaded across all your devices.
Q2: How Long Do Spotify Downloads Last?
A: Spotify downloads last for 30 days. If you don't go online with Spotify at least once every 30 days, your downloaded songs will be deleted. Spotify needs to collect play data to compensate artists. If your subscription expires or you cancel it, you won't be able to access the downloaded songs anymore.
Q3: Can You Permanently Download Spotify Songs?
A: It's possible to permanently download Spotify songs locally using third-party software like AudFree Spotify Music Converter. This way, even if you unsubscribe, all downloaded Spotify songs will be available forever.
Part 6. Final Thoughts
This article explains where are Spotify downloads stored and how to find downloaded songs on Spotify from different devices. Also, for unlimited offline listening to Spotify music, it is recommended that you use the AudFree Spotify Music Converter to download Spotify songs and music locally.