Music is soothing to the soul and a big companion to many. You might be a big fun or just like listening to music occasionally. Whatever the case, you must be familiar with Spotify. This music streaming service has rocked the world at all corners. It offers you music from a diverse range of artists and the opportunity to listen to what pleases your ears. Think of Discover Weekly and the curated hits that Spotify spoils you with every week.
The only drawback is there is no option to download songs, podcasts, playlists, albums, and videos from Spotify Web Player Chrome for offline playback. That's where you need Spotify downloader Chrome to bail you out. A powerful Spotify to MP3 converter Chrome extension will break all restrictions and make Spotify music playable on any platform.
Hit the road on the next section as we peruse through some professional Spotify downloader extensions to download Spotify songs without Premium from Chrome Spotify Web Player and Spotify desktop app for your listening freedom.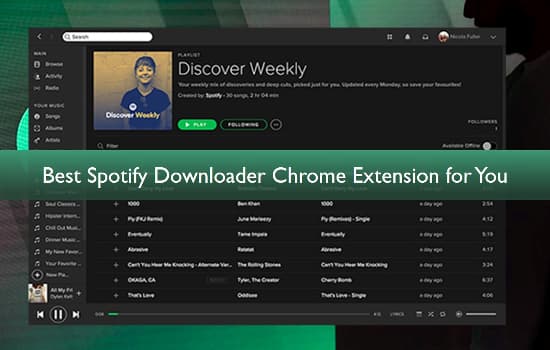 Part 1. Top 3 Best Spotify Downloader Chrome for Music and Playlist
#1. DZR Music Downloader Chrome Extension for Spotify
DZR Music Downloader is not only a completely free Spotify to MP3 converter Chrome extension but also a music downloader for Deezer, SoundCloud, Jamendo, and other popular streaming music services. It's well-designed for music lovers to download and save favorite music files in Chrome web browser to MP3 format in a few seconds.
Currently, this Spotify music downloader Chrome extension can be found in Google Web Store. You can choose to search for it on Chrome Web Store or Google web browser to install it. After that, it's easy to use it to detect music online and download Spotify playlist to MP3 via this Spotify download Chrome extension with high quality kept by pressing one button. Listening to music offline from Chrome Spotify Web Player without limits will become a reality.

How to Use DZR Music Downloader for Spotify Chrome Extension
Step 1. Once you found DZR Spotify Music Downloader Chrome extension, please click the 'Add to Chrome' to install it.
Step 2. Hit on the icon of this Chrome extension from the top-right menu bar, it will open the Spotify Web Player on Chrome.
Step 3. Fill in your Spotify account and password, browse Spotify music playlists, and click the 'Download' button to download Spotify songs via Chrome extension to listen offline.
#2. Spotify VK Downloader Chrome Extension
Spotify VK Downloader, also well-known as Spotiload Music Downloader is an extension that you can find on Chrome Web Store. It enables VK.com users to download music from Spotify Chrome player and block ads from Spotify while listening to them online. It's an online Chrome Spotify downloader app that requires no installation on your device.
However, please be well noted that this Spotify playlist downloader Chrome extension only supports Spotify web player for Chrome. This is a big disadvantage to Firefox and other web browsers' users. Besides, it is not available in any countries and you could just be disappointed at the last minute. Please check the availability in your country before melting down to it.
Fortunately, you can use this easy-to-use Spotify song downloader extension on multiple operating systems like Windows, Mac, Android, and so on.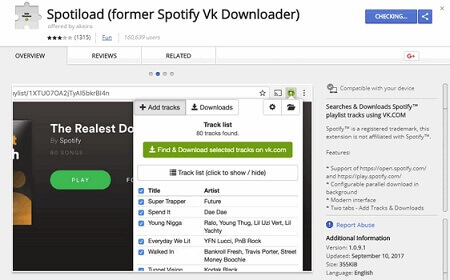 How to Use Spotiload Spotify VK Downloader from Chrome Web Store
Step 1. Visit Google Web Store and add the Spotify VK downloader extension to your Chrome browser.
Step 2. Then go to the "vk.com" website, log into your account, and search for the Spotify songs you wish to download.
Step 3. Click on the "Download" tab and let the Spotify Chrome app start downloading music from Spotify Chrome extension to MP3. Click on the "Add Track" option to add them to your list of downloaded music.
Step 4. Access the downloaded Spotify songs on your computer and save them for offline listening.
#3. Spotify & Deezer Music Downloader Chrome Extension
Spotify Deezer Music Downloader is another Spotify to MP3 converter Chrome extension. You can use this Chrome music downloader for either Deezer music download or Spotify download. Also, you can download SoundCloud songs on Chrome with this extension.
It's easy to operate and you just need to add it to your Chrome extension. Then you can use this Spotify converter Chrome extension to block Spotify ads on Chrome and convert Spotify to MP3 without Spotify premium and Spotify app. Let's check out the complete user guide of this powerful tool.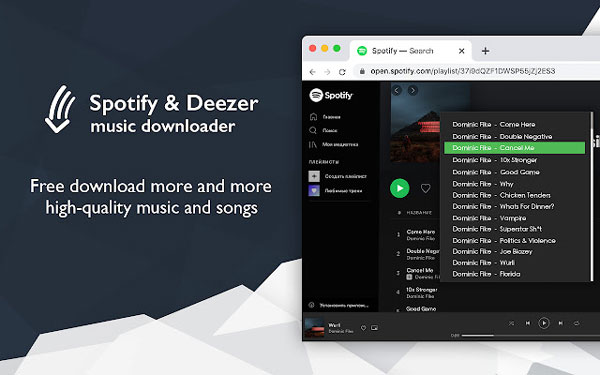 How to Use Spotify Deezer Music Downloader Chrome Extension
Step 1. Launch Google web browser and head to the "Chrome Web Store". Then search for the Spotify Deezer Music Downloader.
Step 2. Next, click on the "Add to Chrome" tab to add this Chrome plugin to your computer.
Step 3. Then hit on the Spotify Deezer Music Downloader icon and wait for it to take you into the "Spotify Web Player". Now, log in to your Spotify account.
Step 4. Peruse through the available music for which ones to download. Check out the "Download" button then click on it to begin downloading Spotify playlist to MP3 online via Chrome extension. You finally have your Spotify tracks for offline playback.
Part 2. Best Spotify Video Downloader for Chrome
#1. YouTube4KDownloader Spotify Online Video Downloader
All creators are able to upload videos to Spotify, such as video podcasts and music videos. In this case, apart from downloading music, playlists, audiobooks, and so on, people are looking for a way to download Spotify videos.
YouTube4KDownloader is such a toolkit, which is specialized in downloading MP3 and MP4 from a wide variety of sources, including Spotify. But it's worth pointing out that this Spotify video downloader for Chrome can only export Spotify to MP3 and the audio quality is limited to 96 kbps.

How to Use Spotify Video Downloader Chrome
Step 1. Open your Google Chrome and navigate to YouTube4KDownloader website.
Step 2. Find the music video or podcast video on your Spotify and click the 'three-dots' > 'Share' > 'Copy Episode Link' button to copy Spotify video link.
Step 3. Paste it into the 'Enter video link here' text box of your YouTube4KDownloader and then click the 'Download' button to download video from Spotify from Chrome.

Part 3. Best Third-party Spotify Downloader Chrome Extension Alternative
Even though the Spotify Downloader Chrome extension is an attractive solution for downloading Spotify songs and playlists for normal playback, it also has some disadvantages. Sometimes, it suddenly doesn't work. Worse, you can't even find a source for downloading these Spotify extensions in the Google Chrome Web Store. Your account will be at risk of being blocked. Under these circumstances, let's meet some professional programs to replace them.
The best third-party alternative to Spotify to MP3 converter Chrome is AudFree Spotify Music Converter. This app breaks all limitations of Spotify, letting you stream your Spotify music on various devices like Google Home, game consoles, and even use Spotify on Chrome via online music players. The conversion speed is perfect, going up to an X5 rate and ensuring 100% lossless quality.
AudFree Spotify Music Converter will also preserve the original ID3 tags and other information for Spotify songs such as genre, artist, track number, and more. Also, you can download and convert Spotify music to 320 kbps MP3 or other common audio formats like WAV, AAC, 24 bit FLAC without paying any penny. Besides, it supports not only individual songs, podcasts, audiobooks but also the entire playlists, albums without ads.
How to Download Spotify Music to Best 320kbps Quality on Mac and Windows
This Spotify MP3 downloader Chrome extension alternative uses a simple process to convert your Spotify playlist to common audio formats for playback. Just download the app from the AudFree official website, and then install this replacement on your computer. AudFree Spotify Music Converter supports both Windows and Mac OS computers.
Step 1

Add Spotify playlist to AudFree SpoDable

Start by launching AudFree Spotify Music Converter on your computer and the Spotify app will also open immediately. Next, browse songs from your Spotify music library, and then move them to the AudFree SpoDable interface. You can just drag and drop them to the interface or copy and paste the URL of the song to the browser. Next, hit the "+" icon to load the playlist.
Step 2

Customize Spotify songs output formats and other parameters

Next, click on the "Menu" tab > "Preferences" option to select the output format and parameters for Spotify music. There are six supported output audio formats for your choice, including MP3, FLAC, WAV, M4A, M4B, and AAC. And it lets you change the bit rate, channel, sample rate, etc. of Spotify music downloads to bring a better listening experience.
Step 3

Download and convert Spotify music

Confirm your selection, then hit the "Convert" button to download music from Spotify. Your Spotify songs will be converted to MP3 format. Locate them from the "History" icon from your computer's local storage. You are now free to play the Spotify playlist via any platform such as Chrome web browser offline.
Part 4. Online Spotify Downloader Chrome Extension Alternatives
#1. 4HUB Spotify Downloader
As the above Spotify downloader extensions don't require users to download extra software on your computer, you might need an online alternative to download music from Spotify Chrome Web Player. 4HUB is such an replacement that can get both audio and video downloads. It helps you convert Spotify music into various output formats in high quality without installing any app. What's more, 4Hub Spotify downloader - Spotify link downloader is free to download and convert kinds of files online and easily share files on other online platforms.

#2. Spotify-Downloader
Another Chrome Spotify downloader online substitution could be Spotify-Downloader. As a simple web tool, it runs in the Google Chrome browser. It gives you the option to download Spotify tracks in ZIP format and MP3 format by inputting the Spotify link. In addition, it will preserve all the metadata in downloaded Spotify music, such as cover images, artists, and so on.
But you can't download Spotify podcasts via this online software and MP3 is the only supported output format. There are still some spam ads on the webpage, you need to pay attention when using it. To export Spotify MP3 files, you have to watch some ad videos.

How to Download Music from Spotify Chrome Web Player Online
Here, we will take 4HUB Spotify Music Downloader as an example to show you how to download music from Spotify Chrome Web Player online. Let's get started now.
Step 1. Visit the 4HUB official website and select the "Spotify Downloader" option from the available Audio Downloader.
Step 2. Visit the Spotify Web Player and peruse through for the Spotify songs you want to download.
Step 3. Copy the Spotify URL link and paste it into the search bar. Then hit on the "Download" button and start to download your Spotify music to MP3 format.
Part 6. Comparison among Spotify Downloader Chrome & Its Alternatives
So far, can't make a final decision on which Spotify MP3 downloader Chrome extension or its alternative to choose? Here is a quick conclusion among these tools below:
AudFree SpoDable
Spotify Downloader Chrome
Online Alternative
Pros
• A fast conversion speed of up to X5 rate
• Retains 100% ID3 tags and other information
• Edit and adjust the output quality

• Free to use
• Get it for several operating systems
• No app download and installation required

• Support numerous file formats
• Download and share files directly
• Free download

Cons
• It doesn't support Linux OS
• It is not available in every country
• Downloaded song and video quality is not as the original file
• Limit the download number of songs to 10

• Quality loss on the converted file
• Can't support batch conversion

After understanding the pros of cons of these programs, AudFree Spotify Music Converter could be the best choice to listen to Spotify songs and playlists without any hassle. The lossless output Spotify quality and faster conversion speed make it stand out among others.
Part 6. Final Words
This article has summarized the top 4 best Spotify downloader Chrome extensions for you to download Spotify music and videos on Chrome Web Player. But it's not easy to settle on Spotify to MP3 converter Chrome for your file conversion. They may suddenly be unavailable or unusable. Under this circumstance, you can draw support from its alternatives. Anyway, from this page, you can easily find a 100% working tool to download Spotify songs and playlists for offline listening anywhere.