It is recognized that Apple Music allows its members to stream and download songs, playlists, albums, etc. for offline playback. Some users may hope to move their Apple Music downloads across devices. But where is downloaded Apple Music store on Android, iPhone, Mac, and other devices? How to change the Apple Music download location?
If you are baffled by those questions and reach out for the answers, please look no further than this article. Apart from providing the solutions to the above questions, it will also guide you to download and save Apple Music songs to MP3 locally for offline playing on any device. Without further ado, let's get started!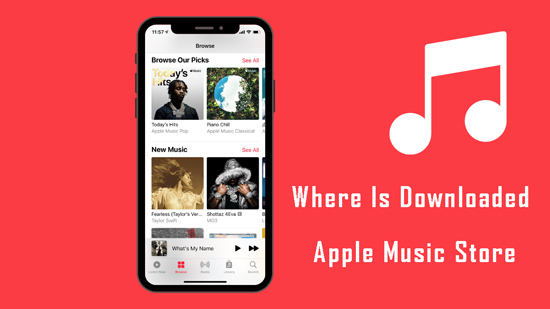 Part 1. Where Is Downloaded Apple Music Store on Android/iPhone/Mac/Windows
When you download Apple Music where does it go? It may intrigue your curiosity when it comes to this. Of course, Apple Music file location varies on Android and other devices. Don't fret, we will now take you through where Apple Music saves downloaded songs on Android, iPhone, Mac, etc.
Where Is Apple Music Store on Windows PC
As we all know, Apple Music listeners always stream and download Apple Music songs from iTunes on Windows since there is no formal Apple Music Windows app like on Mac. From the iTunes Advanced Settings, you can see the iTunes media folder location is displayed as C:\Users\[Your username]\Music\iTunes\iTunes Media.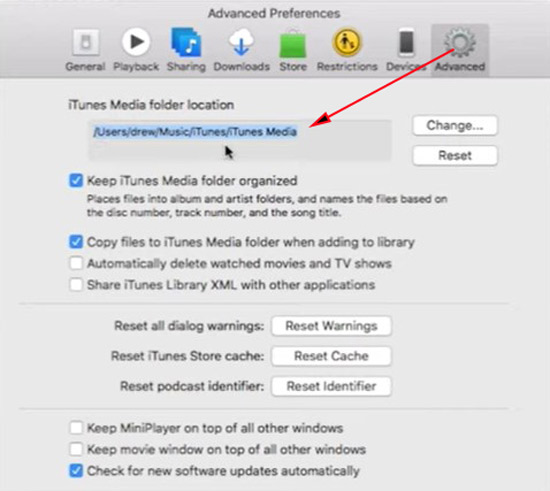 Just open the File Explorer app on a Windows PC, and then click those folders according to the above media files archive path.
Where Is Apple Music Stored on Mac
The path to the files downloaded from Apple Music is usually /Users/[Your username]/Music/Music/Media/Music/. Similar to Android, it is feasible to get access to the stored files on Mac directly. Just refer to the guide as follows:
Step 1. On Mac, you need to draw support from the Finder app to locate to Apple Music storage location.
Step 2. Tap on the 'Go' tab from the top menu bar and select 'Go to Finder'.
Step 3. Then select User > the folder with your username and proceed to locate the target folder according to the above path.
Where Does Apple Music Download to on Android
Apple Music saves downloads in a default path and folder: Internal Storage\Android\data\com.apple.android.music\files\Media. Please follow the steps to locate the Apple Music Android storage location:
Step 1. Open the File Manager/File Explorer app on your Android phone.
Step 2. Choose 'Internal Storage' from the file menu.
Step 3. Proceed to go to Android > data.
Step 4. Click on the app package name, which generally displays as com.apple.android.music.
Step 5. Then navigate to files > Music where Apple Music downloaded tracks are located.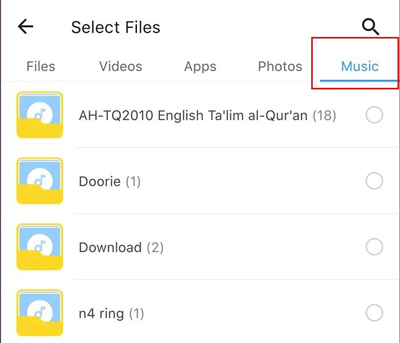 📌Note: Alternatively, go to Internal Storage > Music directly. But please note that you will only view local files there.
Where Are Apple Music Files Stored on iPhone/iPad
Distinct from the root folder of Apple Music on Android, Apple Music on iOS devices saves its downloaded songs or playlists within the Apple Music app itself. That means, those files don't offer direct access for its users and cannot be uploaded to other devices. Yet, you are allowed to stream the tracks you download with Apple Music Premium by heading to the Apple Music Library.
Part 2. How to See Downloaded Songs on Apple Music
Now, you have a good idea of Apple Music storage location on different devices. Then you can check and find the offline files from the Apple Music or iTunes app according to the following step-by-step instructions:
On Android/iOS
Step 1. On the Apple Music app, switch to the 'Library' page from the bottom navigation.
Step 2. Select the 'Downloaded' option from the menu. You can find and stream all offline tracks you download from Apple Music.
On Mac
Step 1. Boot up the Apple Music app on Mac and click on 'View' from the top menu.
Step 2. From the dropdown list, choose 'Only Download Music' to screen out the offline tracks. Afterward, you can listen to those tunes in the Apple Music airplane mode without the internet.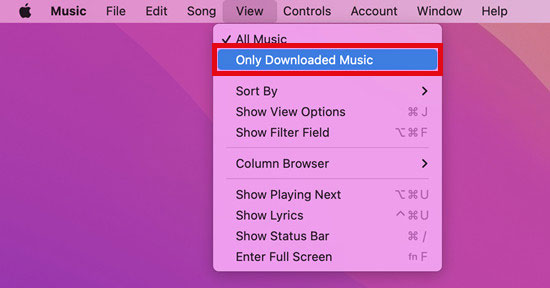 On Windows
Step 1. On the iTunes app, tap on the top-right menu tab and choose 'Music' from the pull-down menu.
Step 2. Then from the left sidebar, hit the 'Downloaded' option. Then you can view and play all Apple Music downloaded tunes.
📌Note: Apple had rolled out the Apple Music Preview app for Windows users. It is a preview and beta version of the formal Apple Music app, which supports streaming and downloading songs.
Part 3. How to Change Apple Music Download Location on Different Devices
In case the storage space of your device has been drained out, a portable SD card is useful to accept large-size audio files. On top of that, you can move Apple Music downloaded playlists between devices via the SD card. But you need to change the Apple Music library location from the original root folder to your SD card. Please insert your SD card into your device in advance. Here is the guide on how to save Apple Music to SD card:
Change Apple Music Download Location on Android/iOS
Step 1. On the Apple Music Android/iOS app, click on the top-left Menu tab and choose 'Settings'.
Step 2. Scroll down to the 'Download Location' option and choose it.
Step 3. Once choose your SD card, a prompt saying 'Change download location to SD card?' will pop up. Just select 'Yes' to confirm it.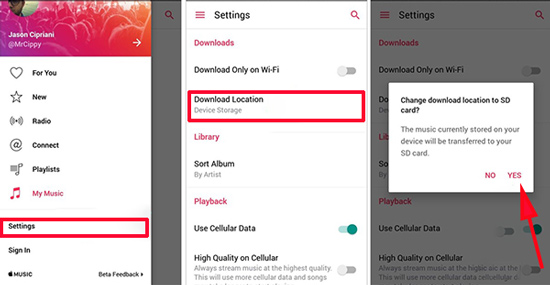 Change Apple Music File Location on Mac
Step 1. Fire up the Apple Music app on Mac and tap on the 'Music' tab from the top navigation bar.
Step 2. From the dropdown menu, select 'Settings' > 'Files'.
Step 3. Proceed to switch to the 'Files' pane, you will see the 'Music Media folder location'.
Step 4. Hit the right 'Change' button and reset the download location as your SD card.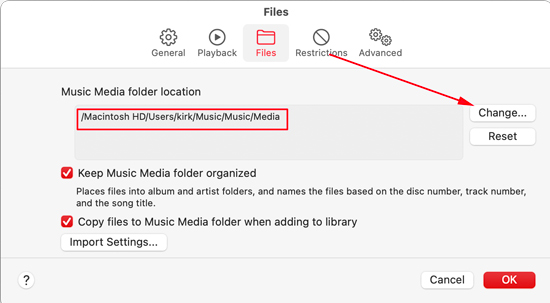 Change Apple Music Storage Location on Windows
Step 1. On iTunes's top menu bar, click on 'File' > 'Preferences' to open the settings window.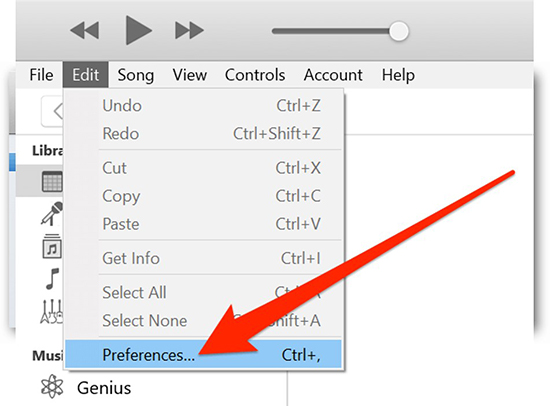 Step 2. Switch to the 'Advanced' pane.
Step 3. On the right of the 'iTunes Media folder location' tab, hit the 'Change' button and choose your SD card as the new location.

Part 4. How to Download and Save Apple Music to MP3 Offline
Due to copyright protection, users can only stream Apple Music including the downloaded files inside the Apple Music app on selected devices. Moreover, once the Apple Music subscription is canceled, all Apple Music downloads will disappear from the library. To play your favorite music collection on more devices without Apple Music Premium forever, you'd better draw support from a third-party Apple Music downloader.
AudFree Apple Music Converter is a one-stop and feature-rich tool that specializes in downloading any content from Apple Music as local files and keeping them permanently. Its innovative-designed decode technology can facilitate you to convert Apple Music encrypted M4P files to unprotected MP3, FLAC, WAV, AAC, etc. with lossless audio quality and original ID3 tags.
Beyond the above features, AudFree Auditior also empowers you to customize Apple Music audio's output settings such as output format, bit rate, sample rate, audio channels, and the like. With this great tool, you can opt to edit ID3 tags and change the converted file's archived path to SD cards or other external hard drives.
AudFree Apple Music Converter
How to Covert Apple Music to MP3 for Offline Playback Anywhere
AudFree Apple Music Converter is available for both Windows and Mac. You can install it by hitting the green download button. But there is a notice before converting: please download the tracks you want to keep forever from Apple Music with your existing Apple Music account. Then look into the detailed user guide to convert Apple Music to MP3.
Step 1

Drag Apple Music Downloads into AudFree Auditior

AudFree Auditior offers two ways to add Apple Music downloaded files to it: On the one hand, drag and drop the downloaded tracks from the iTunes library to AudFree software's screen directly. On the other hand, click on the first Add button named 'Load iTunes Library' at the bottom left and select the offline M4P files to add.
Step 2

Reset Apple Music Output Settings and Converted Location

Simply tap on the lower-right Audio icon of AudFree software. On the pop-up Format Setting window, you can set the output format of Apple Music tracks as MP3, FLAC, WAV, AAC, and more. Plus, it enables you to personalize the audio codec, bit rate, channel, and so forth to get higher quality. By clicking on the bottom 'Converted' tab, you can copy Apple Music to USB or other external devices as the converted location.
Step 3

Export Apple Music Downloads to MP3 Losslessly

Proceed to hit the lower-right 'Convert' button on AudFree software. This powerful gadget will export all added Apple Music files as MP3 to the target folder you set before with a 30X speed at one time. Just press the bottom File icon, and you will reach the conversions storage folder. Later, you can transfer those Apple Music conversions to any device without restrictions even though you cancel Apple your Music subscription.
Part 5. Conclusion
These are all answers about where does Apple Music store downloaded music. In general, Apple Music downloads are always encrypted in a special M4P format. In other words, it is impossible to upload and stream those offline tracks outside the Apple Music app or incompatible devices. Fortunately, AudFree Apple Music Converter is the best solution to get rid of this dilemma. It ensures you a more convenient channel to listen to Apple Music offline on more devices or players.