If This Then That or IFTTT is the future of the virtual world. From controlling all your gadgets to following your commands, IFTTT does it all. Every and any simple or complicated task can now be automated using IFTTT.
So, time to automate your music streaming experience. Just play a song on Tidal using IFTTT. And don't worry if you are not a tech geek. If you don't know how to play song on Tidal using IFTTT, we are here for you.
This article will tell you everything you need to know on how to play a song using IFTTT and a lot more. So, let's dive in.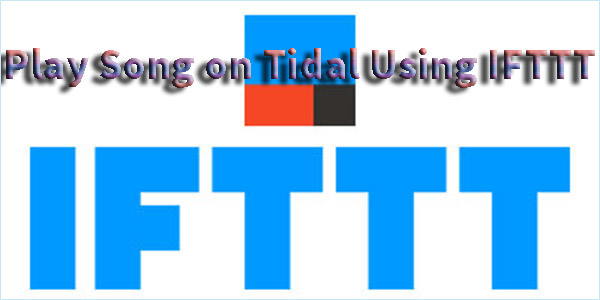 Part 1. What Is IFTTT?
IFTTT or If This Then That is an online platform for providing everything as a service(*aaS), much like Software as a Service(SaaS). IFTTT aims to virtually interconnect all the major devices, platforms, and services available. The main function of IFTTT is to enhance automation by linking different devices to perform customized tasks involving their use.
For example, linking Alexa to Google apps allowing easy commanding. These commands or conditional chains are known as Applets. There are more than 90 million applets available. Users can even create their own personalized applets. IFTTT is available on computers as well as on iOS and Android devices. So, you can play song on Tidal using Ifttt on any device.
Part 2. How to Play Song on Tidal Using IFTTT
Tidal music is digitally protected, which limits its download or streaming on any third-party app. So, if you want to play song on Tidal using IFTTT, you will need some help. Thanks to AudFree Tidal Music Converter, it has been made easier.
AudFree Tidal Music Converter is a tool designed to help users limitlessly download and convert Tidal music as local files. Bypassing the digital protection on Tidal music, AudFree converts the music into commonly compatible formats, including MP3, FLAC, WAV, etc. It uses a 5X times faster speed to download the music. AudFree offers a lossless audio download and retains 100% original quality. Even the metadata and ID3 tags remain intact, allowing users to easily organize the downloaded files based on their artists, albums, genres, etc.
Whether you want to download songs, playlists, or audiobooks, AudFree offers it all. Moreover, it allows a batch download of as many as 100 songs with a single click. Plus, users can adjust the output parameters as per their preferences. Hence, they can customize the bit rate, format, and even the conversion rate.
Part 3. How to Play a Song Using IFTTT from Tidal by AudFree at Every Step
To play song on Tidal using IFTTT, you will need a third-party app like AudFree Tidal Music Converter. Using AudFree is super easy and intuitive. So, you can easily use IFTTT play Tidal song. Here are the easy steps on how to play song on Tidal using IFTTT with the help of AudFree.
Step 1

Download and launch AudFree

Firstly, download the Windows or Mac version of AudFree Tidal Music Converter. Install and launch it. The trial version only support converting 1 minute for each Tidal song. You can buy a license and then click on "Menu" from the top-right corner. Tap on "Register" to unlock it.
Step 2

Import Tidal songs

Tidal app will open as you launch AudFree. Next, search Tidal playlists or songs you wish to play on IFTTT. Then, copy the corresponding link and put it in the search bar of AudFree's main window. Remember to touch "+" icon for loading.
Step 3

Customize Tidal output settings

Once loaded up, you can customize the output format and parameters as per your ease. In the top bar, click on "Preferences" > "Convert". Here, there are various options you can adjust. Select the format that you want to convert your Tidal playlists to. Choose the bit rate, sample rate, and conversion speed according to your requirements. After customizing, click on "OK" to proceed.
Step 4

Download Tidal song for IFTTT

Finally, click on the "Convert" tab to start the conversion process. After a while, all your added Tidal tracks will be saved as local files to your destination folder.
Step 5

Play song on Tidal using IFTTT

Now, the locally saved Tidal music can be transferred to Google Drive, Dropbox, or Onedrive. Then click on this link https://ifttt.com/applets/pHT53Nr8-play-music?term=Music to play song on Tidal using IFTTT.
Conclusion
IFTTT is a rapidly rising technology, and it sure is our way to a more convenient lifestyle. It is a remarkable way to connect and integrate our devices and apps. So, if you did not know how to play song on Tidal using IFTTT, I hope you have mastered it by now. Now, you can easily play Tidal music on IFTTT and enjoy a seamless music streaming experience unlike ever before. So, are you ready?