Q: "How to use Tidal on Yamaha receivers? I recently bought a Yamaha receiver, which is integrated with Tidal. However, I am not sure how does Tidal work on Yamaha receivers. Is there anyone that can tell me how to play Tidal music on Yamaha receiver? Thanks in advance!"
When it comes to Yamaha Receivers, you could see many kinds of Yamaha audio products on its official website. Some Yamaha products had integrated with Tidal, which provides customers access to Tidal music with HiFi quality via the MusicCast app. By the way, it requires customers to subscribe to Tidal HiFi and Tidal HiFi services.
If you are looking for a better way for Tidal Yamaha Receiver integration without subscriptions, then you come to the right place. In this article, we are going to show you the best way how to play Tidal on Yamaha Receivers. Just come with us and learn more!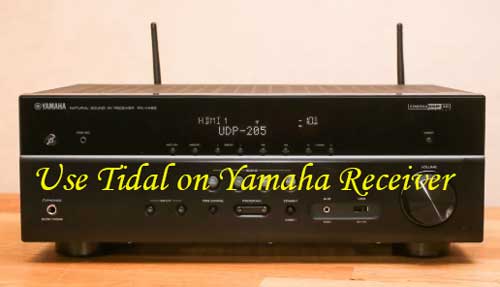 Part 1. How to Setup Yamaha MusicCast System and Tidal on Yamaha Receiver
There is an official way to play Tidal on Yamaha Receiver directly with needing Tidal subscriptions. That is to use Tidal Connect. But you need to set up the Yamaha MusicCast and Tidal on your Yamaha Receiver in advance. Here is a detailed tutorial for you. However, please make sure you have get the following two things done:
Download Yamaha Music Cast app on your mobile.
Update the firmware of your Yamaha Receiver to the latest version.
Then you can get ready to set up the MusicCast stereo system and Tidal on the Yamaha Receiver now.
Step 1. On your phone, launch the MusicCast app and hit the little 'Setup' button on the coming up screen and click 'Next'.
Step 2. Press and hold the 'Connect' button on your Yamaha Receiver for three seconds untill it indicates the message of 'connect here up' on the phone's screen. And tap on 'Next' once again.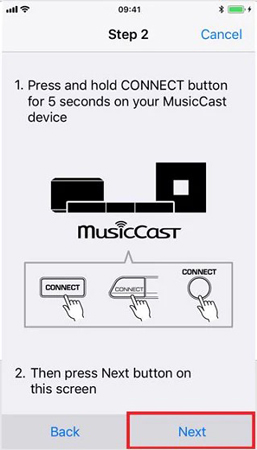 Step 3. On your mobile, click 'Settings' > 'Wi-Fi' > 'MusicCastSetup'. Then select the Wi-Fi SSID that you w hope to connect your Yamaha Receiver to later. Then you need to enter the password and rename your Yamaha Receiver device and click the 'Go' > 'Next' option.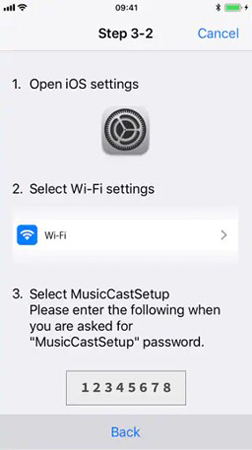 Step 4. Here, you can select a room picture and tap on 'Next'. Then open Tidal from the 'Sources' option.
Step 5. Login with your Tidal account and enjoy Tidal on your Yamaha Receiver.
Part 2. Best Way for Yamaha Tidal Connection
If you don't want to play Tidal music on Yamaha Receivers without Tidal HiFi subscriptions, you can also choose to download Tidal music as local files on your computer first with a third-party tool and then transfer Tidal music to Yamaha Receivers via USB. Here we would like to introduce a powerful tool for you. It is AudFree Tidal Music Converter, which empowers you to convert all types of music from Tidal to WAV, AAC, MP3, and more usual formats supported by Yamaha Receivers. And you could define other audio parameters such as the audio channel, sample rate, bit rate, etc. for LOSSLESS audio quality and edit the ID3 tags with it.
In addition, AudFree Tidal Music Converter can run at 5X faster speed so it won't take much time for the conversion. Once the conversion is finished, then you can check the music files and transfer Tidal music to a Yamaha Receiver or other devices or players for offline listening anytime.
Download Tidal for Yamaha Receiver
In this part, we will walk you through how to convert Tidal music and use Tidal music on Yamaha Receivers. Please install AudFree Tidal Converter on your computer first by clicking on the 'Download' button above in advance. It is completely safe and legal for private use. Then just follow the tutorial we showed below, then you could find out how to do it.
Step 1

Add Tidal music tracks to AudFree Tidal Music Converter

Open the converter and the Tidal app will launch at the same time. Now, go to the Tidal app and choose Tidal HiFi music, Master music, or even Tidal Dolby Atmos and Tidal 360 Reality Audio that you want to convert later. Copy and paste the link of the song or playlist to the search box on AudFree Tidable. Then hit the '+' button to load the Tidal audios to AudFree Tidal Music Converter.
Step 2

Set output format for Tidal Yamaha connection

Click on the toolbar icon on the top-right corner of the gadget. Then choose the 'Preferences' option to open the setting window. In the new window, touch on 'Convert'. Then you could set the output audio setting for Tidal music as Yamaha-supported formats. Moreover, you could define the archive output tracks by Artist or Album and also personalize the bit rate, channel, sample rate, and others for truly lossless listening according to the below table:

| | |
| --- | --- |
| Output Format | Other Parameters |
| MP3 | 320 kbps/48000 Hz |
| AAC | 320 kbps/96000 Hz |
| WAV | 32 bit/192000 Hz |
Step 3

Convert Tidal for Yamaha Receiver

Now, move your mouse cursor to the 'Convert' button at the bottom right and press on it. Then the program will start to convert Tidal songs for you at a fast speed. After a few minutes, you can locate and check the converted Tidal files on your computer by clicking the 'Converted' > 'search' button. Finally, you can transfer the downloaded Tidal MQA, HiFi, and other music files to your USB and import them to Yamaha Receivers for offline playback.
Part 3. Best 5 Tidal Yamaha Receivers for Your Choice
When you go to Yamaha's official website, you will see there are lots of different kinds of products on it. Here we are going to show you brief introductions of the best 5 Yamaha Receivers for your choice.
1. RX-V685
Among those Yamaha receivers, the RX-V685 should be the perfect one for you for its ideal balance of price and nice performance. With the 7.2 channel, it can provide highly immersive surround audio. Besides, it supports using Tidal on Yamaha MusicCast for wireless audio playback.
2. RX-A2080
Compare to Yamaha's top model products, the RX-A2080 costs less. But, it offers nearly the same audio quality and same features as it is with 9.2-channel, which is a nice option for people who want to save money.
3. RX-A880
For people who want to watch movies as well as enjoy music, the RX-A880 Audio & Visual Receiver will meet your needs as it is supported with two zones and Dolby Atmos. And it can work with some popular music streaming services including Tidal and the company's wireless speakers.
4. RX-V485
With advanced technology, the RX-V485 provides a home theater experience for customers at a modest price. It supports multiroom wireless casting and streaming contents of Tidal or other music services with Apple Airplay 2.
5. RX-V385
If you don't need lots of advanced features, then RX-V385 would be suitable for you. Even though it is at a low price, you can also enjoy the object-based surround sound.
Part 4. More FAQs About Yamaha Receiver Tidal Integration
Yes. There is Yamaha Tidal Connect integration. The Connect is available to all Yamaha MusicCast products embracing Yamaha Receivers, for example, Yamaha WXC-50, Yamaha R-N602, etc. As long as you are a Tidal HiFi or Tidal HiFi Plus subscriber, you can achieve Tidal Connect Yamaha Receiver combination to wirelessly stream and download lossless Tidal MQA, HiFi, and other music.
Q2: Tidal not working on Yamaha. How to fix it?
Some people complain that compared with Spotify Connect, Tidal cannot work so well to connect Tidal to Yamaha Receivers from mobiles with Tidal Connect. It is because even though Tidal Connect works with Yamaha, the feature resumes very basic and immature, for example, it does not work well on soundness normalization and crossfade between Tidal songs.
To resolve the issue, you can choose to use AudFree Tidal Music Converter to keep Tidal music locally and import the music to Yamaha without any limitation.
Q3: What Yamaha devices are compatible with Tidal?
Currently, Tidal is compatible with Yamaha New RX-V 83 series AV Receivers, for instance, Yamaha RX-V683, RX-V583, and RX-V483 AV receivers and other MusicCast wireless multiroom audio products as follows:
✔ MusicCast Soundbars: YSP-2700, YSP-5600, YSP-1600, YAS-706, and SRT-1500.
✔ MusicCast Speakers: WX-010 and WX-030.
✔ MusicCast Powered Network Speakers/Streaming Amps/ Hi-Fi Receivers: WXA-50, WXC-50, R-N602, R-N402, and NX-N500.
✔ MusicCast AV Preamplifier: CX-A5100.
Q4: Does Yamaha N803 stream Master quality Tidal?
Yes, it does. But Yamaha only streams Tidal Master at 16-bit/ 44.1 Hz instead of 24-bit.
Part 5. In Conclusion
After reading, you may have figured out how to make Yamaha Tidal connection now. Apart from that, we also introduced other information for Tidal and Yamaha users. Compared with the immature connection between Tidal Connect and Yamaha that only streams Tidal MQA music at 16 bit/44.1Hz, AudFree Tidal Music Converter can provide higher audio quality of Tidal on Yamaha Receiver and play Tidal music on other devices and players such as Samsung TV. So take the plunge and enjoy Tidal music on Yamaha Receiver with this software now!