Q: Is Tidal on PS4? In my view, it could be a charming experience of playing Tidal Music in the background while playing games on PS4. I know there is no problem playing Spotify Music on PS4, but I can't say for sure if the Tidal PS4 app is possible.
To make PS4 Tidal a reality, the recommended answer by others may be using an existing Plex server to access Tidal on PlayStation 4. Besides, this article will also show you the best method to use Tidal on PS4 as background music. Follow the following tutorials to enjoy Tidal Music on your PS4 at your leisure.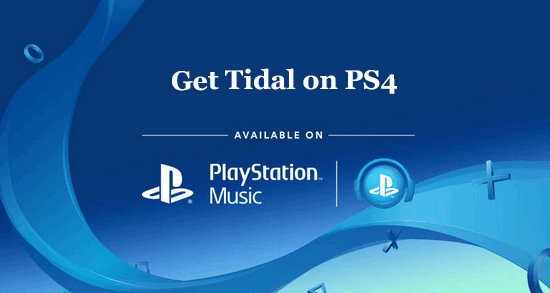 Part 1. How to Play Tidal on PS4 - Best Tool Required
First and foremost, you need to be clear that there is no Tidal PlayStation 4 app, but luckily PS4 system supports to play local music files from a USB storage device. In this case, as long as you transfer Tidal Music to a USB stick, you can listen to Tidal on PS4 in the background without interrupting games.
However, a tricky issue has arisen in that downloaded Tidal Music via official means is protected and cannot be used on other devices and players, and the PS4 is no exception. In this event, the immediate task is to perform the format conversion of Tidal, and you can get help from AudFree Tidal Music Downloader.
As you can see from its name, it has the ability to download music, playlists and podcasts from Tidal to your computer locally. What's more, it is able to convert Tidal Music to MP3, FLAC, AAC and other common formats compatible with the PS4 Media Player with high quality preserved. As a result, you can import converted Tidal Music to USB so that it's simple to play Tidal on PS4 with no restrictions.
Part 2. How to Get Tidal on PlayStation 4 via USB Drive
Here we will guide you on how to use AudFree Tidal Music Downloader to convert and download Tidal Music to local files. Then you will be able to get Tidal on PS4 from a USB storage device.
How to Download and Convert Tidal for PS4
Step 1

Add Tidal Music to AudFree Tidable

Download and launch this smart tool on your computer and then the Tidal app will be opened. Please find the Tidal Music you'd like to stream to PS4 on the Tidal app. Open it to click the "three dots" icon and select the "Share" > "Copy Tidal Track" option. Then copy and paste the Tidal link into the tool's search box. Remember to click the '+' button to load them for a while.
Step 2

Adjust Tidal Output Parameters for PS4

Click on the top menu bar, then select the "Preferences" > "Convert" button to open the settings window. You can define the Tidal output format as PS4 compatible one in the opening window, like FLAC, AAC, MP3. In addition, you can customize other audio parameters such as bit rate, sample rate, etc. as required.
Step 3

Download Tidal for Playing on PS4

Click on the "Convert" button and it will launch the downloading process. Once completed, you can find the Tidal Music files by hitting the "File" icon or "History" > "Search" icon. Subsequently, you have the freedom to use Tidal on your preferred devices and players and thus Tidal PlayStation 4 can become a reality.
How to Get Tidal on PS4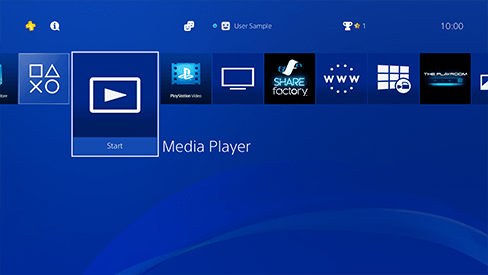 Step 1. Plug the USB into your computer and create a folder called 'Music' on your USB stick to store Tidal files. After that you can download Tidal Music to USB stick smoothly.
Step 2. Pull out your USB drive and connect it to your PS4 system via the USB port.
Step 3. Select the "Library" option in the content area of your PlayStation 4 console.
Step 4. Choose the USB Music Player on the same area to locate and highlight the 'Music' folder.
Step 5. Now, click on the 'Play' button to play all Tidal Music files stored in the 'Music' folder on the USB drive.
Tip: You can select 'USB Media Player' on the quick menu to play Tidal Music. It's able to pause playing Tidal Music, adjust the Tidal volume or do some other actions when playing Tidal on PS4.
Part 3. How to Use Plex to Stream Tidal to PS4
Thanks to the integration of Tidal and Plex, Tidal Music is available on Plex, including Tidal CD-quality and MQA music. This means that users have the ability to stream Tidal on other devices such as PlayStation 4, Xbox One, etc. from the Plex app. In other words, you can use the PS4 Plex app to play games on PS4 with Tidal Music as the soundtrack. Here is the complete guide on how to play Tidal Music on PS4.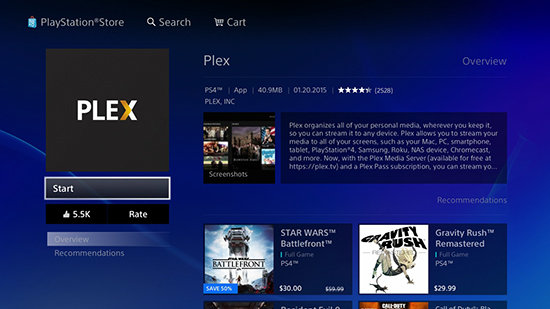 Step 1. Please visit your Plex Account page in the web app and log in your details.
Step 2. Hit on the 'Other Services' option, choose 'Link your Tidal account' and then allow Tidal access.
Step 3. Install and launch Plex Preview on your PS4 game console and log in to your Plex account on PS4.
Step 4. Now you can enjoy Tidal Music and podcasts on PS4 from the Plex app and start to play a game as you like.
Part 4. FAQs about Tidal PS4
Q1: Is There a Tidal PS4 App?
To your disappointment, there is no Tidal app PS4 yet. And Spotify is the only music streaming service that supports PSP consoles.
Q2: Can PS4 Play Media from USB?
PlayStation 4 can play video and music files from a USB drive, the same as Roku and Chromecast. This way, you're allowed to play local music files in the background while playing games on PS4.
Q3: What Audio Formats Can PS4 Play?
In fact, the PS4 works with FLAC, MP3, AAC and M4A common audio formats.
Q4: Can you Play Tidal on PlayStation 4?
Although there is no Tidal PlayStation app, you can use Tidal on PS4 with freedom using the two methods above. By the way, with the AudFree Tidal Music Downloader, you can play Tidal on any console or device as you wish.
Part 5. In Conclusion
For gamers, it is one of the indispensable requirements to listen to music on PS4 for playing games. Would you like to play high quality Tidal Music and playlists while playing games on PS4? You can refer to the above two solutions to get Tidal on PS4 via USB port or Plex. Just enjoy a comfortable gaming experience with PlayStation Tidal.