Q: Is Tidal on PS4? I have switched my streaming music service over from Spotify to Tidal. But I didn't realize whether the Tidal PS4 app is available before doing this. Because I can play Spotify music on PS4 without a problem. It could be a charming experience of playing Tidal music in the background when playing a game on PS4.
How to get Tidal on PS4? One of the possible answers recommended by others could be using an existing Plex server. You can access Tidal on PlayStation 4 after you have linked Tidal to Plex. Besides, you can also play Tidal music on PS4 from USB drive as PS4 has a USB port.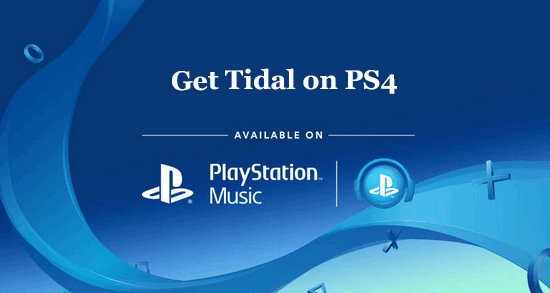 If you are the one who'd like to listen to Tidal on PS4, don't miss the following tutorial. We will show you the detailed tutorials on how to use Tidal on PS4 as background music while playing games.
Part 1. How to Play Tidal on PS4 from USB Drive
Although there is no Tidal app on PS4, PS4 system supports to play local music files from a USB storage device. By using this way, you can listen to Tidal on PS4 in the background without interrupting games.
To transfer Tidal music to USB flash drive, we should know that Tidal is the streaming music. To download Tidal songs, we need to get help from AudFree Music Downloader for Tidal. It's able to download music, playlists, and podcasts from Tidal at 5X faster speed. Moreover, it has the ability to convert Tidal music to MP3, FLAC, WAV, etc. with high quality preserved.
It's well-known that PS4 Media Player is compatible with FLAC, MP3, AAC, and M4A. Obviously, the converted Tidal music can be playable well on PS4 via the PS4 Media Player.
Here, we will guide you on how to use AudFree Music Downloader for Tidal to download local files from the Tidal app. And then you can play Tidal music on PS4 from a USB storage device.
Step 1

Add Tidal music to AudFree Tidal downloader

Please download and launch this smart tool on your computer and then the Tidal app will be opening. (This Tidal solution needs to work with Tidal app, so please install it on your computer as well). Please discover the Tidal music that you'd like to stream to PS4 on the Tidal app. Open it to click the 'three-dot' icon to choose 'Share' > 'Copy Tidal track' option. To load Tidal music to AudFree software, please copy and paste the Tidal link to the AudFree search box. Now tap the '+' button to load them for a while.
Step 2

Adjust Tidal output parameters for PS4

PS4 can support FLAC, MP3, AAC and M4A audio formats. Click the top menu on the PC or 'AudFree Tidal Music Converter' from Apple's menu bar on Mac. And then choose the 'Preferences' > 'Convert' button to open the setting window. You can define output format as PS4 compatible one in the opening window. Besides, you can also customize other audio parameters, like bit rate, sample rate, etc.
Step 3

Download Tidal for playing on PS4

To get Tidal offline files, hit the 'Convert' button to launch the downloading process. AudFree Tidal downloader will download them as local files. You can locate them by clicking the 'file' icon or 'history' > 'search' icon. Now, please plug-in your USB to your computer via USB port. Please create a folder called 'Music' on your USB stick to store Tidal files. And then transfer Tidal songs to USB drive. Because PS4 Media Player can only recognize the 'Music' folder.

Step 4

Play Tidal on PS4 while playing games

1. Pull out your USB drive and connect it to your PS4 system via USB port.

2. Select the 'Library' option in the content area on the PlayStation 4 gaming console.

3. Choose the USB Music Player on the same area to locate and highlight the the 'Music' folder.

4. Now, click the 'Play' button to play all music files stored in the 'Music' folder on your USB drive.

You can select 'USB Media Player' on the quick menu to play Tidal music. It's able to pause playing Tidal music, adjust the Tidal volume or do some other actions when playing Tidal music on PS4.
Part 2. How to Get Tidal on PS4 with Plex
Because of the integration of Tidal and Plex, Tidal music is available on Plex. Including the Tidal CD-quality Hi-Fi uncompressed and Tidal Masters - MQA recordings. Users have the ability to stream Tidal' on other devices, like PlayStation 4, Xbox One, etc. from the Plex app. Put in another way, you can use PS4 Plex app to play Tidal music as background music while playing games on PS4. Here is the complete guide below: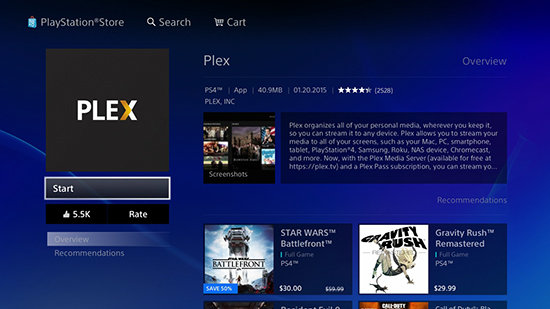 Step 1. Please visit your Plex Account page in the web app and log in your details.
Step 2. Hit on the 'Other Services' option, choose 'Link your Tidal account' and then allow Tidal access.
Step 3. Install and launch Plex Preview on your PS4 game console and log in to your Plex account on PS4.
Step 4. Now you can enjoy Tidal music and podcasts on PS4 from the Plex app and start to play a game as you like.
Part 3. In Conclusion
For gamers, it is one of the indispensable requirements to listen to music on PS4 for playing games. Tidal could be one of the nice music platforms to offer high-quality music.
Would you like to play Tidal music and playlists while playing games on PS4? You can refer to the above two solutions to get Tidal on PS4 via the USB port or the Plex. To make the guide clearer, we also offer a video tutorial to introduce it below.