As a music enthusiast, you must be familiar with Tidal, a high-fidelity music streaming service that offers millions of songs with exceptional sound quality. On the other hand, Sony Walkman has been a pioneer in the portable music industry, allowing users to enjoy their favorite music anytime, anywhere. So in this article, we'll look at 2 ways to play Tidal on Sony Walkman, whether they support Tidal or not.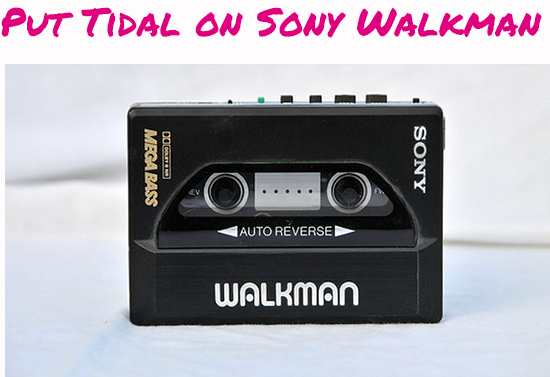 Part 1. More about Sony Walkman Tidal
Sony Walkman is a series of MP3 player models that have revolutionized the way we listen to music. Tidal is known for its high-fidelity sound and extensive music library. To make Tidal Sony Walkman work, it is essential to understand if the Walkman supports direct streaming from the Tidal app. If not, you'll need to convert Tidal music to compatible formats, such as MP3, AAC, or WMA, and then transfer the converted files to your Walkman for offline playback.
💡 Tip: For your convenience, it is recommended that you navigate to Part 3 directly as this method works with all Sony Walkman players.
Part 2. How to Play Tidal on Sony NW-A105/NW-A306 Directly
Some Sony Walkman devices actually have built-in support for the Tidal streaming service, such as the Sony NW-A105 and NW-A306. The Sony NW-A105 is a feature-packed Digital Audio Player (DAP) that runs on an almost stock Android 9 system. It offers a range of capabilities, including support for High-Resolution Audio, High-Resolution Audio Wireless, and streaming services like Tidal.
The Sony NW-A306 is a portable music player that offers hi-res audio playback and various additional features. It is known for its affordability and appealing design. It allows access to various music apps like Tidal, Apple Music, and Qobuz.
💡 Tip: Please note that you will need an active Tidal subscription to access and stream music from the Tidal app on the Sony NW-A105 and NW-A306.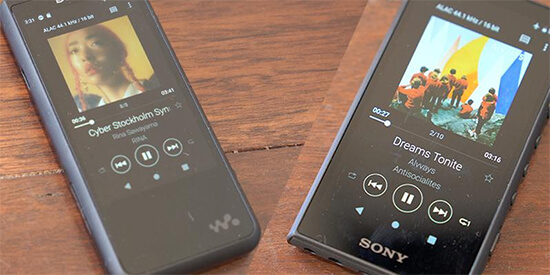 Step 1. Confirm that your Sony Walkman player supports the Tidal app. You can do this by checking the official Sony website or contacting Sony customer support.
Step 2. Ensure that your Sony device is connected to the internet. You can connect via Wi-Fi or use a mobile data connection if available.
Step 3. Download and install Tidal app from the Google Play Store.
Step 4. Launch the Tidal app on your Sony device and sign in using your Tidal account credentials.
Step 5. Once you are signed in, you can browse and stream music from Tidal on your Sony NW-A306/NW-A105 directly.
Part 3. How to Use Tidal on Any Sony Walkman Offline
In fact, most Sony Walkman are not compatible with Tidal. Some users may want to send downloaded Tidal songs to their Walkman, but this is not possible. Because Tidal music has its own special encoding format and the downloaded tracks are cached files, not local files. And Sony player supports common formats like MP3, WMA, AAC etc. So you have to convert Tidal music to formats supported by Sony.
AudFree Tidal Music Converter is an amazing tool for you to convert Tidal music to MP3, AAC, WAV, W4A, W4B and FLAC. With its good design, the Tidal tracks will be saved without quality loss. Furthermore, the ID3 tags of songs include title, genre, group, composer, album cover, etc. will be preserved in the process. With it, you can enjoy your favorite Tidal music on any Sony Walkman without offline.
How to Download Tidal to Sony Walkman-compatible Audio
Step 1

Stream Tidal Tracks to AudFree Tidable

Download and install the AudFree Tidal Music Converter on your computer. Open it. You will find that the Tidal app will be launched simultaneously. Now pick the songs you need to convert to common audio format for Sony Walkman on Tidal. Then copy their URL and pastes them to the search bar of the AudFree interface. After you hit the button "+", you can upload the songs to AudFree window successfully. You are inspired to add Tidal songs to the conversion window in batch.
Step 2

Set Output Format of Tidal Music for Sony Walkman

On the top-right of the Menu window, you can find a button "Preference". Click it. Then you can select "Convert" to set the output format as MP3, AAC, etc. for Sony Walkman. Moreover, the AudFree software allows you to customize the channel, bit rate and sample rate. If you want to reset the output folder, you can just tap on the "Output" icon on the bottom.
Step 3

Convert Tidal Songs for Sony Walkman

Press on the "Convert" button to start the conversion about Tidal music. The process will be shown to you on the window. Once the conversion ends, the converted Tidal files can be located in the output folder on your computer. You will finally convert Tidal to MP3 or others losslessly with ID3 tags kept.
How to Transfer Tidal Music to Sony Walkman
Now the converted Tidal playlists are prepared for you to move to Sony Walkman. A USB cable is needed for this step. We offer you the tutorial. By doing this, you can freely stream music on Sony Walkman from Tidal offline.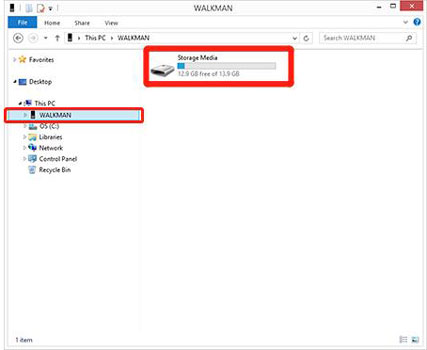 1. Use the USB cable to link the Sony Walkman MP3 player with your computer.
2. Now find the folder of Walkman in the panel "Devices with Removable Storage". Then double click the "Walkman" icon.
3. Open the folder "Storage Media". Select the converted Tidal songs in the output folder.
4. Copy them and paste to your Sony Walkman. Then you can use Tidal on Sony Walkman player offline.
Part 4. In Conclusion
With the release of newer Walkman models that support Android and Wi-Fi connectivity, users can now enjoy Tidal on Sony NW-A306/NW-A105 directly. Additionally, for users with older Walkman models, third-party tools like the AudFree Tidal Music Converter provide a solution to convert and stream Tidal songs on any Sony Walkman device offline. Just take action to control playing Tidal music in high quality.