Facebook is a social media platform to connect with friends, family members, and office colleagues. For many, Facebook is the best place to socialize online with people you know and want. The good thing about this social media application is that it can be connected to tons of other applications. By doing this, you omit the need to enter login details repeatedly. So, if you have a Tidal account, you can connect it to your Facebook account and sign in quickly. But therein lies the issue. One security breach and all your personal information can be hacked.
Therefore, to keep the personal information safe, those who have connected their Tidal Facebook account are now looking for ways to unlink Facebook and Tidal. The good news is that you can do that conveniently using two simple methods. One is to disconnect Tidal from Facebook by using the Facebook app, and the second is to unlink your Facebook Tidal account using the Tidal account.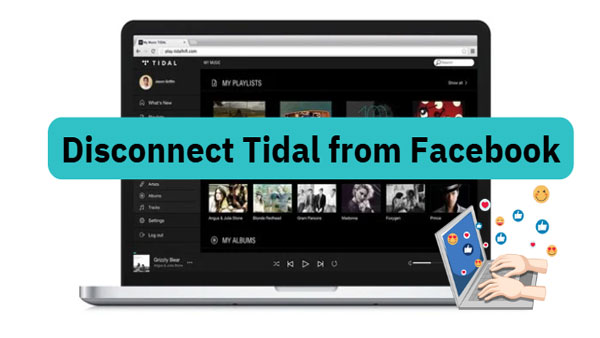 Part 1. How to Disconnect Tidal from Facebook via Facebook App
Just like you can connect Tidal to a Facebook account, you can do the same to deactivate Tidal's Facebook login as well. Here are the steps that you need to follow.
Step 1. Go to Facebook and launch it. Log in using your credentials.
Step 2. Now, click on the Settings option. There, you need to locate Apps and Websites.
Step 3. Browse through the list of apps and find out the Tidal app.
Step 4. Click on the Edit option and then click on the Remove option.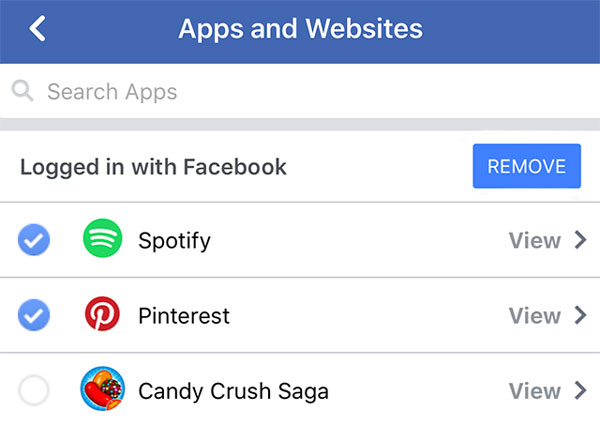 This way, you will successfully remove Tidal from your Facebook account.
Part 2. How to Disconnect Facebook from Tidal via Tidal App
If you want to know how to disassociate Tidal account with Facebook, this section will help you learn how to do that using your Tidal app. The steps are easy to follow. Here's what you need to do.
Step 1. First, you need to open the Tidal app.
Step 2. Once you are logged in, please click on the My Collection option.
Step 3. Now, click on the Settings option.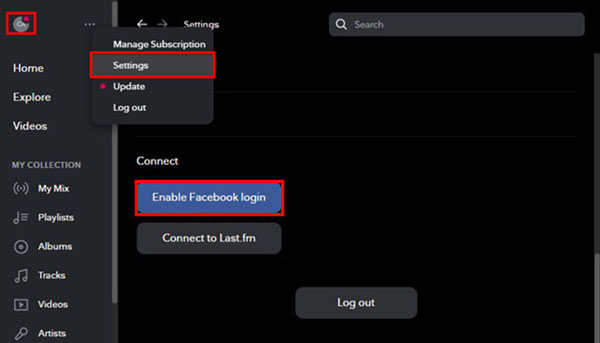 Step 4. You will see the Connect option. There, you will see Facebook as connected.
Step 5. Toggle it to disconnect, and that's it. This way, you will remove the Facebook connection from Tidal.
Part 3. Backup and Keep Tidal Music from Old Facebook Tidal Account
Now, you know how to remove Facebook from Tidal, but if you want to create a backup for Tidal, you can do that by using a Tidal music converter and downloader. Once you create a backup, you can play the songs on any device you want, whenever you want, and for as long as you want.
So, the best Tidal music converter and downloader to go for is AudFree Tidal Music Converter. It is a professional tool that lets you download limitless Tidal songs in batches. So, whether you want to download one song or multiple, AudFree Tidal Music Converter will let you do that efficiently.
This is a professional music converter and downloader and lets you keep the ID3 tags of the songs intact. Moreover, the software works at 5X speed and can convert Tidal songs into MP3, FLAC, AAC, and more. You just need to choose the format and start downloading it.
And don't worry, AudFree Tidal Music Converter is available for Mac and Windows users. Just download the correct version and start using it. This well-designed Tidal Music converter is easy-to-use, and you don't need to be techy to start using it.
How to Use AudFree Tidal Music Converter
Before you start using AudFree Tidal Music Converter, it is highly recommended to download the software. Once you have downloaded it, install it, and keep following the steps mentioned below. That way, you will learn better.
Step 1

Launch AudFree Tidal Music Converter and adjust audio parameters

Go on and launch AudFree Tidal Music Converter. Now, go to the Preferences tab and set the audio output format. You can choose from MP3, Lossless, M4A, WAV, and more. You can also adjust channel, audio codec, sample rate, bit rate, etc.
Step 2

Upload Tidal songs to AudFree Tidal Music Converter

Open Tidal and search for the song that you want to do download and create a backup for. When you find the song, click on the + icon to add the song to AudFree Tidal Music Converter. You can add the entire playlist or a few songs.
Step 3

Convert and download Tidal music

After all the songs are added to the tool, you are left with just one final step, which is to click the Convert option. Once you click on that, the songs will begin to get downloaded at a fast speed.
To locate the downloaded songs, just click on the Converted tab. Next, right-click on the track and click on the Open File Location option to navigate to the folder where the songs are saved. And that's it. You have successfully created a backup for your Tidal songs.
Part 4. Conclusion
Now you know how to remove your Facebook Tidal account without any hassle. Although Facebook integration makes login into Tidal easy and convenient, there is always a security threat. Therefore, stay safe and download AudFree Tidal Music Converter to download all your Tidal songs.