Tidal is the best shot for audiophiles and music enthusiasts, leading many users to pay for its HiFi or HiFi Plus to get MQA audio. But there are still users who want to end to keep paying for Tidal. There are various reasons to cancel Tidal subscriptions. For example, users are discontent with Tidal's service or music library, listen to music less and less, or want to switch to other streaming services they think are better. Knowing how to cancel the Tidal subscriptions or free trials at this time is indispensable.
In this article, we will tell you several working ways to cancel Tidal subscriptions in brief, more essentially, to introduce a perfect tidal downloader to save Tidal high-quality audio playlists in the local folder after cancellation.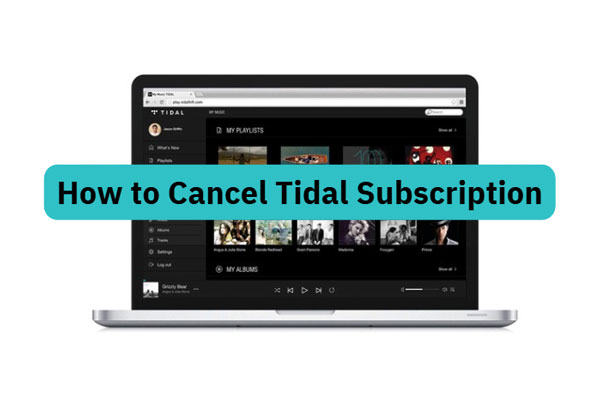 Part 1. How to Cancel Tidal Subscription on iPhone/Android
Most music lovers prefer to listening music on their phones. Thus, in the first part, we will introduce the process to quit the Tidal subscription on Android and iPhone.
On Android
Step 1. On the Tidal Android app, select the 'Collection' section from the bottom navigation part and tap on the top-right gear icon to open the menu.
Step 2. From the 'Account' page, touch on 'Manage Subscription'.
Step 3. On the 'Your Subscription' window, click the 'Cancel my subscription' option.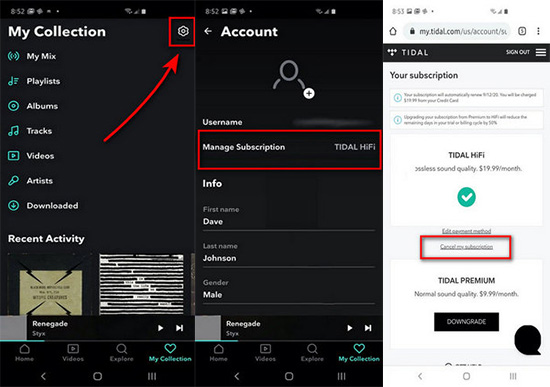 For iPhone
In the case that you get Tidal HiFi or HiFi Plus Plan through your Apple Wallet instead of your Paypal, please refer to the following steps to delete it:
Step 1. On the Setting app of your iPhone, click on the profile of your account to open the Apple ID page.
Step 2. Choose 'Subscriptions' from the list under your account picture.
Note: If you can't find the subscription option amid this situation, please tap on 'iTunes & Apple Store' > 'Apple ID' > 'View Apple ID'.
Step 3. Find and choose Tidal from the subscription list. Later, click on the 'Cancel Subscription' option near it.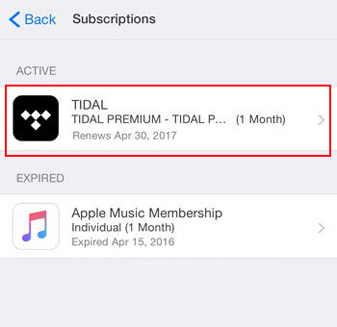 Part 2. How to Unsubscribe Tidal HiFi/HiFi Plus on Mac/PC
If you tend more to use Tidal on a computer, here is also a step-by-step instruction prepared for you:
Step 1. On the Tidal desktop app, touch on the three dots icon to drop down a list.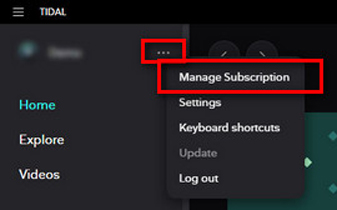 Step 2. From the list, choose 'Manage subscription'.
Step 3. Then it will take you to a new web page. Choose 'Subscription' from the left panel or tap on 'Your Subscription' from the window.
Step 4. Subsequently, tap on the 'Cancel my subscription' button from the bottom.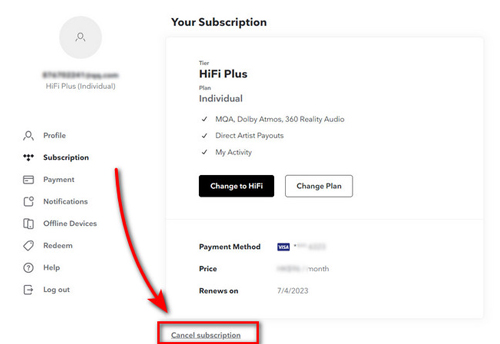 Part 3. How to Delete Tidal HiFi/HiFi Plus Subscription on Web Player
If you are using the Tidal web player, it is also feasible to unsubscribe to Tidal within several clicks.
Step 1. On the web player, tap on the top-right account profile to pull down a new menu.
Step 2. Choose 'Manage Account' from the menu.
Step 3. Then, like on the computer app, you will be taken to the account website of Tidal. Click on 'Your Subscription'.
Step 4. Select 'Cancel my subscription' and then confirm it.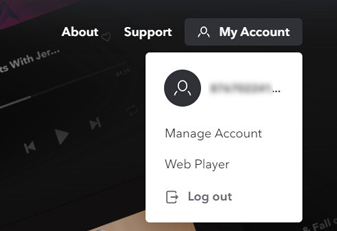 Part 4. How to Stop Tidal Plans on Third-party Service
Some Tidal users also opt to get a Tidal HiFi or HiFi Plus account through the Tidal promotions with some third-party services or mobile carriers, like Sprint, T-Mobile, etc. In this case, you need to delete the subscription from those services. In this part, we will take Sprint as a case.
Step 1. Go to www.sprint.com/tidal and log in.
Step 2. Open 'My Sprint' to change your device and then select 'Change my device'.
Step 3. Find and tap on Tidal, then select 'Unsubscribe'. Or, contact Sprint Customer Service for further help.
See Also: Get Tidal with Sprint / Get Tidal with T-Mobile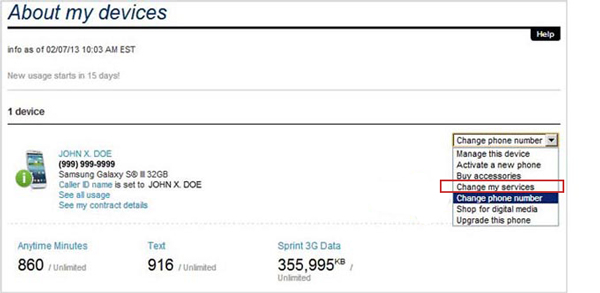 Part 5. How to Keep Tidal Playlists After Canceling Subscriptions
There is a common feature of most streaming music services that is when you cancel their subscriptions, tracks you downloaded from them will be expired (no longer for online/ offline playback), for the reason of protecting music copyrights. The Tidal app acts in the same way. That means you'd better think twice before you start a music streaming subscription, for it is not an easy task to sync songs between different music platforms.
In my experience, the best way to enjoy music is to download them into the local folder and convert them to universal formats like MP3 for forever keeping. In this way, you don't need to waste much time comparing the plan, the catalog, the price, etc among multiple choices of streaming music companies, or be busy transferring songs to various platforms/players/devices.
If you have decided to cancel your Tidal music subscription and prepare to download your favorite Tidal songs as local files, you can't miss using AudFree Tidal Music Downloader, which is the leading figure in the field of Tidal music download and conversion, helping us to release the constraints from Tidal audios and convert them into a variety of common formats like MP3, FLAC, WAV, AAC, M4A, M4B and many others with lossless 9216 kps/32-bit quality saved. It also supports converting podcasts, audiobooks, and radio from Tidal with all ID3 tags kept. On top of that, you are enabled to play Tidal music on any device or player you want at any time.
If you're curious about how it works, just read the following detailed tutorials below.
Step 1

Export music from Tidal and put into AudFree Tidable

Install AudFree Tidal Music Converter onto the computer and open it. The Tidal app will be launched automatically and simultaneously. Go to the Tidal app or web player and pick out the tracks or playlists which you would like to download. Then copy and paste the URL of the track or playlist to the search box on the main page. Next, press on the '+' button in the upper right corner. Wait for a few seconds until those audio files are loaded into AudFree Tidable.
Step 2

 Reset Tidal output format and other parameters

For Mac users, you are suggested to find and click the 'AudFree Tidal Music Converter' on the menu bar. For Windows users, you are advised to hit the toolbar like three horizontal lines in the top right corner on the home page of AudFree. Next, tap on 'Preferences' > 'Convert'. Now every section with a drop-down button can be reset by yourself, which contains sample rate, bit rate, format, channel and etc. According to the original format of Tidal stream, it is better to adjust 'Format' to WAV or FLAC and 'Bit Depth' to 16-bit or 24-bit. Please don't forget to check the box beside the 'Conversion speed' to keep it stable during conversion.
Step 3

Download and keep Tidal music into the local music folder

Now we come to the last step. Just simply hit on the 'Convert' bar in the bottom right corner of the main interface. Then the software will run at a 5X faster speed to decrypt protection and download Tidal streams. Then it will transfer them into the formats you chose without limitations. The conversion duration depends on the number of songs on the list. When it is over, please don't forget to locate the target folder and examine if all tracks are converted successfully.
Now you are available to import Tidal music to any device you like and enjoy them anywhere and anytime, for you don't need a Tidal membership anymore, or even don't need a Tidal app.
Part 6. FAQs about Tidal Cancel Subscription
Q1: Can you cancel Tidal during free trial?
Can you cancel Tidal before the free trial ends? Can you cancel Tidal at any time? Of course, you can end any Tidal free trial to avoid the charge.
Q2: Tidal charged me after canceling. What should I do?
Some users are complaining about this issue. According to their comment, it is feasible to remove your money from the credit card you use to pay for this music service. Or, change the credit card to a card with the feature of a virtual card. Then you can set a limited amount and specific expiration date restriction, which can avoid this issue.
Q3: Does deleting Tidal account cancel subscription?
Maybe not. Some Tidal users said it may reactivate the account and charge you again. Please see also: How to delete Tidal account.
Q4: How do I stop Tidal from auto-renewal?
Navigate to the subscription web page of Tidal. Find the auto-renewal option and then toggle it off to end the billing cycle.
Part 7. Verdict
There are four working channels to cancel Tidal subscriptions provided in this post for Android, iPhone, desktop, and web player users. On top of that, a reliable Tidal downloader has been displayed to get Tidal for free and retain your Tidal playlists locally after canceling the subscription of Tidal. With professional converting capability and technology, AudFree Tidal Music Converter is really worth a try.