Nowadays, there are so many streaming music providers in the market. To some music lovers, it is better than ever because more choices are equal to more music resources, which is more convenient and efficient to find what they need. To others, it may be bad news for that it is difficult to find out which streaming music server is most suitable for them. Although many streaming music companies offer a free trial to users, many people still prefer to use a fixed brand to listen to music. Thus, it is indispensable to know how to cancel those streaming music trials or subscriptions in time when you use them less and less.
In this article, we will tell you how to cancel Tidal subscription in brief, more essentially, to introduce a perfect way to save Tidal high-quality audio files in the local folder after cancellation.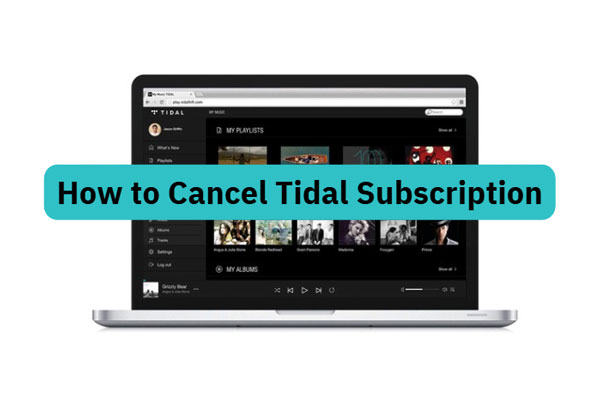 Part 1. How to Cancel Tidal Subscription in Brief
Before you cancel the subscription of Tidal, it is important to make certain which method that you chose to pay the subscription fee before. If you forget about it, please go to my.tidal.com to have a check. After that, please follow the guidance below to finish the cancellation of Tidal's subscription.
Registered through Sprint device (paid through Sprint)
Step 1. Go to www.sprint.com/tidal and log in.
Step 2. Open "My Sprint" on the mobile device.
Step 3. Contact Sprint Customer Service for further help.
Registered via cell phone provider (paid through cell phone provider)
Directly connect with the customer service department of your cell phone provider for help.
Registered directly on Tidal (paid through a credit card or PayPal)
Step 1. Enter to my.TIDAL.com.
Step 2. Type in your username and password.
Step 3. Choose "Subscription".
Step 4. Select "Cancel My Subscription" and then confirm it.
Registered from Apple devices (paid through Apple Wallet)
Check Here to see how to cancel Tidal on iPhone iPad, or iPod touch in detail.
Part 2. How to Preserve Tidal Music After Cancellation
There is a common feature of most streaming music services that is when you cancel their subscriptions, tracks you downloaded from them will be expired (no longer for online/ offline playback), for the reason of protecting music copyrights. The Tidal app acts in the same way. That means you'd better think twice before you start a music streaming subscription, for it is not an easy task to sync songs between different music platforms. In my experience, the best way to enjoy music is to download them into the local music library and convert them to universal formats like MP3 for forever keeping. In this way, you don't need to waste much time to compare the plan, the catalog, the price, etc among multiple choices of streaming music companies, or be busy in transferring songs to various platforms/players/devices.
If you have decided to cancel Tidal music subscription and prepare to download your favorite Tidal songs as local files, you can't miss to use AudFree Tidal Music Downloader, which is the leading figure in the field of Tidal music download and conversion, helping us to release the constraints from Tidal audios and convert them into a variety of common formats like MP3, FLAC, WAV, AAC, M4A, M4B and many others with lossless 1411 kps/16 bit quality saved. It also supports to convert podcasts, audiobooks, and radio from Tidal with all ID3 tags kept.
If you're curious about how it works, just read the following detail tutorials below.
Step 1

Export music from Tidal and put into AudFree

Install AudFree Tidal Music Converter onto the computer. Sign in a new account for the full version or try the free version (provides 1-min conversion for each song). The Tidal app will be launched automatically and simultaneously. Go to the Tidal and pick out the tracks or playlists which you would like to download. Then copy and paste the URL of the track or playlist to the search box on the main page. Next, press on the '+' button in the upper right corner. Wait for a few seconds until those audio files are loaded into AudFree.
Step 2

 Reset Tidal output format and other parameters

For Mac users, you are suggested to find and click "AudFree Tidal Music Converter" on the menu bar. For Windows users, you are advised to hit the "menu" icon in the top right corner on the home page of AudFree. Next, tap on "Preferences" > "Convert". Now every section with a drop-down button can be reset by yourself, which contains sample rate, bit rate, format, channel and etc. According to the original format of Tidal stream, it is better to adjust "Format" to WAV or FLAC and "Bit Depth" to 16 bit or 24 bit. Please don't forget to check the box beside the "Conversion speed" to keep stable during conversion.
Step 3

Download and keep Tidal music into the local music folder

Now we come to the last step. Just simply hit on the "Convert" bar in the bottom right corner on the main interface. Then the software will run at a 5X faster speed to decrypt protection from Tidal streams then transfer them into the formats you chose without limitations. The conversion duration depends on the number of songs on the list. When it is over, please don't forget to locate the target folder and examine if all tracks are converted successfully.
Now you are available to import Tidal music to any devices as you like and enjoy them anywhere and anytime, for you don't need a Tidal membership anymore, or even don't need a Tidal app.