Q: "I have subscribed Tidal for a long time but now I would like to take Qobuz as instead, for that I prefer to the hi-def music quality without MQA decoding. I have hundreds of Tidal albums in the library. What would be the easiest way to transfer Tidal playlist to Qobuz with the same quality? Do I have to add each album to Qobuz manually or can it be automatically? Besides, when my Tidal subscription expires do the albums disappear or can I still see them in there but can't play?"
Both Tidal and Qobuz are famous HiFi streaming music services. For those three questions above, you can easily figure them out after reading this article. In the following paragraphs, I am going to introduce the best Tidal to Qobuz converter that allows you to import Tidal playlist to Qobuz with simple clicks.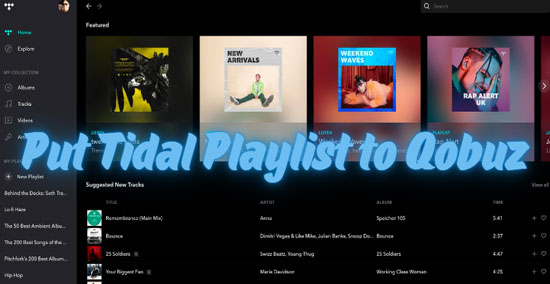 Part 1. Transfer Tidal Playlist to Qobuz: What You Need
When searching "Tidal to Qobuz" in Google, you may find many online music transferring tools like Soundiiz, Stamp, TuneMyMusic, etc. But there are many limits when using these websites. For instance, you can only sync the titles of tracks, transfer playlists one by one manually, and many other constraints. To some extent, they might not be the easiest way to move Tidal playlists to Qobuz
The easiest and simplest way to move Tidal to Qobuz is to download and archive the Tidal music playlists on local devices. Then they will load into your Qobuz app automatically.
This method needs you to make use of a third-party Tidal audio converter. Here, AudFree Tidal Music Converter should get noticed, which is recognized as No.1 in the market of audio converters. Specially designed for Tidal music conversion, this intelligent tool removes the protection and download Tidal songs as local files, converting Tidal to MP3, FLAC, WAV, AAC, M4A, M4B, etc. More importantly, the converted audio files keep 100% quality and 100% metadata as the original one. You can find complete ID3 tags like artists, albums, titles and so forth.
Utilizing the newest converting technology, this smart software could load a playlist within 100 tracks at one time by simple copy and paste. Also, it runs smoothly that speed could up to 5X or even faster during the conversion. With all these powerful features, you can easily enable music playlists to switch from Tidal to Qobuz, just spending a short time and a little energy.
Now you can try to install AudFree Tidal Music Converter from the Download icon above. In the unregistered version, you can get 1-min free trial for each song. If you would like to get a complete experience, please register a new account to unlock full functions.
Part 2. Playlist Transfer Tidal to Qobuz: Step by Step
In this paragraph, I will display the details to you that how to use AudFree Tidal Music Converter to download and transfer Tidal playlist to Qobuz. Before you follow the concrete process, please check the tips below firstly.
Download and Install AudFree Tidal Music Converter on your computer.
Make sure that the Tidal desktop app is not a Windows Store version. AudFree doesn't support this version at present.
If you have installed the Windows version of the Tidal app, please use a powerful uninstaller to completely delete it and its components.
Step 1

Add Tidal playlists to AudFree

Launch AudFree Tidal Music Converter on your desktop. The Tidal app will automatically open seconds later. After logging into your Tidal account, please find and select any playlist or album that you need to convert in the Tidal app. Next, copy and paste the link of it to the search bar in AudFree. Then tap the '+' button to load it to AudFree.
Step 2

Change output settings for Qobuz

Once all audio files are added, you can go to customize the output settings. For Windows users, please click the menu icon on the top-right frame in AudFree. For Mac users, please open Mac's menu > AudFree Tidal Music Converter on the top-left of the screen. Next, click the Preferences > Convert tab to open the Settings window. Here, you can edit the output options such as format, sample rate, bit rate, etc. according to your needs.
Tips: To get the best output quality, for Tidal Hi-Fi music, please choose bit depth to 16 bit and sample rate to 48000Hz. For Tidal Master songs, please reset bit depth to 24 bit and sample rate to 96000Hz.
Step 3

Begin to convert Tidal playlists for Qobuz

Now please click the big Convert icon to start your conversion. After the converting process is done, please follow the pop-out red dot to locate the destinated directory. Check if all added songs are converted successfully.
Step 4

Playlist switch from Tidal to Qobuz

Now all converted Tidal audios are saved on local computers. Directly open Qobuz. Then manually select and import the local music files to Qobuz for offline listening.