Short videos are booming at an unprecedented rate in the current information age, and you can often see all kinds of videos on various social media platforms. InShot is one of the popular video editors that people use to to create these amazing Short videos. As a powerful video editor, InShot has various video editing features that can help you create videos with ease.
Of course, background music must be an essential part of the video, and adding the right music can enhance the sense of atmosphere of the video, thus quickly attracting the audience's attention. Amazon Music, one of the most popular music streaming services in the world, offers millions of songs to its users. Isn't this a great place to find background music for your InShot videos?
However, if you've ever tried to add Amazon Music directly to InShot, you must have failed. Why can't you import Amazon Music on InShot and how to make it possible? This article will give you a breakdown of potential reasons for failure and the perfect solution on how to add Amazon Music to InShot.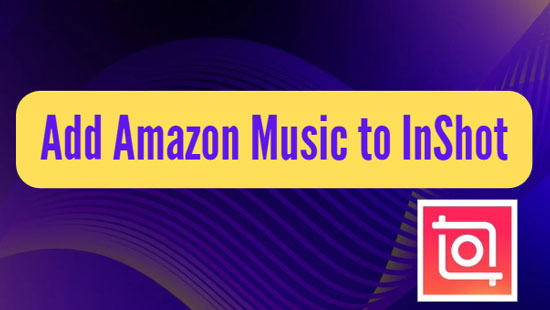 Part 1. Why You Can't Add Amazon Music to InShot
Users can access thousands of songs, select and enjoy a wider range of audio resources in Amazon Music, a particularly rich music streaming platform. At the same time, Amazon Music has a special restriction that all songs in Amazon Music are protected. In turn, music in Amazon Music can only be played on those devices supported by Amazon Music and not on other media players.
This also means that even if you have purchased an Amazon membership and downloaded Amazon Music, you can't actually own and use the protected Amazon Music at will. In the meanwhile, you can't add Amazon Music directly to your InShot videos.
Part 2. What You'll Need to Add Amazon Music to InShot
For the above reasons, you cannot add music from Amazon Music to InShot. If you want to import Amazon Music to InShot, you can't miss this professional third-party tool - AudFree Amable, with the help of which you can convert Amazon Music to InShot compatible format and upload Amazon Music to InShot smoothly.
Besides, this best Amazon Music Converter can convert Amazon Unlimited Music to many common audio formats, such as MP3, AAC and other InShot compatible formats. It will also retain the full ID3 tags and maintain 100% lossless audio quality of Amazon Music. Customizing audio parameters and sorting Amazon Music by artist and album are also its excellent features.
AudFree Amazon Music Converter
Part 3. How to Import Amazon Music on InShot
Now let's get started and see how to download and convert Amazon Music via AudFree Amable and subsequently add Amazon Music to InShot.
How to Convert Amazon Music for InShot via AudFree Amable
Step 1

Install AudFree Amable and Amazon Music application

Install and launch AudFree Amable and the Amazon Music app on your computer. Register on AudFree Amable by filling in the relevant license email and registration code. Then log in to your account in the Amazon Music app.
Step 2

Adjust Amazon Music Output Format and Parameters for InShot

Launch AudFree Amable, click the three lines icon at the top right of the page, select the Preferences button, and click the Advanced section. You can then start customizing the output format of Amazon Music to common formats, for example, you can convert Amazon music to MP3, M4A, etc. In this way, InShot will later support the addition of these Amazon Music that are compatible with it. If you have the need to customize other audio parameters, you can also set the bit rate and sample rate in this window.
Step 3

Add Amazon Music to AudFree Amable

You can directly drag and drop individual Amazon Music songs to the main interface of AudFree Amable for loading. Or copy and paste Amazon Music links into the search box of AudFree Amazon Music Converter, then click the Add button in the upper right corner to import Amazon Music.
Step 4

Convert Amazon Music to InShot Supported Formats

Just press the Convert button at the bottom right corner and it will start converting Amazon Music automatically. You can also see the conversion speed and process in the Convert List window. After the conversion is done, you can view Amazon Music directly on your local computer. After that, you have the privilege to listen to Amazon Music offline on any device, and now you can freely add Amazon Music on InShot.
How to Add Amazon Music to InShot
Tips: Remember to transfer all the converted Amazon Music to your iPhone or Android phone with a USB cable first. Then, you can follow the guide below to import Amazon Music to InShot video.

Step 1. Create a new video in InShot on your phone first, then do the necessary video editing work, such as trimming, splitting, merging clips, and even adjusting the speed of video.
Step 2. Go to the Toolbar, select and tap the Music option, then tap the Tracks button. In turn, you can come to add Amazon Music. Tap the iTunes option on your iPhone or tap the My Music section on your Android phone. Then just select the converted Amazon Music on your phone.
Step 3. Tap the Use button, and the Amazon Music is successfully used as the background music of InShot video. After that, you are free to add any Amazon Music you like to InShot.
Part 4. In Conclusion
Now you have the best solution to add Amazon Music to InShot. With the aid of AudFree Amazon Music Converter, you can add your favorite Amazon Music to make and edit videos as you like. Also, you can add Amazon Music to other platforms such as Instagram, CapCut, and son on. So, what are you waiting for? Give it a try as we showed above and I am sure you will be able to create compelling videos. Besides, if you have any other questions, please leave a comment below.