Have you used Instagram Stories before? Instagram Stories attracts a great number of users who are dedicated to sharing funny videos or photos about their daily life. To make great and awesome Instagram stories, you need three main factors: stickers, filters, and most importantly, background music. Instagram is home to a music library for you to pick up free music for your stories. Also, Instagram is integrated with several well-known music services including Spotify, SoundCloud, Apple Music, etc., which is capable to provide millions of pop music.
Some users asked: "Can I use Amazon Music on Instagram?" The answer is 'No' because Amazon Music is not linked to Instagram currently. Fortunately, without Amazon Music Instagram integration, there are still some effective workarounds introduced in this article to share Amazon Music to Instagram Story. If you are seeking this, please never miss it!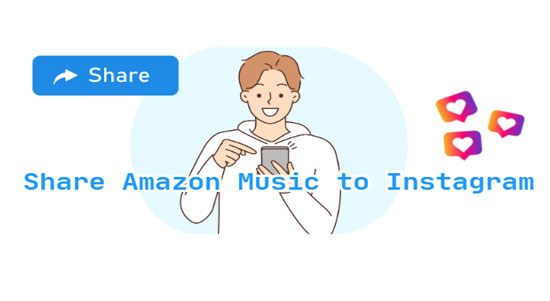 Part 1. How to Share Amazon Music to Instagram Story - Common Method
The method we found to add Amazon Music to Instagram Stories can be simple. You are supported to record or capture Amazon Music via the Instagram app on the ground that Instagram allows you to capture multi-track background sounds from your mobile. Wonder how to make it? Please look through the instruction as follows:
Step 1. On Amazon Music, put your loved songs into currently playing mode with the speaker of the mobile. Via the time bar of the song, you are able to pause the track and select the part you want to share from Amazon Music.
Step 2. Navigate to Instagram, and tap on the top-left 'Your Story' > 'Camera' icon. Then tap on and hold the circle button at the bottom to capture a short video while keeping Amazon Music playing simultaneously. After that, you will be surprised to find that the playing section of the Amazon song has been recorded in the video. Now, sharing Instagram Story with Amazon Music couldn't be easier.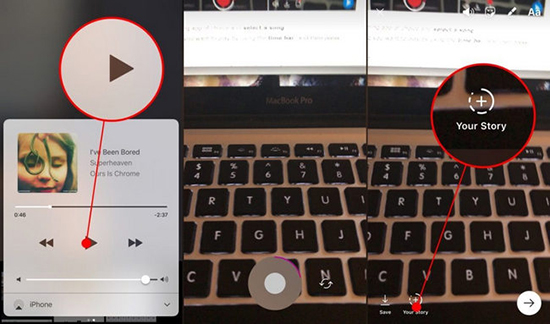 Part 2. How to Share Amazon Music on Instagram - Best Way
Instagram capturing feature is a common method to put Amazon Music to your Instagram Story. However, the sound quality is less than satisfactory and you may even hear the clattering keyboards. Fortunately, considering this case, we have prepared an alternative way for you. That is to download Amazon Music to MP3 or other format files that are available on Instagram with a third-party tool and import the Amazon Music audio files to Instagram Stories. Here is how to share Amazon Music on Instagram in the best way below. Let's have a look together!
2.1 Download Amazon Music to Instagram-compatible Sounds
Here, we recommend you use AudFree Amazon Music Converter, a professional downloader and converter working with Amazon Free, Prime, and Unlimited plans. It is designed to download all types of Amazon Music to local files and convert them to MP3, and AAV, FLAC, among others. This smart gadget keeps the 100% original audio quality and full ID3 tags.
What's more, it empowers you to transfer Amazon Music downloads to various devices and players for offline listening. So, in this way you can share Amazon Music to multiple popular platforms such as Instagram, TikTok, etc. without limitations. And you can keep the downloaded content forever, be it Amazon Music Free or Amazon Music Prime/Unlimited.
Can't help wondering how to use this powerful software? Here is a user guide for you.
Step 1. Customize Output Format for Amazon Music Instagram Combianation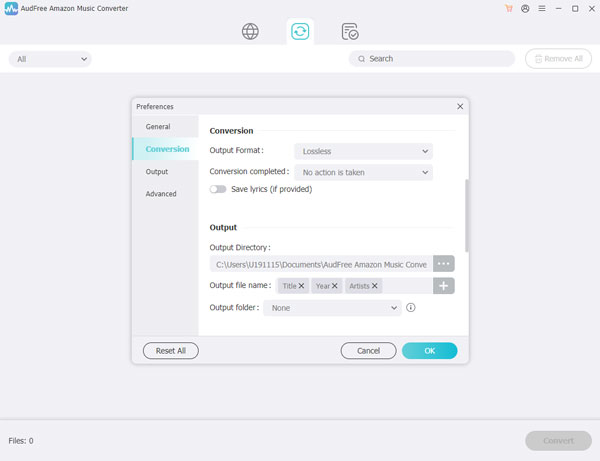 Open the Converter and the Amazon Music app will launch simultaneously. Click on the top-right toolbar with three horizontal lines. Click 'Preferences' and 'Convert'. Then you can set the output format and other parameters. It is worth mentioning that Instagram supports two audio format: MP3 and AAC. Therefore, to ensure the lossless sound quality of Amazon Music, please set the output format and other parameters as follow:
| | | |
| --- | --- | --- |
| Format | Bit Rate | Sample Rate |
| MP3 | 320Kbps | 48000 Hz |
| AAC | 320 Kbps | 96000Hz |
Step 2. Add Amazon Music Songs to AudFree Amazon Music Converter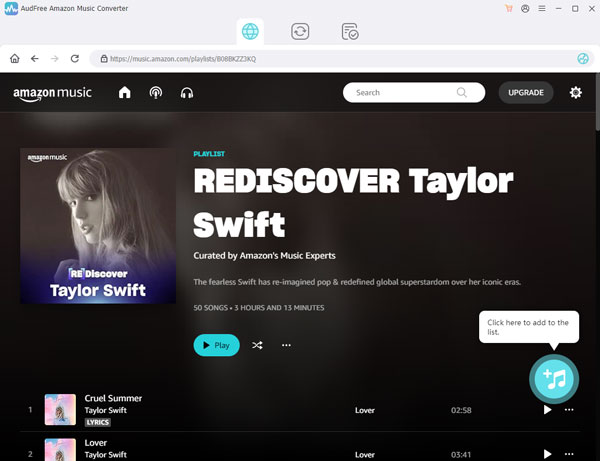 Copy the URL links of Amazon Music songs or playlists that you want to share to Instagram Story and paste them to the converter. Subsequently, hit the '+' tab in the top right to add files. Or try this quick way: drag a single song or the whole playlist from the left panel of Amazon Music and drop it directly into the converter.
Step 3. Convert Amazon Music for Instagram Stories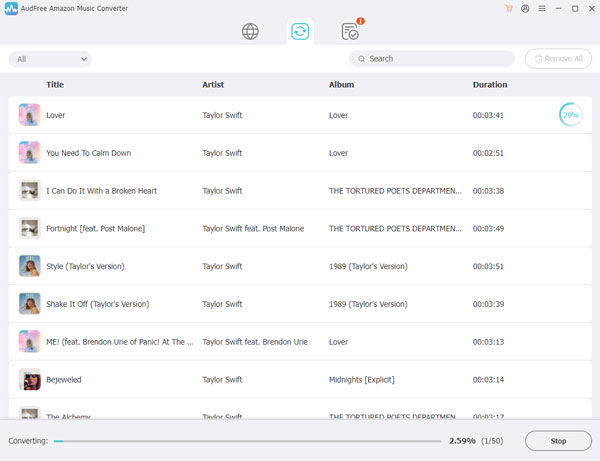 To convert Amazon Music locally, you are only required to hit the bottom-right 'Convert' button. The downloaded content will be automatically stored in the destination folder you set.
Then you can import the Amazon Music to Instagram in three ways: vis Instagram Sticker, InShot, or CapCut. Have a look!
2.2 Share Amazon Music on Instagram via Sticker
Look through the detailed step-by-step instruction and try it on your mobile.
Step 1. On Instagram, click on the '+' tab to open the 'Your Story' and 'Camera' sections to add a video or photo to the story.
Step 2. Click on the top-right smiley face symbol to open 'Sticker'. Choose the 'Music' sticker and upload the Amazon Music downloaded songs from the library of mobiles.
Step 3. After that, you can edit the Amazon music in Instagram Story, for example, select the place where you hope to start or end and edit the name and cover of the shared Amazon Music.
Step 4. Hit the top-right 'Done' button.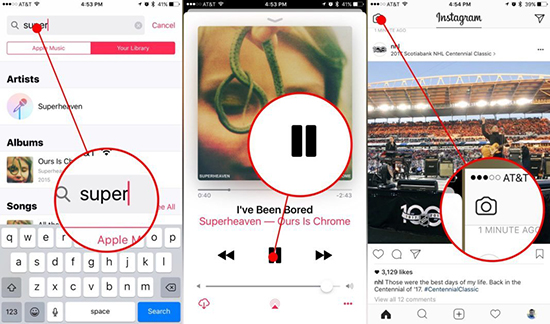 2.3 Add Amazon Music to Instagram Story via CapCut or InShot
Apart from Instagram Sticker, it is also available to share Amazon Music on Instagram via CapCut and InShot video editors.
For InShot:
Step 1. After creating a video, open the toolbar. Click on 'Music' > 'Track' > 'Imported music'.
Step 2. Select 'Files' and import Amazon Music from iTunes or Your Music from iPhone or Android.
Step 3. Tap on 'Use' to import Amazon Music to InShot. Then share the video on Instagram and you can make it add the converted Amazon Music to the story.

For CapCut:
Step 1. Launch CapCut and create a new project.
Step 2. By clicking on 'Upload' > 'Iocal', you can go to the destination folder and select your favorite downloaded Amazon Music to the CapCut video. Once finished, you can share the CapCut video to Instagram Stories.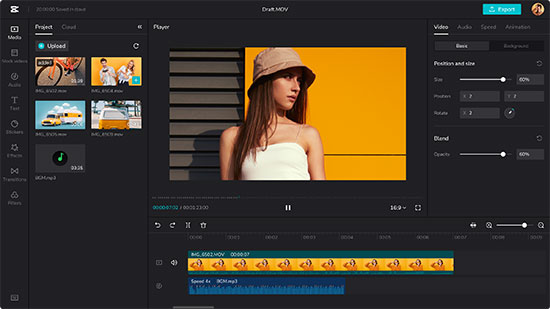 Part 3. More FAQs About Amazon Music & Instagram
Q1. How to Add Music on Instagram Story?
There are two tricks for you: From Instagram's music library or music services.
From Instagram Music Library:
Step 1. Tap on 'Your Story' on Instagram and choose a photo or video from 'Camera'. Then click 'Sticker' on the screen.
Step 2. Look at the top search box, you can search for loved songs from it.
From Music Service (Take Spotify for example):
Step 1. Choose a track, right-click on the track, or tap the right '…' tab to open a new menu on Spotify.
Step 2. From the menu, choose 'Share'. Click on the 'Stories' option from the bottom pop-up panel with an Instagram symbol. Then the Instagram app will launch automatically and it will create a new story with the cover art of the Spotify song. That means you have added Spotify Music to Instagram Story.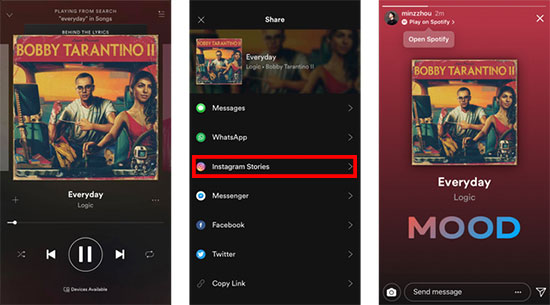 Q2. Does Amazon Music Link to Instagram and Should I Subscribe to Amazon Music Prime/Unlimited?
No, Amazon Music is unavailable to Instagram. But if you want to share Amazon Music on other Amazon-authorized platforms, you are required to subscribe to Amazon Music Prime and Unlimited plans.
Part 4. The Verdict
In this post, we have demonstrated the generic tricks and also the best way how to share Amazon Music to Instagram Stories. To make sure the perfect audio quality of Amazon Music, we recommend using AudFree Amazon Music Converter to download Amazon Music to Instagram-supported formats and transfer them to Instagram. On top of the Amazon Music Instagram combination, the third-party tool supports adding Amazon Music to other platforms such as Facebook, Snapchat, and so on without any restriction. It deserves a shot.