Q: "I'd like to play Amazon Music on multiple devices at the same time in the same house. Kids want to listen to something in their room; I wish to enjoy in the garage and my wife fancies listening to in living room. Is a family plan of Amazon Music Unlimited the only way to do this? And do I have to make a different account for each of us?" - from Reddit
Demand on streaming Amazon Music on more than one device has surged in recent years. In many instances, people hope to play Amazon Music songs on different devices in the meantime. For music streaming, Amazon provides official solution, upgrading your account to Amazon Music Prime or Amazon Music Unlimited. Both of them are available, although limits.
On an assumption that you have subscribed to Amazon Music Prime or Unlimited service, you can get the thing done in a direct manner. If not, don't be discouraged. In this post, there is a useful method for you to stream Amazon Music offline on various devices limitlessly without premium.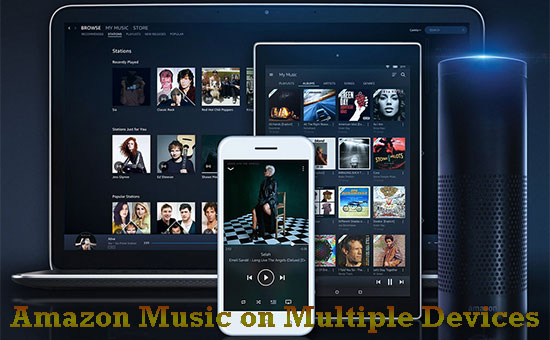 Part 1. How to Stream Amazon Music on Multiple Devices with Premium Service
Amazon Music official introduces 4 subscription plans, two of which support streaming service, Amazon Music Prime and Amazon Music Unlimited, respectively. With Amazon Music Prime account, you can get free access to 2 million Amazon Music songs and download them for offline listening on all devices supported by Amazon Music, but you are allowed to stream Amazon Music on one device only at a time.
Amazon Music Unlimited subscription is divided into 3 plans, including Amazon Music Unlimited Family Plan, Amazon Music Unlimited Individual Plan, and Amazon Music Unlimited Single-Device Plan. All of them allows music streaming to other devices. It's just that each of plans is placed on different limits.
The Familiy Plan supports streaming Amazon Music up to 6 devices at the same time; the Individual Plan enables you to play 70 million Amazon Music tracks on all supported devices, but music streaming is confined to one device at a time. As for the Single-Device Plan, it solely allows Amazon Music streaming on one campatible device.
Depending on your real requirements, select one service from these Amazon official music streaming plans to stream Amazon Music on multiple devices for listening at the same time.
Part 2. How to Play Amazon Music on Multiple Devices Offline Forever
With Amazon Music Unlimited Family Plan with monthly fee for $14.99, you are allowed to stream Amazon Music up to 6 accounts across multiple devices at a time. This is a kind of straightforward way of streaming Amazon Music on multiple devices. But it is not the only path to get the goal, isn't it?
Nowsdays, with the rapid development of a piece of professional software like AudFree Amazon Music Converter, enjoying Amazon Music on more than one device is no longer the privilege for Amazon Music premium users. Working with such a tool, you have the power to convert and download Amazon Music tracks to local computer from both Amazon free and paid services, so as to listen to Amazon Music offline on multiple devices without limits.
It has an inbuilt Amazon Music web player, thus you don't spend time on downloading and installing of the Amazon Music app. All that matters is that AudFree brings a lossless option for Amazon Music conversion, which guarantees no original quality loss during conversion. Also, it supports other standard audio formats like MP3, M4A, FLAV, AAC, M4B, etc. Under these formats, it enables a custom option, with which you get to adjust output parameters with much flexibility.
Designed with an intuitive interface, it is pretty easy to use and handle. Even beginners can operate it to download songs from Amazon Music for playing on multiple devices without difficulty. The following is the detailed instructions.
Step 1

Open AudFree to log in Amazon

Before everything, please get AudFree Amazon Music Converter downloaded and installed on your computer. After that, click to launch it, which will present you with the official Amazon Music web player. From the main interface, locate "Sign In" option to go for your Amazon account by e-mail address and password.
Step 2

Register AudFree Amazon Music Converter

Next, head to the three-line icon on the top right and then to "Register" from the drop-down list. When the registration window pops up, enter your licensed e-mail and registration code to enjoy the full features of AudFree Amazon Music Converter.
Step 3

Configure output parameters

After registration, return to the main window. The following thing you should do is to select output format and adjust output parameters. To finish these settings, you are required to navigate to the "Preferences" tab from the menu option with three horizontal lines, then please expand the "Advanced" panel. There are various options for output formats, such as Lossless, MP3, M4A, M4B, AAC, FLAC, WAV. Based on what you need, select any one as the Amazon Music output format.

Notice that under Lossless mode, customiziable feature is disabled. You have the ability to custom audio parameters like channel, sample rate, and bit rate only when you set common file formats for output.
Step 4

Load up Amazon Music playlist

Now, it's your time to add Amazon Music to AudFree Amazon Music Converter. After finding your favorite Amazon Music playlist, please open it and touch a "+" icon. Then, all songs in this playlist will be imported to AudFree. Once uploaded, check the playlist. You can unselect the "Select All" option and manually choose your desired tracks to convert.
Step 5

Convert Amazon Music to multiple devices

At last, you just have to hit on the "Convert" button to let AudFree start converting and downloading Amazon Music to computer. At the same time as the conversion, you freely go back to the Amazon Music library to load more playlists for conversion.

Once it's all over, access the "Converted" interface to quickly locate the converted Amazon Music folder in local system. Now, you are able to transfer these downloaded Amazon Music tracks to multiple devices for offline listening simultaneously.