Music Streamer Apps are amazing. Those who are old enough can remember how tedious it was to purchase albums and songs and upload them one by one on your iPod or music player. Today, we have apps like Amazon Music that provide you with any song, album, or track you can possibly think of. In exchange for a monthly fee, you have nearly all the music in the world in your pocket, accessible with a few taps!
We are very used to putting on our headphones or earphones and listening to music from Amazon Music, but what about if I want to play music in the house, or just through a speaker so that anyone can listen? The best solution, in this case, is given by Bluetooth speakers.
Bluetooth speakers are common speakers that you can plug into your smartphone or any device with a Bluetooth system without the mess and bother of long cables. In this article, we are going to explain how to play Amazon Prime Music on Bluetooth speakers.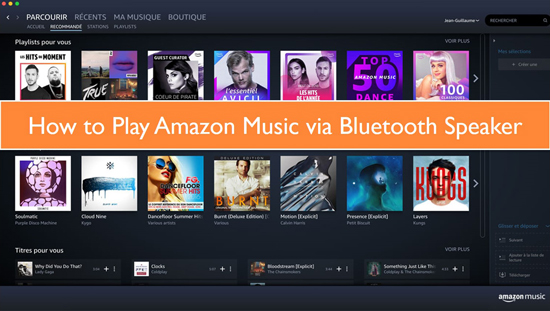 Part 1. How to Stream Amazon Music to Bluetooth Speaker with Subscription
If you want to listen to Amazon Prime Music on Bluetooth speakers, you need a device (smartphone, tablet, or computer) with the Amazon Music app, Bluetooth connection, and of course Bluetooth compatible speakers.
1. Pair Your Device with Bluetooth Speakers
The first thing you need to do is the "pairing", that is, the simple process that connects your player device with your speakers.
Step 1. On your device, turn on the Bluetooth and search for new devices.
Step 2. On your speakers, turn on the Paring option that allows your speakers to "be seen" by your device. Every speaker will have their button to launch the pairing. You can read the guide to find out what it is on yours.
Step 3. On your device, select your speakers. When the pairing is done, your speakers will emit a voice saying "paired" or similar.
2. Access Your Amazon Music App
Your smartphone, or tablet, can become your Amazon Bluetooth music player as long as you have an Amazon Music subscription and access to an Internet connection.
On your device, enter the Amazon Music App. If you've successfully paired your Bluetooth speakers, the app will automatically recognize it as its audio output. If it doesn't, you can simply tap on the output icon and select your speakers as your Amazon Bluetooth music receiver.
Part 2. How to Play Amazon Music on Bluetooth Speaker Offline
What about when you are offline? What about if you don't have an Amazon Music subscription? There is still a way to stream Amazon Prime Music to Bluetooth stereo or speakers. All you need is a tool called AudFree Amazon Music Converter.
With AudFree Amazon Music Converter, you can save Amazon Music on your device so that it is accessible when you are offline, and also after you unsubscribe from Amazon Music. This intelligent software can convert your Amazon Music into a lot of formats, including MP3, FLAC, WAV, AAC, M4A, and M4B at 5X rate. As this source, it uses the Amazon playlist that you can create inside the tool (see the guide below).
With AudFree you don't risk losing your tags and messing up with your music files. There is a built-in tag editor that keep every original tag (title, artist, album, and so on). This smart tool is compatible with both Mac and Windows and with the oldest versions of both. In particular, there are two different versions available, one for Windows and another for Mac. Make sure you download the right one.
Now let's see how to use AudFree Amazon Music Converter to stream Amazon Prime Music to Bluetooth stereo.
Step 1

Download and install AudFree Amazon Music Converter

AudFree Amazon Music Converter is available above. Please download and install so that you can start saving your favorite music.
Step 2

Create a playlist and add it to AudFree

In AudFree, you are shown an interface that is very much similar to the Amazon Music's. The main difference is that there is a button on the bottom right through which you can add songs to a playlist. The first you need to do is browse through Amazon Music and select the songs you'd like to convert by selecting them and clicking on the above-mentioned button. You'll be created a playlist and you are about to convert and save it.
Step 3

Adjust Amazon Music settings for Bluetooth speakers

This is where you can set up some parameters before the conversion. The most important one is the output format. You can convert Amazon Music to MP3 which is the most common, but you have many others available. Then, you can select the output quality: the highest quality the biggest dimension of the file. Finally, set up an output folder that is where you'll find all your converted files.
Step 4

Convert your Amazon Music for Bluetooth speakers

Click the Convert button. You'll be shown a page where you can see the conversion process and speed. And at the end of the process, you'll be shown a "Converted" message - you'll have all your Amazon Music files in your selected folder.
How to Play Amazon Prime Music on Bluetooth
The process to pair your Bluetooth speakers with your device is the same we've described above. Once they are paired, you need to select your Bluetooth speakers as your output audio device. This is usually done automatically, but if it's not, you can simply access the audio options on your computer and select your Bluetooth speakers as your output audio source. When you play your music on your computer, it'll be streamed through your Bluetooth speakers.
However, using AudFree Amazon Music Converter has additional advantages. Not only can you listen to Amazon Music offline or without an Amazon Music subscription, but it also allows you to save your music tracks wherever you want or need. You could transfer Amazon Music to an iPod, a smartphone (iPhone or Android), another computer, or any device compatible with the format you've chosen (MP3 is the most common). You can then pair any of these devices with your Bluetooth speakers, and you are ready to play Amazon Music through Bluetooth speakers from any source you like.
Part 3. Conclusion
Amazon Music is a fantastic app, and with AudFree Amazon Music Converter you can boot its possibilities even more. Amazon Music doesn't allow you to save and store your music on your hard disk by default. The AudFree Amazon Music Converter tool compensates for this and makes the Amazon Music streaming app free of any disadvantage or limit.