Q: Is Amazon Music available on iPod Touch? Among many music streaming services, I prefer Amazon Music because of its extensive library, high resolution audio and ideal price. In this event, I was eager to play Amazon Music on my iPod Touch for entertainment.
Actually, the answer to this question is yes, and it is not as difficult as it sounds to access Amazon Music on iPod Touch. Therefore, this article is intended to provide effective solutions to get Amazon Music on iPod Touch for your consideration. Alternatively, if your Amazon Music app isn't working on your iPod Touch, here are simple fixes for you to choose from as well.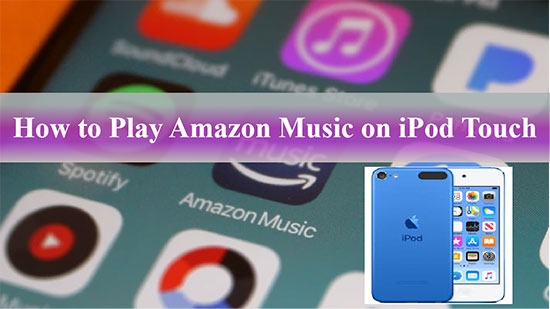 Part 1. How to Play Amazon Music on iPod Touch via Official App
First and foremost, Amazon Music is available on Android and iOS, as well as Mac and Windows devices. However, not all iPod models are compatible with Amazon Music. You must ensure that your iPod Touch is running iOS 11.0 or later. Then you can follow the steps below to install Amazon Music on iPod Touch for music enjoyment at any time.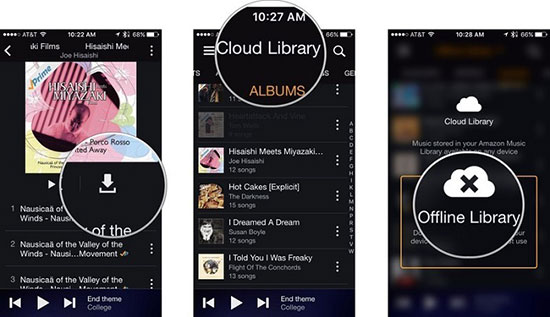 Step 1. Download and install the Amazon Music app on iPod Touch.
Step 2. Open the Amazon Music app and log in by entering the email address and password associated with your account.
Step 3. Select any Amazon song, album, playlist you like and click the Download icon on the right.
Step 4. Click on Cloud Library at the top of the screen and find Offline Library below the pop-up window.
Step 5. Tap the Play icon and you can play Amazon Music on your iPod Touch as often as you like.
Part 2. How to Get Amazon Music on iPod Touch Offline for Free
As you know, if you're an Amazon Music Premium subscriber, you can access Amazon Music offline in the Amazon Music app on your iPod Touch. But if you'd like to access Amazon Prime Music on iPod Touch in offline mode for free, you will need to turn to specialist third party tool to help you out.
In this case, AudFree Amazon Music Converter is a great solution to this problem, as the name suggests, it is dedicated to downloading and converting Amazon Music to MP3 and AAC common formats supported by iPod Touch. As a result, you can listen to Amazon music on iPod Touch offline all the time without being limited to the Amazon Music app.
What's more, whether you are Amazon Music free users or Premium users, you're able to use this perfect tool to enjoy Amazon Music in any other portable devices and players at your leisure. In other words, playing Amazon Music on iPod Touch will become a relatively simple task for you.
How to Download and Convert Amazon Music for iPod Touch
Step 1

Customize Amazon Music Output Format for iPod Touch

Start by installing AudFree Amable and the Amazon Music app on your computer. Launch the converter, click on the menu icon in the top right corner and select the Preferences > Convert button to open the settings window. Here, please adjust the output format of Amazon Music to an iPod Touch compatible format like MP3 or AAC.
Step 2

Add Amazon Music to AudFree Amable

Just select any Amazon Music and playlists of your preference in the Amazon Music software. Afterwards, drag and drop the songs onto the main page of AudFree Amable. Also, you can click on the Share > Copy Link option and paste the link into the search box at the top, then select the "+" button.
Step 3

Download Amazon Music for iPod Touch

Once the above settings are complete, press the Convert button and it will automatically start converting and downloading Amazon Music to the format you want. Next, click on the Converted button marked with a red number to see the list of downloaded Amazon Music. Then you can transfer Amazon Music to iPod Touch for offline playback without any problems.
How to Play Amazon Music on iPod Touch Offline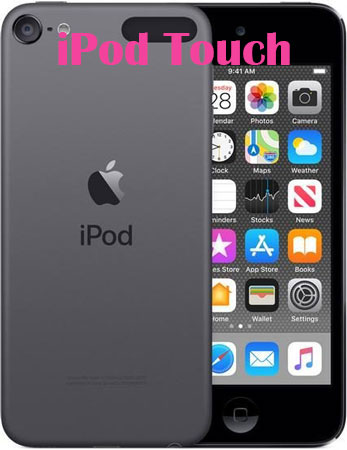 Step 1. Launch iTunes software on your computer and click on the top menu "File" > "New" > "Playlist" to import the converted Amazon Music files to your iTunes library.
Step 2. Connect your iPod Touch to your computer via USB cable. iTunes will automatically detect the iPod Touch, then click on the "iPod Touch" icon at the top right of iTunes.
Step 3. Touch the Music tab and select the downloaded Amazon Music file. Then click on the Apply option to sync Amazon Music to iPod Touch.
Step 4. Wait a few minutes and when it's done, you'll be able to put Amazon Music on iPod Touch offline without a subscription and Amazon Music software.
Part 3. Amazon Music App not Working on iPod Touch - Easy Fixes
Recently, some users have complained that the Amazon Music app crashes on iPod Touch frequently. To solve this problem, you might as well try the solutions listed below.
1. Check the Amazon Music Server Status
The server side of Amazon Music may have problems on many occasions. Check the status from your browser to the official Amazon Music Service Status page or find the official Twitter feed to report the problem.
2. Clear the Amazon Music App Cache
In case your Amazon Music cache is out of date or corrupted, you can simply go to the Amazon Music app's settings, click on the "Clear Cache" option, and then restart the software to see if Amazon Music works properly.
3. Reinstall Amazon Music App in iPod Touch
If clearing the cache does not work to fix the error, then try to uninstall the Amazon Music app. Go back to your iPod Touch's app store and download and install a fresh version of the Amazon Music app.
4. Restart your iPod Touch
If the problem persists, restart your iPod Touch and run the Amazon Music App again to check whether you can play your favorite Amazon songs smoothly.
5.Update iPod Touch to the Latest Version
Please ensure that you have updated your iPod Touch to the latest version, in this instance, your iPod Touch is also capable of running the latest software. You can do this by clicking on the Settings option and selecting General > Software updates.
Part 4. In Conclusion
This article contains the best ways to get Amazon Music on iPod Touch, and in the long run it's wise to make use of AudFree Amazon Music Converter to listen to Amazon Music offline on iPod Touch. Why not take action now to enjoy your music to the fullest?