As a leading brand in wireless connectivity, Bose has been dedicated to the invention and manufacture of home audio systems and speakers, such as the SoundLink and SoundTouch series that we know so well. Among them, Bose SoundLink Bluetooth speaker is impressive for its portability and excellent sound. Whether you are gathering at home or going out, it can bring you comfortable indoor and outdoor music life.
Based on the fact that Bose supports various music streaming services, some users will have the question: can I play Amazon Music on Bose SoundLink? If you are also interested in this topic, then you have come to the right place. This article will show three simple options to play Amazon Music on Bose SoundLink to make Bose SoundLink Amazon Music work perfectly.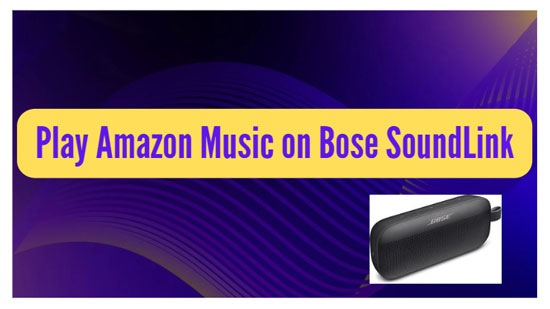 Part 1. Connect Amazon Music to Bose SoundLink via Bluetooth
As you may know, the Bose SoundLink Bluetooth speaker line includes SoundLink Revolve, SoundLink Micro and SoundLink Color. And almost all Bose SoundLink speakers are equipped with a Bluetooth icon for similar Bluetooth pairing methods. So you can make Bose SoundLink Revolve Amazon Music possible with a Bluetooth connection.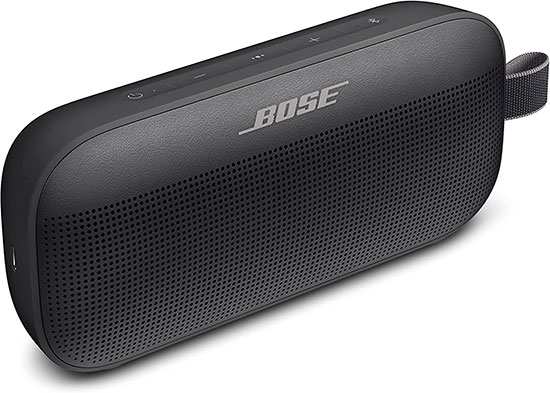 Step 1. Download the Bose Connect app on your phone or tablet to easily manage Bluetooth connectivity.
Step 2. Launch the Bluetooth feature on your device. In the list of devices that appears, find and select your Bose SoundLink speaker.
Step 3. Once your device is successfully paired with Bose SoundLink, you can stream Amazon Music to Bose SoundLink for online listening.
Part 2. Stream Amazon Music to Bose SoundLink via NFC
If your device supports using NFC, you can also pair Bose SoundLink with your phone to stream Amazon Music smoothly. Here are the detailed steps, let's follow along and give it a try.
Step 1. Tap the Settings app on your device, then turn on Bluetooth and NFC features.
Step 2. Touch and hold the NFC button on your device, then bring it close to the top center of the Bose SoundLink speaker. You will be prompted on your phone to enter pairing status.
Step 3. Once the device is connected to SoundLink, you can listen to Amazon Music on Bose SoundLink online.
Part 3. How to Play Amazon Music on Bose SoundLink Offline
As mentioned above, you can simply connect Amazon Music to Bose SoundLink online via Bluetooth and NFC, but offline mode doesn't seem to work. Based on this, we find a convenient and feasible way to make Bose SoundLink Amazon Prime Music offline a reality. Here, AudFree Amazon Music Converter will be your essential assistant because it is specially designed to download Amazon Music as local files.
What is surprising is that it can convert Amazon Music to MP3, FLAC, WAV and other common formats without quality loss. Besides, you won't believe it even retains the original ID3 tags and metadata information for Amazon Music, including title, artist, year, and album. As a result, you can keep your favorite Amazon Music on your device forever and then stream it to Bose SoundLink for offline playback anytime, anywhere.
AudFree Amazon Music Downloader
How to Play Amazon Music on Bose SoundLink Offline
Step 1

Adjust Output Format of Amazon Music

Please tap the "Three lines" icon on the top right of this converter, then select "Preferences" and "Convert" section. In the pop-up setting window, you can start to set the output format of Amazon Music, such as, WAV, MP3, FLAC, etc. In addition, you are also allowed to customize other audio parameters and categorize Amazon Music by artist or album.
Step 2

Import Amazon Music into AudFree Amable

Please pick any songs you desire to stream to Bose SoundLink from Amazon Music app. You can drag and drop it onto the conversion window of AudFree Amable to load it. Or by copying the music link, you'll be able to paste it into the top search bar and click the "+" button next to it to complete the import.
Step 3

Download Amazon Music for Bose SoundLink

Simply press the Convert button and it will download Amazon Music to your computer locally based on your settings. Once done, click on the Converted button marked with red numbers to navigate to all converted Amazon Prime Music listings. Now you have the freedom to listen to Amazon music offline on any preferred device without any difficulty.
Step 4

Play Amazon Music on Bose SoundLink Offline

Find the location of your downloaded Amazon tracks on your computer and store all your Amazon Music to your phone via USB or cloud drive. In this instance, you have the privilege of streaming Amazon Music to your Bose SoundLink Bluetooth speaker without any restrictions, even if you don't have WiFi.
Part 4. In Conclusion
After reading this article, you will know exactly how to play Amazon Music on Bose SoundLink, whether online or offline. Obviously, AudFree Amazon Music Converter will be the optimal solution if you seek to get a freer sound experience on Bose SoundLink. Just simply feel the wonderful music atmosphere with Bose SoundLink at home.