Fitbit Versa 2 comes with a lot of unique features, like water resistance, fast charging, onboard GPS, and much more. Besides, the device lets you store and play your favorite music to enjoy them on the go or while working out. However, it is essential to know that the Versa 2 lets you store and play music with Pandora, Spotify, and Deezer. So, the big question here is can you put Amazon Music on Fitbit Versa 2?
For some Amazon Music users, it can be a piece of bad news as the device doesn't support this service. Though, don't worry about it at all as we have brought you a perfect solution. Yes, it is possible to listen to Amazon Music songs on Versa 2. All you need to do is to use a music converter and send the converted music files to Versa 2. Go through this article to know how to get it done.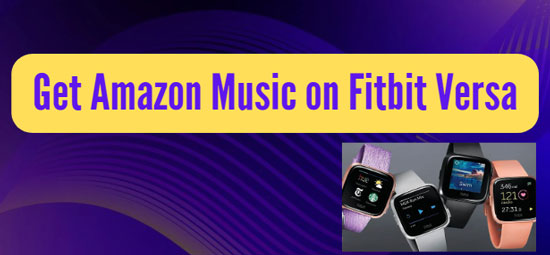 Part 1. Can You Get Amazon Music on Fitbit Versa 2 Directly
As per the data, Fitbit Versa 2 only supports downloading Deezer playlists, Pandora stations, and you can control the Spotify music. This means you can't directly play Amazon Music on Fitbit versa 2. On the other hand, due to the digital rights management, you cannot export Amazon Music playlist for online or offline use on any Fitbit Versa device. Nevertheless, this is not meant to be an unreachable task. Read on the following and you are happy to know how it can be done with ease.
Part 2. How to Put Amazon Music on Fitbit Versa 2
Can Fitbit Versa 2 play amazon music? Yes, it can. But the premise is that you need to convert the songs from Amazon Music to local files and send them to your Versa 2. This is where you can use AudFree Amazon Music Converter to make it happen.
By converting the songs with AudFree, you can easily play Amazon Music on Fitbit Versa 2. Such a tool is developed to convert Amazon Music into ordinary audio files like MP3, FLAC, WAV, M4A, etc. and locally save them for offline use on any device without the Amazon Music app.
When you have this, nothing can stop you from playing Amazon Music whenever and wherever you want. It comes with built-in Amazon Music web players. So, without the installation of the Amazon Music app, you can download Amazon Music tracks for playback on Fitbit Versa 2. It has a friendly user interface and fairly simple to operate.
Part 3. How to Play Amazon Music on Fitbit Versa 2
Now, let's explore detailed steps on how to download Amazon Music to local files with AudFree, and then transfer them to Fitbit Versa 2 for playback without trouble.
Step 1

Launch AudFree Amazon Music Converter

First of all, you need to download and install AudFree Amazon Music Converter on your computer or laptop. Once done, open the tool and click on the Sign-in option. Using this, you can log into your Amazon Music account.
Step 2

Register to AudFree software

Now, you need to touch the three-line icon located in the top-right corner of AudFree's main screen. From the drop-down menu, choose the "Register" option. Give your registration code and licensed e-mail ID to upgrade your free AudFree account to the full version.
Step 3

Set output format for Fitbit Versa

Whereafter, you can go on and adjust the Amazon Music output format and audio parameters. For this, you need to open the setting window by clicking on the three-line icon. Then, go to "Preferences" and tap "Advanced". You can set the music output format and adjust bit rate, channel, sample rate according to your demand.
Step 4

Load Amazon Music playlist to AudFree

After setup, click "OK" to save changes. The following thing is to go for Amazon Music library to find your favorite playlist. Once you open the playlist, there is an orange "+" icon at the bottom right corner of the playlist interface. You need to tap on it to load Amazon Music playlist to AudFree. It may be noted that you can't upload a single song. So, if you want to add Amazon Music songs, you will have to create a playlist first.
Step 5

Download Amazon Music for Versa 2

Last of all, hit on the "Convert" button. AudFree now starts to download and convert Amazon Music to local files. After the conversion process, click on the "Converted" icon to locate the download Amazon Music files. These files can be transferred to your Fitbit Versa 2 without limitation.
Step 6

Play Amazon Music on Fitbit Versa 2

Now, you can use Amazon Music on Fitbit Versa 2 by transferring the downloaded Amazon Music files to it. Here are the steps:

1. Open the Fitbit app. From the Versa 2 page, click on the Media option;

2. Now, from the Services, you need to choose the Personal Music option;

3. You need to download the Fitbit Connect app, which is available both for Windows and Mac users;

4. Download and install the app and open it. Then, click on the Manage My Music option;

5. Open the Music app on your Versa 2 and click on the Transfer Music option;

6. Once the connection between your computer and Fitbit Versa is established, you can now choose the local Amazon Music tracks to transfer to Fitbit Versa 2 for playback.
Past 4. In Conclusion
Don't let the limitation affect your running experience. Using AudFree Amazon Music Converter, you can now easily add and play Amazon Music on Fitbit Versa 2. Just carefully follow the methods, and you are all set to enjoy your workout.